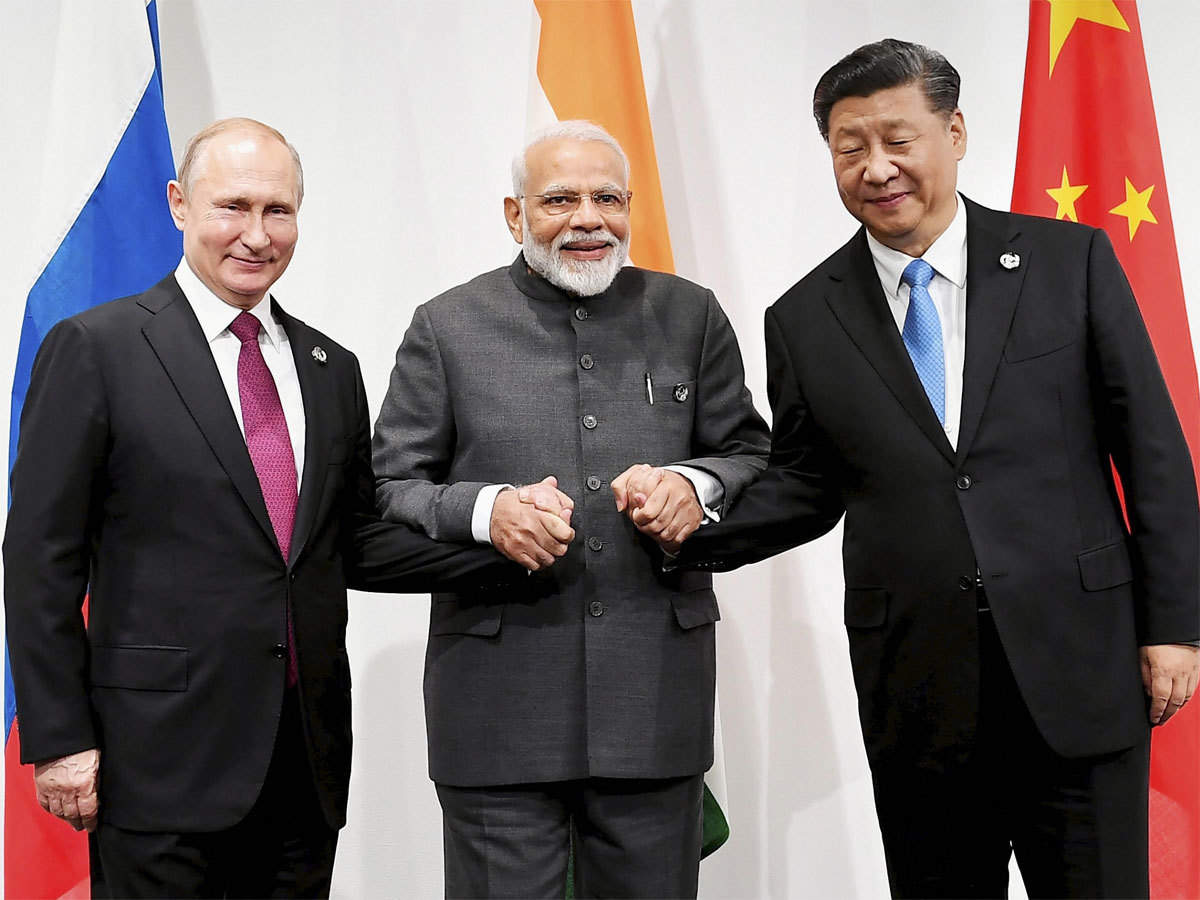 If Russia plays a role, peace between India, China can be salvaged
As troops belonging to India and China belligerently stare at each other in Eastern Ladakh across a contentious border, the only factor that can possibly defuse the tension is the role of a common friend, Russia.
As troops belonging to India and China belligerently stare at each other in Eastern Ladakh across a contentious border, the only factor that can possibly defuse the tension is the role of a common friend, Russia.
India's External Affairs Minister Jaishankar and his Chinese counterpart Wang Yi are scheduled to meet on Thursday (September 10) in Moscow, on the sidelines of the Shanghai Cooperation Organisation (SCO) meeting.
While there are no public statements by Russia that it will intervene in the inordinately long standoff between India and China on their border, indications are that Moscow will have its say on the nerve-racking situation which has the potential to explode into a full-fledged armed conflict.
The Russian government under President Vladimir Putin has publicly expressed confidence that the two nations, both its friends, will sort out their differences peacefully.
According to media reports, Russia has already twice in the past intervened successfully to sort out tensions between Beijing and New Delhi – first, during the 72-day standoff in Doklam and, next, when the situation almost veered out of control after 20 Indian soldiers including an officer died in clashes with Chinese troops in Galwan valley on June 15.
In the aftermath of the Galwan clash, following negotiations on the sidelines of the RIC (organisation comprising Russia, India, and China) meeting in Moscow on June 22, troops of the two countries disengaged in that area.
However, for reasons that are not yet fully fathomed, the disengagement was restricted to Galwan. The standoff has continued in the nearby Pangong Tso lake region, with both countries claiming that the troops from the other fired in the air, a first in 45 years.
Also, China has been claiming that Indian troops have transgressed on its territory on the southern banks of the Pangong Lake. India has denied the claim stating it is stationed well within its side of the Line of Actual Control (LAC).
Related news: Ahead of Moscow meet, India-China take diplomatic steps to thaw tension
The border dispute between the two countries go back to the time of India's colonial rule under the British and later continued unresolved even after independence and the coming to power of a Communist government in Beijing in 1949.
As it stands, the border is unmarked and the Line of Actual Control is a notional line separating the two stretching across 4000 km, with an unwritten understanding as to what comprises each other's territory. But this is tenuous and prone to disputes as the current Ladakh standoff proves.
Over the years, especially since the 1962 India-China war, claims of transgression have been
common. But almost always they get resolved at a local Commander level and occasionally on a political level. The current standoff is one of the more serious instances of differences, exacerbated due to the Galwan clash.
India's government under Prime Minister Narendra Modi has retaliated by banning a number of Chinese apps, stalled several deals involving Chinese companies and has facilitated in fanning an anti-China mood across the country. China, on the other hand, has attempted to play it down until last week when its tone turned combative after its claim that Indian troops had transgressed on Chinese territory in south Pangong.
India's Defence Minister Rajnath Singh and his Chinese counterpart General Wei Fenghe met for around 150 minutes in Moscow on the sidelines of the SCO meeting last week, but it has not helped. Both ministers later publicly asserted that their respective countries were not at fault and blamed each other for the border tensions.
Related news: Situation at LAC needs deep political parleys between India, China: Jaishankar
The forthcoming meeting between the foreign ministers, on September 10, therefore acquires a sense of urgency.
Significantly, the SCO which India joined in 2017 along with Pakistan as a full-fledged member has turned out to be useful in providing a common platform for otherwise mutually hostile countries.
In the current instance, with tempers running high in Beijing and New Delhi, the SCO willy-nilly has the potential to play the peacemaker. Russia, a time-tested ally of India, has also moved closer to China in recent years and that makes it natural for it to mediate in the current standoff.
It is also in Russia's interest to douse any friction between Beijing and New Delhi. For one, it would endear itself to New Delhi and simultaneously get closer to Beijing given that the US has been antagonistic towards Chinese President Xi Jinping in recent months.
In the larger geopolitical stakes, India is perceived as moving closer to a US-led alliance and Russia's intervention in the current standoff will counter that and make itself indispensable to New Delhi.
Russia under Putin has in the last decade attempted to reassert its role as a big power, taking on the West in Syria and Iran besides challenging the US and Western Europe in its former republics of Ukraine, Belarus and Georgia.
Moscow would want to retain some of its traditional hold over India and the current standoff with China provides it that chance. Shrewd as he is, Putin would be the last person to pass up the opportunity. If his government succeeds, it would be a win-win for all concerned – particularly New Delhi and Beijing.