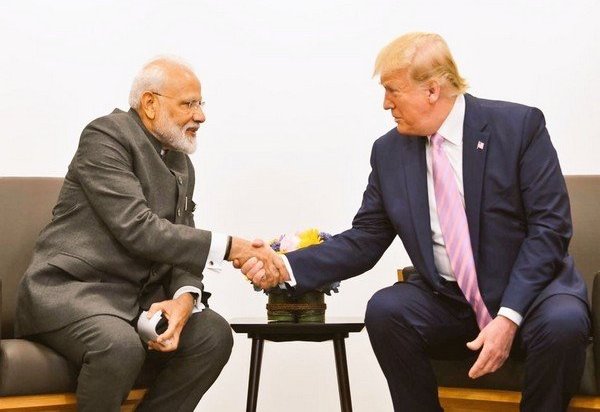 Never mind the economic gloom in India, unsettling political events in Kashmir and the NRC fiasco, Indians now have something to look forward to: the September 22 "Howdy, Modi! Shared Dreams, Bright Futures" event at Houston in Texas.
And, as the "hypesters" say it repeatedly – it is a historic event as, for the first time a President of the United States and the Indian Prime Minister share a common platform in public. Moreover, "no US president has ever addressed Indians in that country directly" and we are talking of not less than 50,000 of them, no less. Tickets have already been sold out.
Also read: Trump to address 50,000 Indian Americans at 'Howdy Modi' event
Advertisement
In a world where optics and hype are the new indicators of power, development and progress the Howdy rally is expected to herald Modi as a world leader, even if it means just a reflected glory. For Trump, it is a win-win as not only does he get the chance to project an image of being pro-India, he could have in his bag Indian–American voters, many of whom will be present at the rally.
Trump's constant refrain that he will in some way involve himself in Kashmir and the friendly rebuffs from India, the US removal of India from a preferential trade category and his complaint that New Delhi is not doing enough to help Washington in Afghanistan are but minor discordant notes that the Howdy event will obviously not dwell on.
Also read: US President likely to attend diaspora event in Houston, say reports
For Trump, it is but a small gesture to oblige Modi whose government has gone out of its way to accommodate US interests and has generally bent over backwards to be seen as Washington's close ally. Never mind if stopping oil from Iran hurts Indian interests or if Indian goods are charged higher tariffs in the US all is fair where the superpower is concerned.
For the Indian media, much of which is waiting to carry Modi on its wings even at the slightest nod from the powers that be, the Houston event takes care of "positivity" and the "nationalist glare" that it can use to propel the prime minister into the hallowed stratosphere of awe and attention.
And, for Modi, the Houston moment is something of a kind that he relishes. He would any day be willing to spend time in the wilderness of Jim Corbett with survivalist Bear Grylls in a show screened by the most-watched Discovery channel, perform yogasanas at the head of a few thousands following him or, for that matter, meditate "privately" in full camera glare  at the Kedarnath shrine in the Himalayas.
Also read: PM to address on bilateral & multilateral engagements at annual UN General Assembly
The prime minister has in his oeuvre the kind of image-building strategies that can throw off balance even his most stringent critics. The latest is the September 22 Houston event: away from the unsettling grime, dust and din  of India's chaotic  streets,  the prime minister can bask in the sanitised glory of  America alongside the world's most powerful man.
In his earlier term, Modi and his PR team had already tasted what it meant to be feted in the US – at New York's Madison Square Garden in 2014 and again in California's Silicon Valley in 2016. The Houston one is planned to trump both.  But, as they say in international politics, what matters is realpolitik. And, the Houston jugalbandi is the latest example.
Also read: 40,000 people register for Howdy, Modi community summit in Houston
Modi has opened India's doors for the US energy sector, among others. According to Forbes magazine, some $1 trillion energy investments in India are up for grabs.  And, much of this has been promised for the Americans. Over time, from the UPA years, energy investments in India have seen a rise, but under Modi they jumped sharply, by 12 percent, to touch $85 billion dollars.
For Trump, the Indian opportunity that has opened for the US energy sector is something he can crow about, especially during election season. And what better way to express thanksgiving than obliging New Delhi with the matter of a presence for a few minutes at Houston. As for Modi, he can come away with one more "feather in his cap" that, if not anything else, will suffice for some time to attract people's attention away from the tiring issues of Kashmir, Assam and the damn economy.