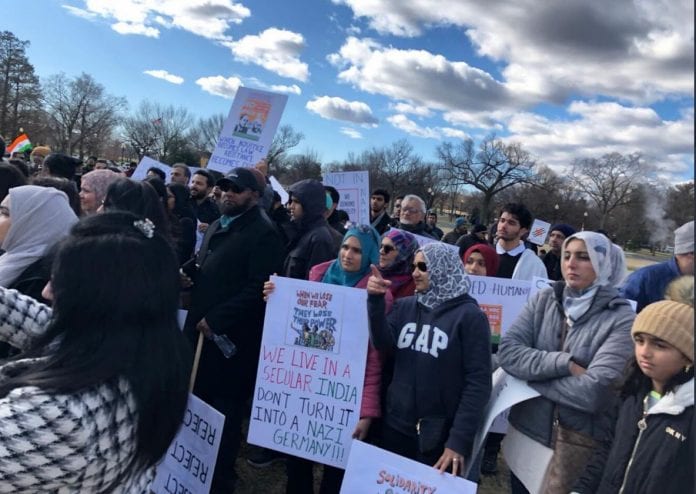 Responding to an RTI application seeking a copy of Prime Minister Narendra Modi's citizenship certificate, the PMO promptly replied that he does not need such a certificate as he is a citizen by birth according to Section 3 of Citizenship Act, 1955. So far so good.
The people of India too wish that be the case for all Indian citizens. But unfortunately, it is not. As per section 3, a person born in India on or after 26th January 1950 but before 1st July 1987 is a citizen of India by birth, irrespective of the nationality of his parents.
The question is whether everyone born before 1987 are presumed citizens like the PM? Or should they prove it with date and place of birth somewhere in Indian territory? What documents they should produce? If they do not have documents, what will be their fate?
Advertisement
Related news: MPs bay for blood, but aren't cops too guilty for Hyderabad rape?
All those who were born before 1987 would like to know what documents the Prime Minister produced to prove that he is a citizen of India by birth as per section 3 of the Citizenship act. Is that presumed or proved?
A person born in India on or after 1st July 1987 but before 3rd December 2004 is not considered a citizen of India by birth if either of his parents is a citizen of India at the time of his birth.
All those born after 3rd December 2004 will be considered Indian citizens by birth only when both their parents are citizens or one of them is an Indian citizen and the other NOT an illegal migrant at the time of their births.
Citizenship by birth is a universal principle, but India imposed conditions on it. If a person is born after 1987 and before 2004, his father or mother should be a citizen of India. If he is born after 2004, his father and mother both should be citizens. Again, if one of his parents is an illegal migrant, he, though born in India, can't become an Indian citizen at all. Narendra Modiji could easily become a citizen of India by birth because he was born before 1987.
Related news: Statelessness stares at one lakh Sri Lankan Hindus

New generations are not that lucky. They must prove their citizenship in accordance with the new law on citizenship, NRC rules, and NPR regulations. This is the reality borne out of CAA, NRC and NPR. A person born after 1987 should prove that his father or mother was a citizen. For that, he must show that either of them was born before 1987 in India. If he does not have documents to support his claim, he will surely fail.
Anyone born after 2004 should prove that either his mother or father is a citizen by birth, by proving their place and date of birth. If he is born to a Bangladeshi migrant, who married an Indian woman, he cannot become an Indian, as one of his parents is an illegal migrant, as per the Citizenship Act.
Pro-CAA sections of media, nationalists and so-called patriots, besides the ruling party members, are blaming the anti-CAA critiques as spreading baseless fears. Anyone who reads Section 3 of the Citizenship Act as amended in 2019, will understand the difficulties referred above.
How can young men born after 2004 or those born between 1987 and 2004 prove the credentials of their parents as citizens and gain citizenship? So far, neither the Home Ministry nor any other government authority has declared what documents are required to prove one's citizenship. But officially, it has been announced that Voter ID, Aadhaar, PAN and Passport will not be accepted as proofs of citizenship and that the burden of proving it lies with individuals.
Related news: Slapping sedition charges in Bidar case an act of unprecedented oppression
Around 30 per cent of Indians are illiterates, poor and do not have documents as most of them might have not gone to school. Even if they have some papers, they would not know how to preserve. In floods and fire, they lose papers. For instance, in the recent Delhi arson orchestrated by a mob against targeted people, nothing worth is left with thousands of people. How can they convince babus or tribunals? How can they prove their parentage?
It is not a question of Muslims apprehending loss or a matter concerning secularism. It is a practical problem of proving the place and time of birth for every person, irrespective of religion. More than anything, how can a son or daughter prove that X and Y are his/her parents?
'Doubtful' Voter?
The officer who collects details of a resident for NPR is given power under 2003 Rules to doubt and add 'D' to one's name.
See Rule 4(4): During the verification process, particulars of such individuals, whose Citizenship is doubtful, shall be entered by the Local Registrar for further enquiry. And in that case, the individual or the family shall be informed in a specified proforma immediately after the verification process. Thus, one can become a 'D' Voter.
District Magistrate's power over 'D' cases
If the doubt persists even after an enquiry, the 'Registrar' of District Magistrate rank can refer such 'D' cases to the Foreigners Tribunal in line with the rules amended in 2019 under the Foreigners Order.
The Rule 3A (6) added by Amendment to Foreigners Order 1964 in 2019 says: The District Magistrate may also refer to the Tribunal for its opinion the question as to whether the Appellant is a foreigner or not within the meaning of the Foreigners Act, 1946 (31of 1946), in terms of sub-para (1) of paragraph 2.
Related news: Govt can't hide behind collegium over Judge Muralidhar's transfer

In case of such reference to the Tribunal, it shall be deemed as a reference to the Tribunal in terms of sub-para (1) of paragraph 2, the Tribunal shall examine the said reference along with the Appeal.
This is the statutory link between the NRC and the CAA, which the Government is trying to cover up with aggressive blaming of critics.
If the foreigners' tribunal declares one a Foreigner, he loses the case and reaches the detention centre. Thereafter, the High Court is the only resort for him to prove his citizenship. If he fails there, he will have to wait in the detention centre until his deportation to his own country or death.
The CAA may not offer any hope to even Non-Muslims. If either Hindus or people of the other five religions fail to prove that they suffered persecution and migrated before 2014 they too may not get citizenship.
The tragedy is that everybody in India is being put to this test. It is in this background one cannot believe the statement of the Union Home Minister, made in Kolkata (on 1st March), that none from minorities would lose their citizenship under CAA, or any of the non-Muslims need to produce any document.
(M Sridhar Acharyulu, Former Central Information Commissioner and Dean of Law, Bennett University.)
(The Federal seeks to present views and opinions from all sides of the spectrum. The information, ideas or opinions in the articles are of the author and do not reflect the views of The Federal.)