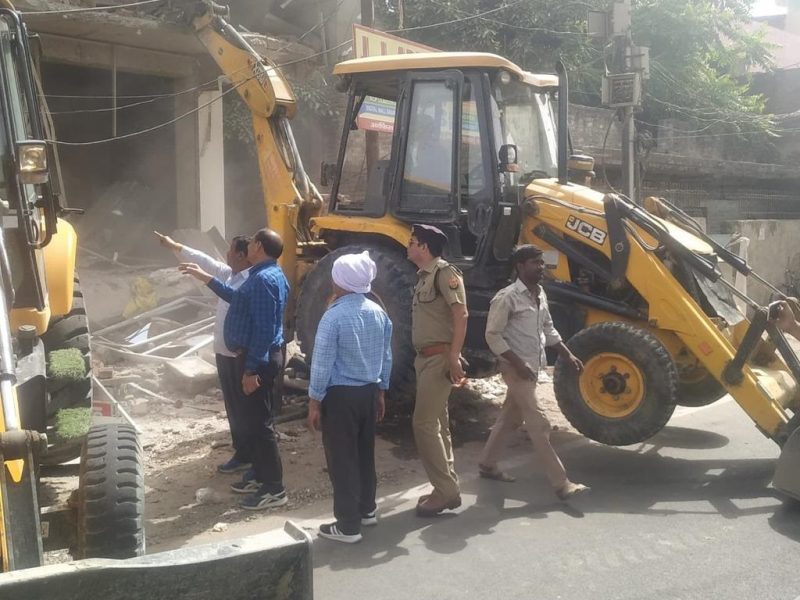 Bulldozer politics dents the rule of law
Democracies are based on the rule of law. There may be some aberrations and some in the state might take law into their hands. However, the Constitution has in-built adequate self-correcting devices to address the challenges
If an individual citizen violates law, the state is supposed to curb it and ensure justice. What if the state itself resorts to illegality? Where can the citizens go to get justice?
These questions were posed prominently during the recent handling of the protests by Muslims in response to reckless public comments against Prophet Mohammad by BJP spokesperson Nupur Sharma. Even before such comments on a TV show evoked sharp international reaction, protests first broke out in Kanpur after prayers in a mosque on June 3, 2022. 
Also read: It's time India chased glory, not past sins
Again, in the backdrop of India's growing diplomatic alienation on this issue, there was another wave of protests after Friday prayers by minorities, on June 10. Protests and some instances of stone-throwing met with police crackdown in six districts of Uttar Pradesh, with intense protests in Prayagraj, Lucknow and Saharanpur. Similar protests the same day in Jharkhand witnessed police firing, in which two protestors were killed. 
Kolkata was literally burning that day over the same issue. It looks like while the Kanpur protests were spontaneous on an emotive issue, the second wave appeared to be an organised and concerted one.
Patently illegal move
Having pioneered the "bulldozer politics," of unleashing machines to demolish the houses of alleged "troublemakers", the UP government promptly sent the bulldozers on June 11, 2022, to demolish the houses of alleged Muslim "masterminds" behind the June 3 protests in Kanpur. Likewise, the house of Mohammad Javed, a prominent leader of the Welfare Party in Prayagraj, was also demolished on June 12. UP Chief Minister Yogi Adityanath himself had gone on record saying, "I have sent the bulldozers for repair. Once they start working again after March 10, all those who are hot-headed now will be silenced on their own."
Also read: Hindutva politics of hate, manipulation of history now India's cross to bear
PUCL activists in Prayagraj argue that bulldozer demolition is patently illegal as there is no place for that in law. At best, Sections 81 to 84 CrPC provide for attachment of property of criminals who are absconding. There too the procedure for that has been laid down in Schedule V of CrPC which requires the law enforcement authorities to make a public proclamation first and subsequently to obtain a court order to attach and sell the property of the absconder. Otherwise, the right to property is inviolable and is a fundamental right under the Constitution and no law permits razing down of the property of anyone no matter how serious is the charge of criminality. Recently, the Lucknow bench of the Allahabad High Court reaffirmed that in another bulldozing case.
PUCL leader in Prayagraj Seema Azad told The Federal, "On most people, FIRs under Sections 307 (attempt to murder), 120B (criminal conspiracy to commit an offence punishable with death), and 153A (absconding, within 24 hours after protests) have been filed, which is ridiculous. It is really strange that the very administration which has hitherto been using Javed's house for holding peace meetings and inter-community harmony gatherings chose to demolish that very house under orders from above. Many of us were shocked at Javed being labelled the mastermind of the protests."
House registered in Javed's wife's name
Moreover, in the Prayagraj case, the bulldozed house was registered in the name of Mohammad Javed's wife, having been gifted to her by her father, and did not belong to Javed, pointed out another PUCL leader. Since Javed's wife was in no way involved in any of the demonstrations, this rash act was nothing but bulldozing of the law. She and her younger daughter were picked up and held in illegal custody for a day before they were released even without producing them in court. 
No wonder, bulldozer politics poses larger concerns about the state of rule of law and even for the fate of democracy in India.
To add fuel to the fire, local newspapers and TV channels seem elated and have already started a vicious slander campaign against Javed and his family. Headlines are screaming that the "mastermind" has been booked and his elder daughter Afreen, another "mastermind" is on the radar.
Democracies are based on the rule of law. There may be aberrations for a while and some personnel in governing the state too might take law into their hands and violate it. But the founding fathers of our Constitution have ensured adequate self-correcting devices within the constitutional scheme of things.
Also read: How Nupur Sharma unwittingly gave the Pak government a breather
Often, there is an inbuilt age-old tension between law and politics. But then the mechanisms of resolving that are also inbuilt. Democracy operates through the three state institutions of the executive, legislature, and judiciary acting as checks-and-balances against each other. While legislature is supposed to be supreme, judiciary is the final arbiter having the last word on whether the due process of law has been abided by or not.
Role of judiciary
Some are disappointed that the Allahabad High Court did not act in time by not taking suo moto cognition of such illegal demolitions. Maybe the courts are a bit weary of being seen as intervening in day-to-day governance locked in perpetual conflict with the executive. Perhaps, the judiciary wants to give a long rope to the errant rulers.
Also read: How BJP is becoming its own dangerous enemy
We have seen that the free market laissez-faire economy often leads to violations of rule of law — be it 3G or the Rafale deal. The same is true even of the heat of bitterly competitive electoral democracy where there are manageable transgressions of rule of law. But what we see in India, especially in Uttar Pradesh now, is an add-on of the vestiges of mediaeval Oriental Despotism enabling overzealous rulers to corrode the rule of law and even trample upon the fundamental rights of citizens.
Strangely, under the soft state milieu of India, the law gave ample space to a mathadheesh (chief of a religious mutt) to float  a Hindu Yuva Vahini that indulged in plain lawlessness in the days of yore, to a man who was facing murder charges in the courts, to ascend to power as Chief Minister. The same law even offers large enough latitude for him to continue to rule in defiance of law with the same impunity blurring the difference between administering a feudalized religious mutt as his fiefdom and democratically governing a state as per rule of law. Ironically, the same strongman now pitches for autocratic rule often overriding the same law and the judiciary! Constitutionalism seems to be under trial!
Some secular activists try to explain the above phenomenon in terms of majoritarian predilections of a section of the judiciary itself. That might not be entirely true. After all, the current chief ministerial incumbent in Uttar Pradesh is the one who perhaps faced maximum strictures from the higher judiciary. Perhaps, his is the case where the Allahabad High Court overturned the maximum number of executive decisions. Still, defying the judiciary comes as a child's play for this CM.
The problem is also the absence of proper checks-and-balances within the ruling party. The all-India leaderships of the BJP or RSS, the guiding parent body, do not seem to be having enough maturity to rein him in. Rather they also probably egg him on and get carried away in the same zeal of lawlessness. It is noteworthy that the RSS leader who asked their ranks why they look for Shivlings in every mosque to moderate a dangerously emerging communal polarisation over hundreds of religious shrines carefully chooses to maintain a studied silence over bulldozer politics of governments under this outfit's influence. But they can indulge in such indifference or even extend their wink of approval only at their own peril.
International backlash
The unprecedentedly adverse international diplomatic backlash was not entirely due to intemperate comments of a lowly spokesperson in the BJP hierarchy. It appears to be a measured and calculatedly concerted response coming from India's friends and diplomatic detractors alike. The international opinion against India's denominational authoritarian excesses has been building up for quite a while. From the New York Times to even the conservative Washington Post, from the left-liberal Telegraph UK to the otherwise dour Der Spiegel of Germany, many have carried editorials or op-eds against the Indian government's transgression of minority rights in recent times. 
Foreign policy establishments of not only Islamic countries but even of developed liberal democracies have been closely tracking developments from the controversial Kashmir decisions to CAA protests, from Shaheen Bagh to the anti-hijab crackdown, from Jahangirpuris, to the mysterious cropping up of Shivlings in mosques, and now the bulldozer politics, with due concern about the fate of liberty and minority rights in the largest democracy in the world.
The rulers can put up a brave face for a while in the context of such an international backlash. But it can have larger consequences than mere statements of condemnation. Speculation is already rife about the fate of Indian expatriate workers in the Gulf region and the remittance economy that is sustained by them. Moreover, which fund manager would choose to invest in a communally riven and tense Uttar Pradesh?
The state might appear to be going strong for a while. But there is a lurking danger. But what if some misguided youth are pushed beyond a point and hundreds of them opt for taking up arms? There can be any number of adventurers and militant outfits which can mislead them in that direction. Can bulldozers stop terror acts? As Lalu Prasad pointed out, it will be a civil war-like situation. Political moderation is the best defence against terror acts which can deprive terrorism of any legitimacy or justification; whereas state illegality and excesses can only work in the opposite direction.
A section of the democratic opinion is also weary of Muslim youth resorting to senseless violence at this juncture. Senior journalist and editor of Hindi NewsClick Mukul Saral told The Federal: "We should stick to political and legal means of resolving issues and do it in a peaceful manner as in Shaheen Bagh or the Kisan movement instead of taking to streets on emotive issues in a violent manner. Moreover, minorities should give priority to addressing their educational, social, and economic conditions rather than taking to the streets on emotive religious issues."
More importantly, the state too should be principled in its handling of protests. Just as a woman cannot be part pregnant, a state — or, even a government, in specific — cannot be partly constitutional. Some organs of the government cannot take liberty with the law. The perceived gains for the rulers from such transgressions can only be temporary. The medium- and long-term consequences of such state illegality can be ominous. If anything, in the ultimate analysis, the courts will strike back. More importantly, a large minority running into a couple of hundreds of millions cannot be subdued with a few bulldozers. It is high time better sense prevailed among the ruling establishment.
(The author is a senior journalist based in Allahabad)
(The Federal seeks to present views and opinions from all sides of the spectrum. The information, ideas or opinions in the articles are of the author and do not necessarily reflect the views of The Federal)