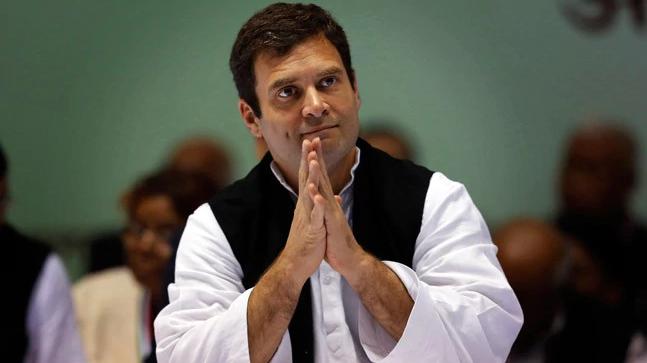 Now that Rahul Gandhi is officially the ex-president of the grand old party of Indian politics, the Congress seems to be on the crossroads of extreme confusion.
Can Congress survive without a Gandhi on top?
Can a non-Gandhi face lead the Congress?
Is Congress headed towards a complete disaster without a Gandhi at the helm?
Who could be a fit replacement for Rahul Gandhi?
Questions are many, both from within and outside the party, but no one has the answer to any one of these. Who will fit into Rahul's shoes is the topmost question on everyone's mind. And the hints of names coming out from the party headquarters are adding to further confusion.
Some of the names doing the rounds are Sachin Pilot, Jyotiraditya Scindia, Jitin Prasad and Milind Deora. They all are young Turks.
Advertisement
A few old horses too seem to be in the reckoning. They are:
Moti Lal Vora
Some say Moti Lal Vora could be made the interim president till the Congress Working Committee (CWC) accepts Rahul Gandhi's resignation and finds a new president. Vora is 90 years old and won his last elections from Nandgaon, then in Madhya Pradesh, now in newly-carved state of Chhattisgarh, way back in 1998. It has been over two decades that this old warhorse has faced any general election.
Sushil Kumar Shinde
The 77-year-old former home minister has held quite a few important posts as Chief Minister of Maharashtra and Leader of Opposition in Lok Sabha. But since he won his last election from Solapur in 2009, Shinde has faced two electoral defeats in a row, once in 2014 and then again in 2019. His only claim to fame now is that he is termed as a yes-man to the Gandhi family.
Also read: Cong calls Rahul's resignation bold, BJP dubs it drama
Mallikurjan Kharge
The veteran Congressman is 76 years old. He was the leader of the opposition in the 16th Lok Sabha till 2019. Though he won from Gulbarga Lok Sabha seat in 2009 and 2014, he suffered a defeat from the same seat in 2019. A tall leader from his own state, he too does not have the following that a national leader should possess.
Ambika Soni
Soni is 76-year-old now but a Gandhi loyalist to the core. She is in her fifth term as Member of Rajya Sabha from Punjab. She contested Lok Sabha elections from Anandpur Sahib in 2014 but lost. And this clearly spells out that she has no mass following too.
Ghulam Nabi Azad
The 70-year-old leader from Kashmir contested two successful Lok Sabha elections from Washim in Maharashtra in 1980 and 1984. Azad was also the chief minister of Jammu and Kashmir and also the central health minister. He last contested Lok Sabha elections from Udhampur in 2014 but lost. Clearly, another leader without any great public following.
Since Punjab chief minister Amarinder Singh has called for a younger leadership, Congress could look up to Sachin Pilot, Jyotiraditya Scindia, Milind Deora and Jitin Prasada. These leaders are close to Rahul Gandhi and also have a good following.
History of dissents and breakaways in Congress
In 1996, senior party leaders like Narayan Dutt Tiwari, Arjun Singh, Natwar Singh and Rangarajan Kumaramangalam, who were miffed with the then Prime Minister PV Narsimha Rao, exited Congress to form a new political outfit, The All India Indira Congress (Tiwari). The party later merged with the Congress party when Sonia Gandhi took over in 1998.
Jitendra Prasada, a veteran Congressman of the yesteryears, who also served as the political advisor to two Prime Ministers, Rajiv Gandhi in 1991 and PV Narasimha Rao in 1994, is a unique example of failure in challenging the dynasty politics of the Congress. He was ill advised and pumped up by some partymen to contest the election for the post of Congress president against Sonia Gandhi on November 9, 2000.
Though Prasada contested these elections hoping to emerge as an alternate power centre in the Congress, he lost badly. While Sonia Gandhi secured 7,448 votes, Prasada got a meagre 94 votes. This election result made a clear writing on the wall that Congress is a party which will be always led by dynasts of the Gandhi family.
Also read: Mahatma Rahul: Confused philosopher's bid to drive Congress with his 'moral' heft
If any one of the above-mentioned dark horses come out to be the next president of the Congress party, there would hardly be any surprise as Congress has a history of sorts in this field. The party would be remote-controlled by the Gandhi family, whoever the president or "de-facto president" – speaking politically. The line "come my way or take the highway" seems to be much suited for the Congress's dynast style of politics!
Vivek Avasthi is Senior Editor Politics with Business Television India – BTVI
(The Federal seeks to present views and opinions from all sides of the spectrum. The information, ideas or opinions in the articles are of the author and do not reflect the views of The Federal.)