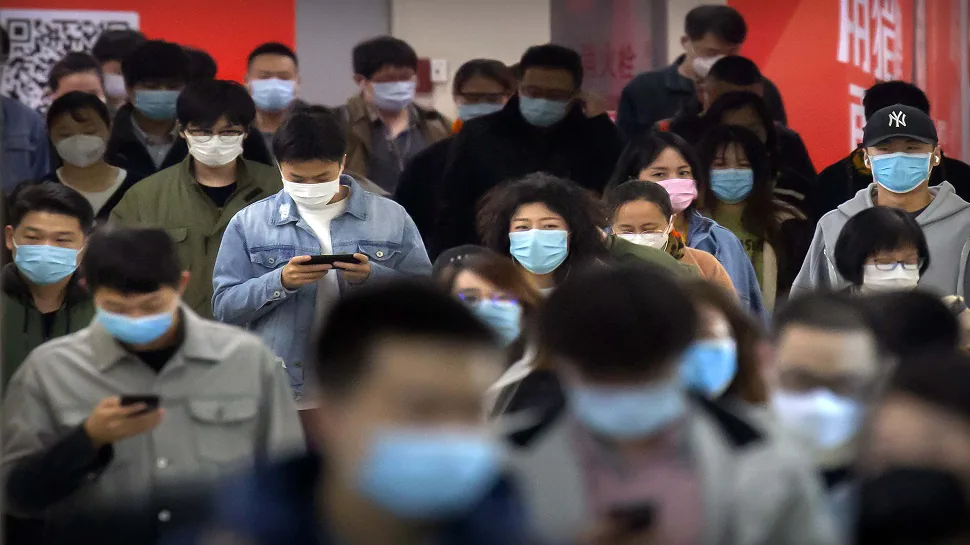 Amid COVID and economic crunch, bad and good news from China
When China coughs these days, world growth shivers. Only a few Chinese are coughing because of infection by SARS Cov2, but, thanks to Chinese Communist Party boss Xi Jinping's zero- COVID strategy, not many rasping throats are required to close entire localities down. This has hurt China's growth, and, thanks to China's role as a source of vital parts to feed the supply chains that sustain global growth, damaged global growth as well.
Dissent has reportedly broken out at the top of the Chinese establishment. Chinese premier Li Keqiang held, on Wednesday, an unscheduled video conference with thousands of key party workers around the country, to warn them of an economic crunch more severe than the one two years ago and to urge them to meet local growth targets, regardless of COVID control. This amounts to calling for a departure from the policy of stamping out COVID at any cost — a departure from the policy articulated repeatedly by party supremo Xi Jinping.
Also Read: Sri Lanka shows it takes little time to turn heroes to zeroes
This is bad news for the world. On another level, it is extremely good news for the world as well. The bad news is that the poor growth of the Chinese economy, as per Li's prognosis, could hurt global growth. The good news is that Chinese exceptionalism is a myth, that the possibility is very real of people power eventually asserting itself over the dictatorship of the Communist Party, and China joining the global mainstream, dragging its deformed clone, North Korea, along.
The International Monetary Fund's latest World Economic Outlook puts China's share of global GDP in 2021 at 18.7%, that of the US, at 15.7% — yes, in purchasing power parity terms, China is already bigger than the US, and the Euro area as well, whose share in world output is 12%. India's share of global output is estimated to be 7%. This means that when China's GDP grows by 1%, it would add 1.2 times as much to global output as does the output from 1% growth of the US economy. India needs to grow 2.7% to produce as much as China's 1% growth would. And when China's growth falters, the negative effect on world growth would be proportionately higher than for any other nation's economic ills.
The World Economic Outlook had, by April, lowered its growth forecasts for 2022 and 2023 from its levels estimated in January. The April forecast put China's growth at 4.4% in 2022 and at 5.1% in 2023. Recent lockdowns in Shanghai and Beijing, apart from in other parts of China, have undermined these projections. UBS expects growth to tank to 3%. The unemployment rate in China is 6.1%.
The trouble with low growth is not just economic distress in China. It is a question of systemic stability as well. Extreme economic distress can lead to political instability, as is evident in Sri Lanka right now, but that is different from the stability of the political system itself, which is what is at stake in China. The Communist Party's monopoly on power, its control of virtually every sphere of Chinese life, is predicated on its ability to deliver economic benefit, year after year. Loss of economic momentum and growth of joblessness would spell loss of legitimacy for the Communist Party.
Also read: Nehru's death anniversary: Time for Congress to show courage and vision like the first PM
That is the case with failure to contain COVID as well. China has 100 million elderly people who have not been triple-vaccinated. China's indigenous vaccines have not been great at either preventing infection altogether or keeping the symptoms mild, once infected. China has chosen to not get dependent on American mRNA vaccines, which instruct the body to produce coronavirus proteins and, thereby, trigger the production of antibodies. Relying on treatment alone runs the risk of elderly people dying in large numbers. A Chinese proverb might say that life is a journey but death is going home, but if too many old people go home all together all at once, some things other than a metaphorical home would burst.
Xi Jinping had burnished his candidacy for a third term as party general secretary and leader of China by demonstrating the dominance of the party over not just a teeny, if deadly, virus, but also over China's new, brash breed of billionaires, who had begun to challenge the wisdom and authority of the Communist Party. Common Prosperity is our aim, said Xi Jinping. Crackdowns followed on the uncommonly prosperous tech billionaires and the debt-guzzling property sector. Common Prosperity rang true, but the economy slowed.
It is against this background that China is being forced to make a choice between two conflicting options: follow Zero-COVID and risk economic collapse or prop up the economy, tolerate some COVID but prepare for the elderly to retire permanently. The fallout of either option is the loss of political legitimacy for the Communist leadership. When all possible moves lead to defeat, the situation is called checkmate.
China might wriggle out of the situation by taking resort to nationalism. As in the case of calling Russian president Putin a murderer and asserting that he had no right to continue in power, President Biden had to suffer a painful procedure, of his secretary of state and other officials jointly and painfully pulling his foot out of his own mouth, after declaring that the US would militarily intervene, were China to annex Taiwan by force. Biden's imprudence gives an opening for China's leaders to rally the Chinese against the foreign devil.
However, even if China's self-inflicted wounds, Zero-COVID strategy and economic crackdown to gain political legitimacy for Common Prosperity, do not prove fatal for Chinese communism in the short run, the very fact that such a threat could arise to systemic legitimacy is a welcome sign that the system is vulnerable.
Also read: With Padma Bridge, Bangladesh's Iron Lady Sheikh Hasina makes a statement to the world
A Xi-Li falling out might be contained at the moment, but as the Chinse people grow ever more prosperous and ever less thankful to the mythical guidance of a Mao or a successor for what evidently are the results of their own hard work and ingenuity, politically induced societal crises will bring its political superstructure crashing down. The Chinese are like people everywhere, after all. And that is good news.