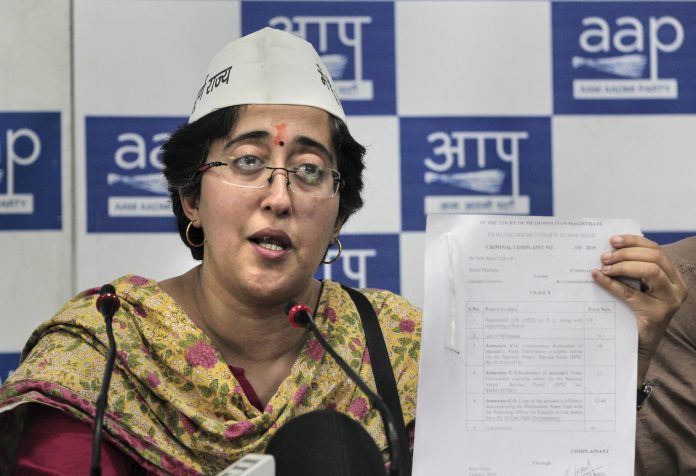 Aam Aadmi Party (AAP) leader Atishi Marlena is living up to her name in the battle for East Delhi. Those who have been following her career know that her unusual surname is a mix of Marx and Lenin, two communist icons her father, a Delhi university professor, idolised.
Her first name is equally interesting and unique. For those not well versed with Hindustani, aatishi means fiery/flaming/blazing. The word was immortalised by many famous Indian writers, especially Ghalib, who famously wrote, love is like an aatish (blaze) that cannot be controlled, you can neither light it with force nor can you extinguish it. On another occasion, Ghalib claimed even in captivity he is like aatish and his chains are just curls of singed hair.
Her entry into the poll ring has triggered a storm of attacks from all sides. From her name to her religion, her loyalty to the nation to her parents, everything has been attacked over the past few days. In response, the AAP candidate is raining fire and fury—like the Avenger Wanda Maximoff—on her rivals, fending off charges of supporting "terrorists", exhorting people to vote for "goons", being a "Yahudi (Jew)" and lacking a vision.
On Sunday, Gautam Gambhir accused his rival of resorting to negative politics and being "visionless". "When you don't have a vision and have done nothing in the last 4.5 years, you make such allegations, EC will decide this." Gambhir was responding to allegations of having two voter IDs in Delhi. The AAP has approached the election commission for disqualifying Gambhir for having registered himself in two polling booths and not disclosing the information in his election affidavit.
Atishi responded to this by listing out her achievements: "Two new schools of excellence, two talent schools, two university campuses, swimming pools, 25 neighbourhood clinics…" She then asked Gambhir about his contribution to the constituency and asked people to not vote for Gambhir as he would be eventually "disqualified" for the electoral offense.
On the BJP's allegation that her parents had demanded justice for Afzal Guru, who was hanged for the terror attacks on Indian parliament, she said they are responsible for their politics and ideology. "I did not support their demand," Atishi said. To charges of asking people to vote for goons, she said since in UP the option for voters is to choose between two "gundas", she recommends anyone who can beat the BJP.
And to the Congress statement of being a Jew, she first disclosed her Rajput origins and then fired a salvo at Rahul Gandhi, seeking his apology for his party's communal propaganda.
You would have noticed that Atishi is not running away from the allegations hurled at her. Unlike Gambhir, who is still to clarify if he indeed has two voter IDs, she is responding to charges against her with aggression, clarity and without any doublespeak or subterfuge.
Since the advent of AAP, Atishi has been among the most well-known faces of the party.  On TV debates, at press conferences, on Twitter, she's known to represent her party with logical and intelligent arguments without resorting to theatrics that are trademarks of her rivals.
Away from the din of verbal and Twitter duels, she is credited for turning around government schools in Delhi as an advisor to the deputy chief minister, Manish Sisodia. Before joining politics, Atishi—who has a degree in History from Oxford—worked as an educator and a social worker in a small village of Bhopal. She has channelled her experience into turning around the education and health care systems in Delhi.
Atishi's reformist zeal, erudition and oratory have already turned her into the "Kanhaiya Kumar" of the second half of the election. Like the student leader who is contesting from Begusarai, she is now attracting activists, independent thinkers like actor Prakash Raj and support from across the political divide, turning the fight into a high-profile battle of ideologies. With Begusarai going to the polls today (April 29), East Delhi will become the epicentre of the battle between the Indian liberals against the BJP and its legions of rightwing supporters.
But, the first round has already gone to Atishi. It is an ode to her contribution to reforms that the BJP had to drop its incumbent MP Mahesh Giri and replace him with a celebrity cricketer who bats for the party on Twitter. The general perception is that since AAP's school and health reforms have worked on the ground, East Delhi's voters would reward Atishi with their support.
Her main rival is a cricketer known for statements that are typical of the BJP mindset that puts words over deeds. Although missing from the ground, Gambhir has been quite active on social media with his remarks on the Indian army, issues like nationalism and extraordinary interest in Kashmir. Like a typical BJP keyboard warrior, he has railed against Kashmiri leaders, bashed Pakistan, eulogised the BJP's nationalist credentials and blown the trumpet for the Indian army.
As a cricketer, Gambhir was starting cautiously and then turning on the heat. In the heat of the battle, he was known to give a mouthful to his opponents—his duel with Shahid Afridi is part of the cricketing lore—and not yield even an inch. Before he made was debut, his admirers rated him as a more destructive batsman than Virender Sehwag, a billing he lived up to in his most famous innings—in the final of the 2011 cricket world cup India won. But, Gambhir's political innings has started on a difficult pitch. While allegations of having two voter IDs are being probed, the EC has ordered an FIR against him for taking out a rally with permission.
The Congress is also in the fray with Arvinder "Lovely", who was once the face of the party in the constituency but lost his credibility by first joining the BJP and then returning, apparently on being promised a ticket to contest. Atishi claims the fight is between the BJP and AAP and Lovely's deposit will be forfeited.
Expect a lot of fireworks in the coming days. And not just because Atishi is turning it up.