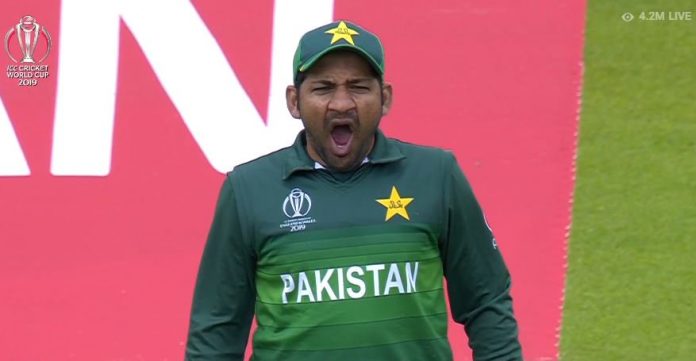 In the middle overs of the recent India-Pakistan encounter, while Virat Kohli & Co were piling on the runs, the cameras zoomed in on the mug of the Pakistani captain, the affable and pleasantly portly Sarfaraz Ahmed.
Bang in the middle of the most-awaited contest of the world cup, standing right behind the stumps, Ahmed's let his jaw drop a bit, eyes shut down for a brief moment to give us the defining expression of this edition of the marquee event—a big, fat yawn.
Yawn, that's what the world cup has been all about this year. A sleep-inducing spectacle where the only bit of excitement is about the weather. And the only question keeping us all awake has been: howzat, sir, is it going to rain?
Ahmed may, of course, have had additional reasons to yawn in the middle of the action. He may, for instance, have feasted on pizza, as a fan later ranted, or may have lost sleep figuring out what to do with Imran Khan's advice to get rid of the 'railu kattas'—overfed bumpkins with no particular ability— in his team. But, the cricket certainly isn't helping.
So far, we have had 23 matches, including the ones that were washed out. None of them has produced a single contest that has gone down to the wire, or turned out to be a humdinger. Most of them have been replicas of Mike Tyson's initial bouts—one-sided knock-outs where only one side did the heavy hitting.
India have won on a canter, without shedding a drop of sweat. England have had a picnic, except against Pakistan, who, in turn, have turned up at venues only to make spectators and their captain yawn. Australia and New Zealand have been dour and mechanical, Sri Lanka have existed only so that others could get easy points against them. Afghanistan have just made up the numbers. Only Bangladesh have provided some excitement with their off-today, on-tomorrow performance and some giant-killing.
That leaves us with the West Indies, a side that has started resembling the Yash Raj Films dud, Thugs of Hindostan. It came to England with a multi-star cast, promised a lot, started with a bang, and then fizzled out. In their game against Bangladesh, the team looked so bored that had it been boxing, someone would have thrown the towel in by the 30th over of the Bangladesh innings and called in the ambulance for Andre Russell and his mates.
The results point to the yawn-fest it has been. Till Bangladesh reversed the trend against the West Indies, no team had chased down anything above 244. And not one single game had been decided in the last few overs of the match, most had run out of steam after the first innings or in the middle stages of the chase. The only one that stopped spectators from leaving early was New Zealand's two wicket victory over Bangladesh in the 48th over.
Twenty four matches is a long time to keep an event like the cricket world cup on slow burner. It means 2400 overs of batting, bowling and the potential for high drama. But, this year we have had just hundreds of overs of ennui, drudgery and contests that made us go to sleep. Or, wake up only to find out if it was still raining.
Even top teams have failed to light up the cup. India vs South Africa: dud. India vs Australia: Early to bed. India vs Pakistan: Cue in Sarfaraz.
Three theories explain the boring character of this world cup. One, its schedule. With every team allowed to play nine matches before the knock-out stages, there is no sense of urgency or do-or-die in any of the teams. In all likelihood, every team is keeping some fuel in its tank for the last few games.
Two, players have lost the appetite to win for their countries—they are content with performing in the premier leagues of their countries. One of the best examples of this inference is Russell, who is a case of complete burnout in the world cup, a stark contrast to his blazing form in the IPL.
This inability to live up to their billing is similar to the cop out we see in football, where stars like Leo Messi and Christiano Ronaldo do not achieve for their countries even a fraction of their club glory. It seems sometimes that players have lost the zeal to fight, cut throats on the cricket field. This could primarily be a fallout of the camaraderie that develops between them while playing for the same sides in premier leagues.
Three, one-day game is dead. Long live T-20. Both players and spectators have got used to shorter attention spans and, thus, shorter games. Anything that goes beyond quick thrills and 90 minutes, doesn't inspire the same kind of intensity and passion. Some teams—think WI—have the fire power to last for a while. But, when asked to fight longer, they just roll over and yawn.
On second thoughts, thank god for those yawns, Sarfaraz. At least, we have something to remember this world cup for.