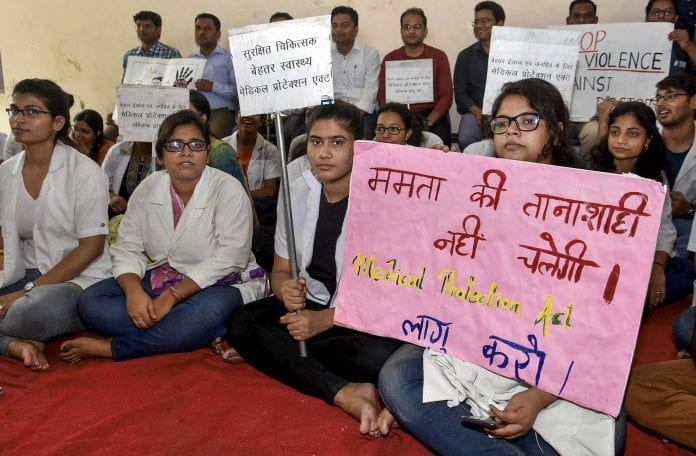 Why should doctors across India strike work if angry relatives of a dead patient hit a doctor in a Kolkata hospital? Ideally, the victim should file a police case, let the law take its course and nobody else should be made to suffer. But, why put the gun to the entire country's head? Why let patients across India suffer, even die, to make the government agree to demands that could be addressed through negotiations?
In 2017, when doctors had gone on a strike in Rajasthan, the high court had asked the then BJP government to arrest those who do not report for work. It had called the strike illegal and a violation of the essential services guaranteed to citizens. Several other courts have held the same opinion in the past. So, why continue with an illegal and illegitimate practice, resort to organised blackmail?
The Indian health care system is already a nightmare for patients because of lack of facilities in the public sector and the prohibitive costs of private hospitals. Access to affordable health care is near impossible for ordinary Indians.
In the public sector, the only place that India's population can afford, has around one bed per 2000 persons and just 0.6 doctors per 1000 population. How does this compare with other countries? According to the World Bank data, countries like Kenya, Indonesia and Malaysia have two to three times more beds. Developed countries like the US and UK have an average close to 3. Similarly, in the US, there are nearly 2.7 doctors per thousand patients.
According to official data, the average medical expenditure for treatment (excluding child birth) per hospitalised case if treated in private hospital is about four times than that of public hospital. The economic survey 2015-16 pointed out that on an average, ₹25,850 was spent for treatment per hospitalised case by people in the private facilities as against ₹6,120 in the public health facilities.
This then is the core of the problem in India: A large population chasing scarce and expensive health care facilities. And a small number of professionals dealing with a humongous mass of people seeking critical care. Ideally, the two stakeholders in the system should work together to deal with the crisis. But, unfortunately, they have turned against each other.
It is not difficult to understand the psyche of patients and their attendants in Indian hospitals. First, they have to travel long distances to find a decent hospital. Then, they have to queue up for long hours to seek consultation. And, if the ailment requires hospitalisation, they have to deal with a huge shortage of beds, medical staff and related facilities. Their spirits broken by the struggle and the ailment, most of them are on a short fuse. In this scenario, if a doctor misbehaves with a patient, if there is some laxity in treatment or delay in attention, people sometimes react with violence.
There was a time when doctors were respected for their ethics as next to god. But, the image of a doctor as a selfless benefactor and messiah has been shattered by malpractices in the system—overpricing verging on extortion in many places, the rampant practice of seeking commissions on lab tests, investigations, prescribing medicines and unnecessary surgeries and operations. A doctor, in the current avatar, is mostly seen as a service provider who charges exorbitantly. When the service is inadequate, if negligence and incompetence lead to death or serious complications, patients and their relatives feel entitled to seek an answer, fix responsibility.
The medical community is further deepening this divide with acts like mass strikes. Medicine is an essential service and doctors are under oath to treat patients. By striking work across India when an altercation breaks out in some hospital of Kolkata, they are only telling people that it is perfectly legitimate to resort to political and professional blackmail. By letting people die unattended in hospitals to coerce governments to provide them security, the doctors are losing the battle of perception and the last vestiges of respect people may have for them.
A prominent doctor I know put out this post on his Facebook to explain his viewpoint to patients: a) When it's your turn, you have to go. Doctors are not gods; b) Don't seek discounts in a hospital when you pay without arguing in malls, cinema halls and resorts; c) If you don't like the treatment, switch the doctor or the hospital; and d) If something untoward happens to your relative, don't assume the doctor is guilty, sit and discuss with him before gathering a mob.
Notice the argument that health care is a product—like the ones bought at malls—that needs to be paid for, without asking questions. In a country like India, where there are no regulations for fixing charges, capping costs, transparency on treatment procedures and their costs, this is precisely the problem. People go rushing to hospitals for treatment and discover to their horror that they have been turned into a consumer who needs to pay exorbitant amounts for an essential service.
The consumerisation of health care has been brought about by systemic failure, whose biggest indictment today is the adversarial relation between doctors and patients. And much of it is a result of the failure of the medical community to address the key problems: inadequate beds, shortage of trained staff, corrupt practices, long working hours imposed on junior doctors, and the trend of setting up big hospitals instead of taking health care to the door of the patient through neighbourhood clinics and satellite hospitals.
Yes, once in a while every few months, fights break out between doctors and patients or their relatives. But, these are sporadic instances that should be treated as law and order issues, instead of holding the entire country to ransom. Cases under relevant sections of the IPC should be filed against those attacking doctors, medical staff or destroying hospital property. Strictest punishment should be awarded to offenders.
But, it should not be forgotten that the primary victim of the Indian health care system is the patient. Turning him into a villain, portraying his relatives as thugs who go to hospitals only to unleash violence and closing down OPDs to add to their suffering is a travesty of justice. Doctors should be fighting governments, politicians and malpractices entrenched deep in the Indian healthcare sector, not hapless patients.