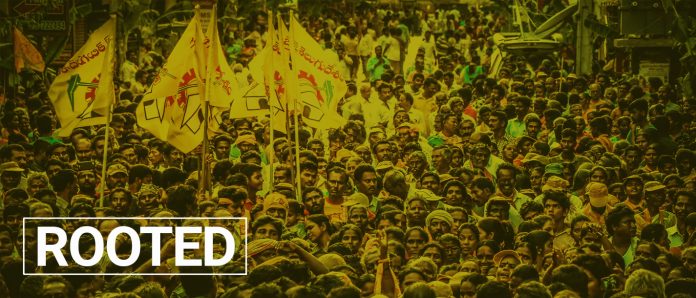 In May 2014, Andhra Pradesh and Telangana went into their first Assembly polls and simultaneous parliamentary elections following bifurcation. Five years down the line, the electoral outcome in the two states couldn't be starkly more different. While K Chandrasekhar Rao, the supremo of Telangana Rashtriya Samiti or TRS, is sitting pretty in Telangana assembly, his counterpart N Chandrababu Naidu of the Telugu Desam Party or TDP may not be so lucky and is unsure of his future in Andhra Pradesh.
Five years ago, the Congress party, which was ruling undivided Andhra Pradesh, was wiped out, both in the state and the parliamentary elections. TRS and TDP emerged as leading parties in their respective states and their leaders formed the state governments. Both maintained friendly relationship with the National Democratic Alliance or NDA led by the BJP at the Centre. TDP had actually joined the alliance, but both regional parties had little role to play in national politics.
Now in 2019, the two national parties — the Congress and the BJP — have little say in the region. The Congress party is in a pathetic condition. The BJP is trying hard to get a foothold. Both national parties have no alliances in either of the states and have been forced to face parliamentary elections alone. Both are looking at post-poll possibilities. The political situation in Andhra-Telangana reflects the difficulties that a national party faces in growing in a regional space where local parties have firmly established themselves.
Separated at birth
Immediately after India's Independence, Vishalandhra or Andhra region, which formed part of the Madras Presidency, erupted in protests seeking the creation of a separate state for Telugu-speaking people. Prime Minister Jawaharlal Nehru and the then chief minister of Madras province, C Rajagopalachari, were against defining states on linguistic lines. But they had to succumb to the demand following the death of Potti Sriramalu, a Gandhian, who sat on an indefinite hunger strike. The Centre quickly formed a States Reorganisation Commission or SRC and agreed to constitute Andhra Pradesh with Hyderabad as its capital. Telugu-speaking areas — Telangana, Rayalaseema and Seemandhra or the coastal area — were merged to form the new state.
It was then believed that language was perhaps a more powerful marker of identity than caste or religion. But there were differences of opinion within Telugu speaking areas. Telangana wished to be recognised as a separate state as the region was educationally backward. They were worried that they may be denied a fair share in the distribution of natural resources and sought separation from the more developed coastal regions. This was rejected by the SRC.
The demand for a separate Telangana state, however, persisted. Ironically, the Telangana agitation 1.0 was led by Congress party leaders. The agitation slowed down after Chenna Reddy, the leading light of the movement, was made chief minister of Andhra Pradesh. Subsequently, the Congress regime was ousted by actor-turned-politician NT Rama Rao, who formed the TDP in 1982 with a promise to restore "Telugu pride" and swept to power within 11 months.
NTR's sudden rise was seen as a backlash to the Congress party's high command culture where Delhi would seat or unseat a chief minister on its will without taking into consideration local sensibilities. T Anjiah, who rose from humble background as a labour leader, was rewarded for his loyalty and made chief minister by the Congress high command (a synonym for Gandhi family) but was publicly humiliated when he displayed his sycophancy and turned up at the airport to receive young party general secretary, Rajiv Gandhi. NTR came to power on the slogan of restoring Telugu pride.
NTR was succeeded by his son-in-law Chandrababu Naidu. But after two terms he was defeated by Y Raja Shekhar Reddy, a local Congress leader who emerged as a powerful regional satrap. His sudden death in a helicopter crash on September 2, 2009 has since left the Congress rudderless. A dormant Telangana movement suddenly revived.
Opportunity dawns
Sensing an opportunity, Chandrasekhar Rao, a Naidu protege and an ex-Congressman, launched Telangana 2.0 or the second phase of the movement, which culminated in bifurcation of Andhra Pradesh and formation of Telangana in June, 2014. Since Telangana was flush with funds after bifurcation, Rao used it up to initiate a series of welfare programmes that covered a large swathe of population especially from farming and weaker sections. He systematically cut the roots of the Congress party and ensured that many of its elected MLAs switched loyalties and joined his party. The task was made easy as Congress had no credible leader at the top.
In 2018, six months before completing his term as chief minister, Rao gambled and dissolved the Telangana state assembly and sought a fresh mandate. He not only got re-elected but returned with a massive majority. He is now talking of conquering Delhi. He has pulverised the Congress party and is perhaps now working towards a goal of making Telangana "Congress-mukt" as once again MLAs elected on Congress tickets are resigning and making a beeline to join his party.
Telangana, a land of rebellions, has seen peasant protests, a strong Left movement, uprising against landlords and the nizams in the past. Chandrasekhar Rao, who managed to channelise the dissatisfaction of the people of Telangana into a movement for self-pride, is now managing the state with a mix of welfarism, development and doles.
In neighbouring Andhra Pradesh, political equations have become complex due to the growth of Jagan Reddy's YSR Congress. Jagan broke away to form the new party after the death of his father YSR Reddy. Jagan took the decision when Congress refused to anoint him as successor to his father's legacy. Many Congress leaders have since switched to Jagan's party leaving the mother party in disarray.
Naidu, who called off his alliance with the BJP, is finding the going difficult. He is trying to resurrect "Andhra pride" as a sub-national issue to beat anti-incumbency and the growth of YSR Congress. Jagan is energetically touring the state and blaming Naidu for failing to get special status for the state despite aligning with the BJP. Jagan is also attracting dissidents from the TDP. Last counted, at least four prominent leaders of the TDP have switched to YSR Congress and the fifth is on his way.
Naidu, in one breath, describes Narendra Modi, Chandrashekar Rao and Jagan as three evils from whom Andhra Pradesh must be saved. He is also seeking another chance to complete his unfulfilled task of building a grand capital at Amravati. Obviously these are last minute attempts to attract votes.
Transactional politics
The twin states offer a case study where neither the Congress, which had a dominant presence in the past, could arrest its rapid slide, nor the BJP, which is trying hard to gain an entry, is succeeding. Both parties have failed in crafting a new narrative that could counter the state-specific aspirations professed both by the TRS and the TDP and lately by another regional outfit YSRCP headed by Jagan Mohan Reddy.
Both Telangana and Andhra Pradesh, endowed with rich literature, art and culture, have a long history of agitational and mobilisation politics with a strong left-of-centre leaning. Voters have responded emotionally to identity and regional issues. Parties that could provide strong leadership could steer their way to power. Even the Congress after being decimated by NTR managed to revive with a strong leadership provided by YSR Reddy. The BJP has had little presence in the state historically. The Hindutva variety of politics has found little resonance. Their appeal currently is limited to a few urban pockets.
So, do national parties have no role in the twin Telugu states? The answer is yes and no. Voters seem to be moving towards a transactional relationship with politicians. Local aspirations, economic and social development, welfarism, income, job opportunities and a strong leadership seem to be their preference. Any party or any strong leader who fulfils these aspirations, national or regional, can come to power. The field is wide open.
(This is the third of a three-part series on the domination of regional parties in southern India. Click here to read the first and second here.)