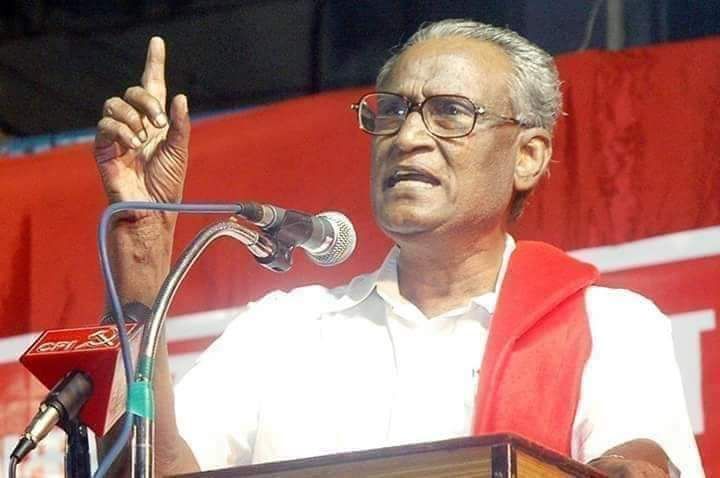 Veteran CPI leader D Pandian, injured in 1991 Rajiv assassination, passes away
D Pandian, popular as Tha Pandian, a senior leader of the Communist Party of India in Tamil Nadu, passed away on February 26 at Rajiv Gandhi Government General Hospital, Chennai
D Pandian, popular as Tha Pandian, a senior leader of the Communist Party of India in Tamil Nadu, passed away on February 26 at Rajiv Gandhi Government General Hospital, Chennai. He was 88. He was admitted to the hospital on February 24, due to renal failure and high blood pressure.
Born in Usilampatti in Madurai district, Pandian was the fourth child to his parents, David and Navamani. They worked as teachers in a school started by the Christian missionary for the children of Piramalai Kallar caste, which was once kept on the 'Criminal Tribes list.
His parents' service-driven work led Pandian to develop interest in social causes. He studied at Kallar Reclamation School and later at Usilampatti Board High School. During his student days, Pandian developed a knack for public speaking.
Also read: After poor showing in polls, CPI set for leadership change
After completing his intermediate from Alagappa College in Karaikkudi, he worked as an English teacher in the same institution for some years. He became a full-time CPI member in 1953 when he was a college student. He also became the first secretary of Tamil Nadu Kalai Ilakkiya Perumandram, an art and literary wing of the party. In 1957, due to his involvement in politics, the college administration forced him to resign.
Unlike other communist leaders of the state, Pandian had high regards for Periyar, a bond that led to his sack from the party. He floated a breakaway party, the United Communist Party of India (UCPI), in 1989 along with another Communist leader SA Dange. He contested from North Chennai constituency in 1989 and 1991 elections and was elected to the Lok Sabha.
He translated the speeches of many leaders. In 1991, he was scheduled to translate speeches of former Prime Minister Rajiv Gandhi, when the latter was assassinated by LTTE. Pandian was left injured in the dastardly attack. Rajiv's body was kept in the Government General Hospital. Pandian was successful in demanding to rechristen of the hospital as Rajiv Gandhi Government General Hospital.
Also read: Left emerges stronger in Bihar, registers better strike rate than RJD
After that incident, Pandian developed a grudge against the LTTE, but always voiced his concerns for the wellbeing of Sri Lankan Tamils.
In the year 2000, Pandian dissolved the UCPI and returned to his parent party, the CPI. In 2005, he was made party's general secretary, a position in which he continued for a decade.
Being a voracious reader, he wrote more than 10 books, mostly biographies of communist leaders such as Fidel Castro. He edited 'Janasakthi', the party mouthpiece for 16 years.
He is survived by a son and two daughters.