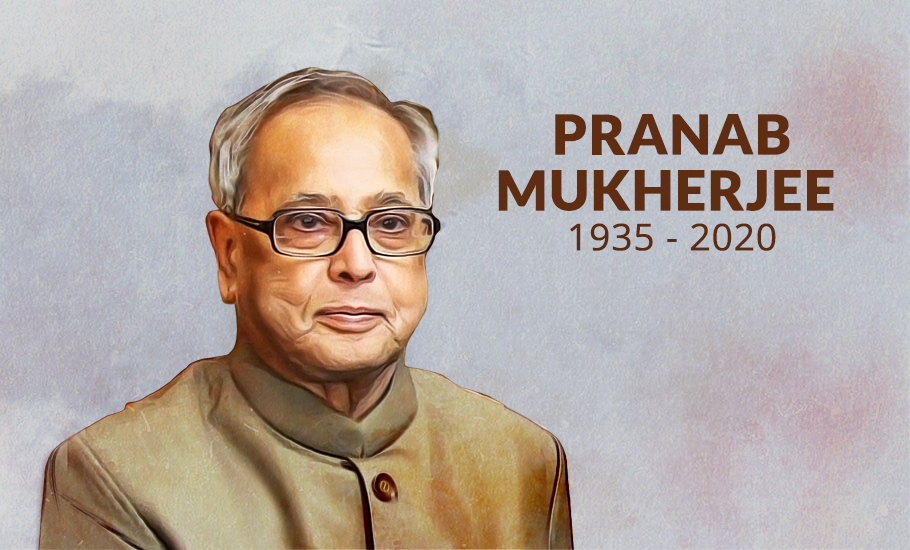 Pranab da held the reins of power, but always for someone else
"I took Rajiv to the rear of the aircraft and requested him to take over as Prime Minister. His immediate question to me was, 'Do you think I can manage?'
'Yes,' I told him, 'we are all there to help you. You will have everyone's support."
That's how Pranab Mukherjee had recorded his conversation with Rajiv Gandhi on board a special aircraft that was flying them to Delhi from Bengal on October 31, 1984, following the assassination of Indira Gandhi.
Rajiv, as general secretary of the Congress party, was touring the northern parts of the state with Pranab, trying to straighten out the factionalism in the party when the tragedy struck. 
If one were to go by precedents, Pranab should have been made interim prime minister. That's what happened in 1964 and 1969 respectively when Jawahar Lal Nehru and Lal Bahadur Shastri had died in harness. On both occasions, Gulzari Lal Nanda was made the interim prime minister.
Looking at the extraordinary circumstances where a popular leader was assassinated by her own security guards senior Congress leaders thought it would be prudent if Rajiv was made the prime minister.
The top job eluded Pranab, he would always remain #2 and always "support" others.
On the same evening Rajiv Gandhi, who had no experience in administration, was nominated as the Prime Minister by the Congress Parliamentary Party and recommendations rushed to the then President Gyani Zail Singh. 
But the job of broaching the subject to Rajiv even while he was trying to come to grips with the shocking news of his mother's death was given to Pranab.
Related News: May God do whatever is best for him: Pranab Mukherjee's daughter
Fighting back his own tears, Pranab did his part. But far from receiving any appreciation, Pranab became a suspect in the eyes of Mrs Gandhi's dynasts. And he had to live down this stain throughout his career for no apparent fault of his. He had tried to explain this in many ways in many a forum but in vain. 
Pranab was a staunch Indira loyalist till his last breath. Even after becoming the President of India, he had never forgotten his early days when Mrs Gandhi had picked him up from nowhere and made him an MP when he was barely 34. Later she made him a minister in her cabinet.
In 2017 while he was being felicitated in the joint session of Parliament as the outgoing President of India, he recalled his association with Mrs Gandhi and said she was "my mentor". In his book, he had reminisced about her saying, "It is she who made me out of nothing."
His devotion to Mrs Indira Gandhi persisted even though thrice the prime ministership eluded him — in 1994 and 2004 and by some accounts even in 2009. But his bitterness did show up now and then. In interactions with journalists close to him, he would reveal the disappointment and blame his stars.
Pranab therefore would be a man who would always be #2. He 'almost' became the prime minister in the dying years of UPA-2 as he was heading over dozens of super ministerial committees called the "Group of Ministers". He had lorded over 18 ministries and had held the fort when prime minister Manmohan Singh had to be briefly hospitalised for a heart procedure.
Related News: Pranab credits former govts for laying foundation for $5 trillion economy
He was perhaps the finest draftsman the Congress party and the government ever had. As party office-bearer, he had drafted various resolutions for the organisation during its conventions. Similarly, he would be meticulously prepared for cabinet meetings. Pranab had an impeccable knowledge of constitutional and parliamentary rules and procedures. His had exemplary memory of events and precedents — some even called him a "walking encyclopaedia.
While all this earned a place for him in the corridors of power, he could never leverage this to race up to 'numero uno' position. He was seniormost in the Indira Gandhi's cabinet, #2 in Rajiv Gandhi's cabinet before he was unceremoniously ousted, #2 in Narasimha Rao's government and again #2 and the troubleshooter in Manmohan Singh's government. 
He became so indispensable in 2007 that he could not be nominated as a candidate for the election to the office of President of India. Later in 2012 he was finally nominated for the post as a UPA candidate. But even that event was full of controversies. A former protégé, Mamta Banerjee, and Samajwadi supremo Mulayam Singh Yadav were rooting for a second term for outgoing president Abdul Kalam. Finally, when Mulayam realised that the dice was loaded against Kalam he switched sides along with BSP supremo Mayawati and supported Pranab. 
Pranab played a key role in backroom negotiations with regional allies in both UPA-1 and UPA-2. He brought together various warring factions. As external affairs minister he played a crucial role in pushing through the 123-Nuclear deal with the United States. He also helped the Manmohan regime push through the controversial patents bill. Both these were stiffly opposed by the Left parties and Pranab did some deft manoeuvring to save the situation for the government of the day. He pulled the strings by calling his old friend Jyoti Basu. 
Pranab was a dyed-in-the-wool Congressman, but with built-in contradictions. He could neither be labelled as a firm supporter of the Left or a passionate opponent of the right. He seemed almost pro-left when he pushed certain social policies and on the other side when he was cozying up to the Americans as a defence minister. He was an unabashed supporter of big corporates and was known to be close to the Late Dhirubhai Ambani. He played a crucial role in forging truce when the junior Ambanis fell out with each other after their father's death. 
Related News: Pranab cautions against majoritarianism, bats for raising LS strength to 1,000
Like Dale Carnegie's best-seller, Pranab knew "How to win friends and influence people". He had friends across the political spectrum. In fact, to the chagrin of the Congress party, he was suspected of changing his stripes with the elevation of the BJP in 2014. As President, he welcomed the newly elected Prime Minister Narendra Modi with open arms. Modi described him as someone who he looked up for guidance. He "held my hands" and guided me, Modi had said acknowledging his help in negotiating through Delhi's bureaucratic labyrinthine.
Yet, Pranab had to remain content as an essential backroom person as he never managed to gain political heft beyond a point. This was because he was never a grassroots politician. He drew his strength from his ability to negotiate his way through the corridors of power in Delhi, but failed to forge any real strength on the ground. He was five times elected from Rajya Sabha and only twice from the Lok Sabha.
His most controversial act as far as the Congress party is concerned was visiting the RSS headquarters in Nagpur after stepping down as President of India. Many Congress leaders including his own once Officer on Special Duty Jairam Ramesh opposed the move publicly. He defied everyone, went to Nagpur, went around RSS offices along with 'Sarsanghchalak' Mohan Bhagwat and paid his obeisance to KB Hedgewar, the founder of the organisation. 
Pranab was decorated with the Bharat Ratna, the highest civilian award, for his contribution to the Indian state. Even that got engulfed in partisan politics. He would, however, remain one of the last vestiges of a political class that shaped the destiny of post-independence India.