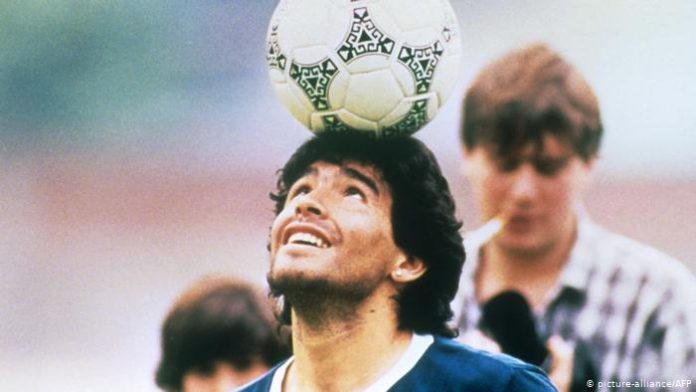 When still in his teens, he attracted the nickname El Pibe de Oro. Till his final breath, on 25 November 2020, Diego Maradona remained 'The Golden Boy', a flawed genius who lit a fire, touched a chord, violently shook up the immovable and had grown-ups eating out of his magical feet with a sleight of movement bestowed only on the incredibly blessed.
The collective outpouring of grief and nostalgia at the passing of football's most iconic son showed the esteem in which the little champion from Lanus in Buenos Aires was held, more than 26 years after bowing out of international football in disgrace. That, at a grizzly 60, he was able to instigate the same range of emotions as when he was dazzling connoisseurs as a precocious 16-year-old, singled out as the peoples' champion, a fallible genius whose relatability stemmed from the indiscretions that populate our comparatively mundane existence.
Unmatched skills and ethereal ball-control fast-tracked his entry into professional football with Argentinos Juniors, just before his 16th birthday. That was in 1976; less than 10 years on, he had the world at his feet. Dancing and dribbling and teasing and tormenting and twisting and whirling his way past a horde of bemused opponents and into the hearts of football tragics, Maradona landed Argentina the 1986 FIFA World Cup trophy on his own steam, cementing his life-long relationship with billions across the world. It was a bond that was to stand the test of time.
Advertisement
Maradona was forgiven every indiscretion – and there were several, let's be honest. Conversely, each misdemeanour drove him closer to the masses; without intending to, he held a mirror to the people, unafraid to expose a fragility that others of his stature go to great lengths to conceal. His vulnerability and susceptibility to temptation might not have brought him the sage-like reverence reserved for Pele. But where Pele, 20 years Maradona's senior, was viewed as the somewhat stern elder statesman, the younger man came to be identified as the benevolent uncle who slipped you a tenner surreptitiously, who allowed you a sip of his beer when no one was looking.
For an entire generation of us Indians, the legend of Maradona took deep root in the summer of 1986. The pocket dynamite had played in the 1982 World Cup in Spain, plied his wares with Barcelona in La Liga, moved to Napoli in Italy's Serie A for a then record fee of US $10.48 million and set stall as the most exciting player of his generation. The coup de grace was waiting to be delivered, you might say.
Related news: Argentine soccer great Diego Maradona dies at 60
Only four years previously, to coincide with the ninth Asian Games in New Delhi, India had welcomed colour television, a development that allowed us to watch real-time action beyond the constricting contours of black and white. Still, by 1986, only a miniscule percentage of the populace could partake of the entertainment dished out by state-owned Doordarshan. Satellite television was more than a half-decade away. Unaware of the possibilities in wait, viewers lapped up whatever was on offer.
As we collegians enjoyed summer holidays, DD sent us into raptures by announcing that it would telecast the 1986 FIFA World Cup in Mexico 'live'. The lateness of the hour didn't matter, nor did the fact that we could identify barely 10 per cent of the players on view. We'd get to watch Diego Maradona in action. Forget about bleary-eyed weariness; we were into goggle-eyed amazement.
One had seen no more than grainy clips of Maradona's genius until then. Already captivated by his wondrous skills and shimmying, elusive runs – for some reason, one has always likened his dexterous feet to cricketing legend Gundappa Viswanath's magnificent wrists – we watched agog as he cut swathes through oppositions, moving past them with such nonchalance and effortlessness that he made them all look like statues.
His subjugation of England in the quarterfinal, played against the backdrop of the Falklands War of four years previous between the English and Argentina, was consummate. So much has been said of his first goal in a 2-1 win – the Hand of God goal as he rose majestically above the English defence and guided the ball into the net with his hand – that his second goal, scarcely four minutes later, often is relegated to a footnote.
It was, though, voted the Goal of the Century in a 2002 online poll conducted by football's world governing body. Maradona received the ball in his own half, swivelling and embarking on a solo run which carried him past five England players. Face to face with Peter Shilton, he feinted to send the goalkeeper crashing on his backside, and coolly slotted the ball home. Even the English couldn't but help but grudgingly admire the Maradona genius. As if to show that it was no flash in the pan, El Diego fashioned two goals that only paled slightly in comparison in the semi-final against Belgium, and shook off his markers in time to set up Jorge Burruchaga for the goal that settled a 2-2 stalemate against West Germany in the final.
It was predictably downhill from there on, though that journey was occasionally incremental, sometimes precipitous. His addiction to cocaine became common knowledge, and even though he was still a handful on the pitch, the magic of the old Maradona was starting to fade. He was good enough to steer Argentina to the final of the 1990 World Cup, but the same tournament that propelled him to superstardom signalled his inglorious exit as he tested positive for ephedrine in 1994 and was expelled from the 1994 World Cup in the United States.
He had his run-ins with establishment, with the media, with other footballers, he attracted trouble as national and club coach, but he remained the peoples' champion. He and Pele might have jointly won the FIFA Player of the 20th Century Award, but in terms of sheer popularity, Maradona was always way ahead. To the very end, hastened by a heart attack. RIP, El Diego. And thank you for the magic.