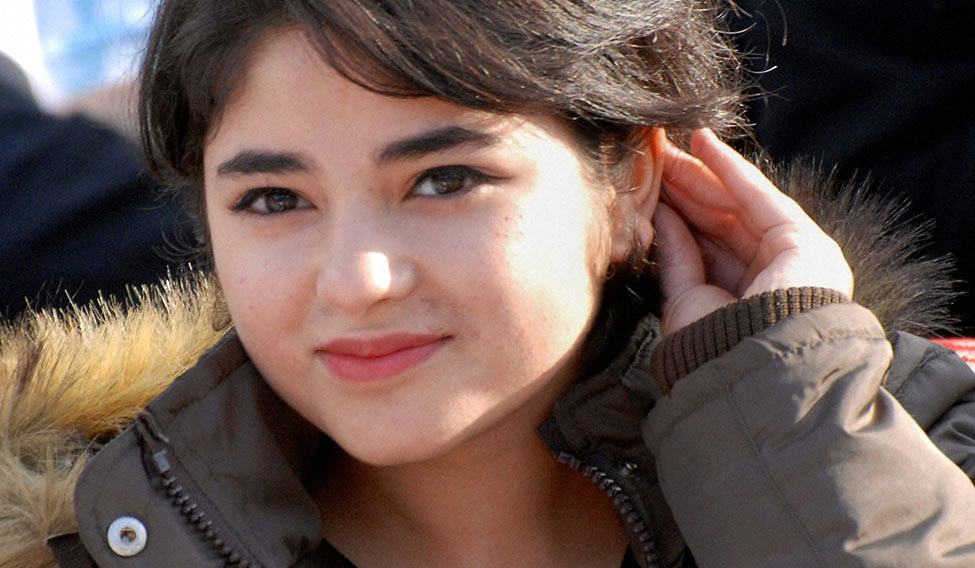 Zaira Wasim of 'Dangal' fame quits acting because of 'religion'
National Award-winning actor Zaira Wasim on Sunday announced her "disassociation" from the field of acting, saying she was not happy with the line of work as it interfered with her faith and religion.
In a detailed post on her Facebook page, which she later shared across all social media platforms, the Kashmiri-born Dangal fame star said she realised "though I may fit here perfectly, I do not belong here".
"Five years ago, I made a decision that changed my life forever. As I stepped my foot in Bollywood, it opened doors of massive popularity for me. I was projected as the gospel of the idea of success and was often identified as a role model for the youth. However, that's never something that I set out to do or become, especially with regards to my ideas of success and failure, which I had just started to explore and understand," Wasim said in the lengthy post.
The 18-year-old actor said as she completed five years in the profession, she wanted to "confess that I am not truly happy with this identity i.e my line of work".
"For a very long time now it has felt like I have struggled to become someone else… it was only for me to realise that though I may fit here perfectly, I do not belong here. While I continued to work in an environment that consistently interfered with my imaan, my relationship with my religion was threatened," she said.
Also read: For fans, Ilaiyaraaja is synonymous with every great moment in life
Political leaders in Jammu and Kashmir supported her decision and wished her luck.
Former Jammu and Kashmir chief minister Omar Abdullah tweeted, "Who are any of us to question @ZairaWasimm's choices? Its her life to do with as she pleases. All I will do is wish her well & hope that what ever she does makes her happy."
Bangladeshi author Taslima Nasreen slammed the decision, saying, "Oh My Goosebumps! Bollywood's talented actress Zaria Wasim now wants to quit acting because she thinks her acting career almost destroyed her faith in Allah. What a moronic decision! So many talents in Muslim community are forced to go under the darkness of the burqa."
Zaira Wasim noted that this field brought a lot of love, support, and applause her way, but she "lost all the Barakah (blessing) from my life".
"I was constantly battling with my soul to reconcile my thoughts and instincts to fix a static picture of my imaan and I failed miserably, not just once but a hundred times. I kept procrastinating… and I continued to put myself in a vulnerable position where it was always so easy to succumb to the environment that damaged my peace, imaan and my relationship with Allah (God)," she said.
Also read: Tamil film legacy disappearing into a blackhole
Talking about her life as an actor, she said she continued to observe things and twist her perceptions as she wanted them to be, without really understanding that the key was to see them as they were.
The actor, who made her big Bollywood debut opposite superstar Aamir Khan in 2016, said she questioned the deepest sources of her ideas of success, meaning and the purpose of her life.
Zaira Wasim said the journey has been "exhausting, to battle my soul for so long" and life was too short yet too long to be at war with oneself.
About announcing the decision on social media, the actor said she was openly doing so not to paint a holier picture of herself, but "this is the least I can do to start afresh".
"This is just my first step as I have arrived at the clarity of realisation of the path I wish to be on and strive for…," she said.
Also read: In defence of Kabir Singh, a man flawed like many around us
Zaira Wasim will next be seen in "The Sky is Pink", which also stars Priyanka Chopra Jonas and Farhan Akhtar. The film completed shooting in March.
The makers of "The Sky Is Pink" said they will stand by the actors decision. In a statement, Roy Kapur Films, who is backing the Shonali Bose directorial, said Wasim has been a "complete professional" throughout the filming of the movie.
Former bureaucrat-turned-politician Shah Faesal said he respected Wasim's decision and wished her luck.
"I always respected @ZairaWasimmm's decision to be an actor. Perhaps no other Kashmiri has achieved such an iconic status, such success and fame, at such a young age. And today, as she quit the industry, I have no choice but to respect her decision. Wish her luck," Faesal said in a tweet.