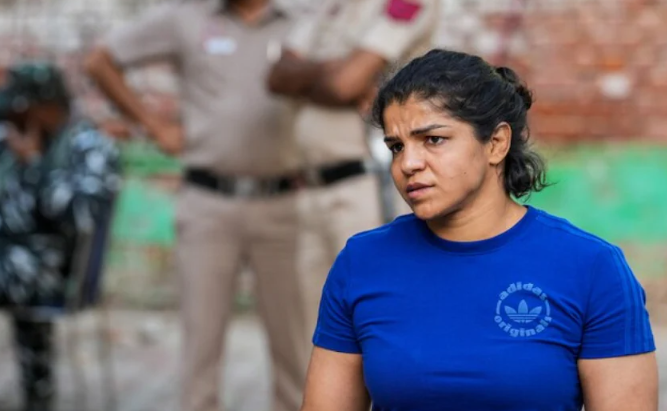 Sakshi Malik: Wrestlers being pressured to compromise with Brij Bhushan
Olympian Sakshi Malik on Saturday (June 10) claimed that the "minor" wrestler, who accused the Wrestling Federation of India (WFI) president and BJP MP Brij Bhushan Sharan Singh of sexual harassment, changed her statement due to pressure.
Sakshi stated that there was significant pressure on the protesting wrestlers to compromise, and she accused Brij Bhushan of using his influence to have his associates call and threaten the complainants.
Bajrang Punia and Sakshi Malik, prominent wrestlers leading the protests against Brij Bhushan, said that the minor's father is suffering from depression due to the immense pressure exerted on him to withdraw the complaint.
Also read: New turn to wrestlers' protest: 'Made some false allegations against WFI chief,' says father of 'minor'
"There's huge pressure on us to compromise," Sakshi told NDTV on Saturday (June 10).
Sakshi said they have been consistently demanding Brij Bhushan's arrest and custodial interrogation from the very beginning, as he possesses enough power and influence to hinder the investigation and intimidate both the complainants and witnesses.
According to the wrestlers, an impartial investigation cannot be conducted without the arrest of Brij Bhushan. They expressed their lack of trust in the police investigation and shared incidents where they believe the system is protecting Singh. They stated that they have not backed down from their demand for his arrest and emphasised that if a strong chargesheet is filed, Brij Bhushan will be arrested.
Regarding the "minor" wrestler, it was clarified that she was not underage at the time of the incident, and she provided a fresh statement in court. Her complaint of sexual harassment remains unchanged, although she made alterations related to her age in her statement.
Also read: Wrestlers' protest: Delhi Police may submit probe report against WFI chief by next week
'Horrifying side'
Jagbir Singh, an international wrestling referee, claimed that Brij Bhushan had inappropriately touched a woman wrestler at a wrestling event in Lucknow.
He told NDTV that Brij Bhushan grabbed a woman wrestler "in a place one shouldn't touch a woman".
Also read: Wrestlers suspend protest after 5-hour meeting with Anurag Thakur
The Delhi Police recorded statements from over 200 people in connection with the allegations of sexual harassment against Brij Bhushan, including the statement of Jagbir on May 20, in Patiala.