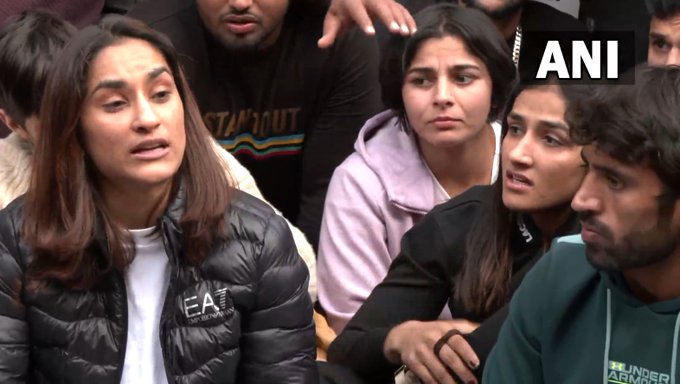 Wrestlers firm on WFI disbandment, meeting with sports minister inconclusive
Top Indian wrestlers meeting with Union Sports Minister Anurag Thakur remained inconclusive on Thursday night as they refused to back down from their demand that the government immediately disband the Wrestling Federation of India.
The marathon meeting began around 10 pm on Thursday, the second day of the wrestlers protest against WFI president Brij Bhushan Sharan Singh.
The wrestlers left Thakur's house at 1:45 am and did not speak to the reporters waiting outside.
Also read: Explained: Why India's champion wrestlers are up in arms against WFI
Olympic medallists Bajrang Punia, Ravi Dahiya, Sakshi Malik and world championship medallist Vinesh Phogat were part of the meeting.
Inconclusive meet
Thakur flew to Delhi from Himachal Pradesh after an earlier meeting between government officials and the protesting wrestlers remained inconclusive.
The wrestlers will meet the Sports minister again on Friday, according to government officials.
The ministry cannot force Brij Bhushan Sharan Singh to resign unless it receives a written reply from the WFI since the government itself has asked the wrestling body for an explanation.
The WFI is yet to respond to the Sports Ministry, which on Wednesday gave the wrestling body 72 hours to respond to allegations of sexual harassment of several woman athletes and intimidation by its president.
Wrestlers firm on demand
According to sources, the government wants the wrestlers to end their protest but the athletes are firm that the WFI should be disbanded first.
"The government can resolve other issues later. We are fine with that, but it must disband the WFI first," a source close to the wrestlers told PTI.
A team of wrestlers, including Bajrang, Vinesh, Anshu Malik, Sakshi and her husband Satyawrat Kadiyan, met government officials earlier on Thursday and discussed their issues with Sports Secretary Sujata Chaturvedi and Sports Authority of India Director-General Sandip Pradhan.
Also see: Wrestlers demand action against WFI chief; Vinesh Phogat leads protest
During the hour-long meeting, the wrestlers were asked to end their protest and assured that their grievances will be addressed.
Former wrestler and BJP leader Babita Phogat was also part of the meeting to break the deadlock.
(With Agency inputs)