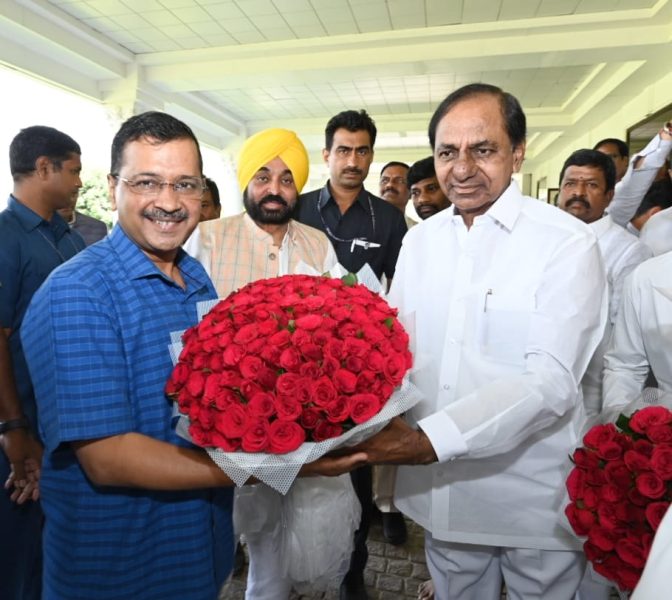 Withdraw Delhi ordinance or it will be defeated in Parliament: KCR to Centre
Telangana Chief Minister K Chandrasekhar Rao on Saturday demanded Prime Minister Narendra Modi to immediately withdraw the ordinance issued by the Centre on control of services in Delhi, as his counterparts from Delhi and Punjab, Arvind Kejriwal and Bhagwant Mann, met him over the issue in Hyderabad.
Rao made the demand during a joint press conference with Kejriwal and Mann. The two AAP leaders met KCR, seeking support over the Kejriwal's fight against the Centre's ordinance. "We demand the Prime Minister to withdraw the ordinance yourself or else we all will support Kejriwal Ji. We will stand by him. We will use all our strength in Lok Sabha and Rajya Sabha to defeat the ordinance. Unnecessarily don't make an issue. Let the government work," Rao told the NDA government at the Centre.
Also read: Cooperative federalism being turned into joke, boycotting Niti Aayog meet: Kejriwal to Modi
Modi government has insulted the people of the Delhi by bringing in the ordinance. "I can say without an iota of doubt it is insult to the Delhi state people," KCR said.
मोदी सरकार के तानाशाही अध्यादेश के ख़िलाफ़ दिल्लीवासियों के अधिकारों की रक्षा के लिए समर्थन जुटाने आज हैदराबाद आया और तेलंगाना के मुख्यमंत्री श्री के॰ चंद्रशेखर राव जी से मुल़ाकात की। https://t.co/wm1Q30TjB4

— Arvind Kejriwal (@ArvindKejriwal) May 27, 2023
The Centre recently promulgated an ordinance to create an authority for the transfer and posting of Group-A officers in Delhi, with the AAP government calling the move a deception with the Supreme Court verdict on control of services.
Also read: Kejriwal seeks meeting with Rahul, Kharge over Central ordinance
The ordinance, which came a week after the Supreme Court handed over the control of services in Delhi excluding police, public order and land to the elected government, seeks to set up a National Capital Civil Service Authority for transfer of and disciplinary proceedings against Group-A officers from the DANICS cadre.
KCR blamed the Modi-led Central government for "harassing the democratically elected state governments". He alleged there was no difference between the situation when Emergency was imposed and now.
(With agency inputs)