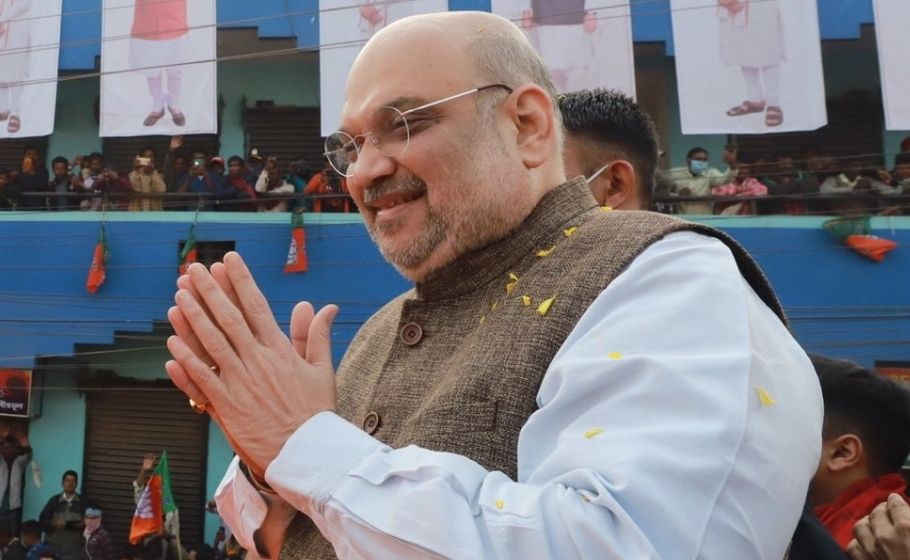 Union Home Minister Amit Shah, during his two-day visit to West Bengal, has answered several important questions regarding matters crucial both for national politics as well as the upcoming assembly elections in the eastern state where BJP had made deep inroads following last year's Lok Sabha elections.
Sounding loud his party's battle trumpet on a serene Sunday afternoon in Bolpur, a town associated with Nobel laureate Rabindranath Tagore, Shah sent out a strong message to the state's ruling Trinamool Congress at a roadshow thronged by a massive crowd.
Addressing a press conference later, the senior BJP leader spoke about the implementation of the Citizenship (Amendment) Act and who'll be the party's chief ministerial candidate in the upcoming assembly elections.
Responding to a question on the citizenship law, Shah said CAA rules are yet to be framed and that due to the coronavirus pandemic, such a big campaign cannot be held. "After the vaccination process starts and corona cycle breaks, we will discuss about it," he said.
Related news | CAA likely to be implemented from Jan: BJP leader in poll-bound Bengal
However, contradicting his statement, BJP national general secretary Kailash Vijayvargiya, who's in charge of the state, had claimed barely two weeks ago that the CAA is likely to be implemented from January next year.
On being asked about the "bohiragoto (outsider)" tag given to BJP by TMC in a bid to allege BJP's interference in Bengal's affairs, Shah sought to remind CM Mamata Banerjee she was once a Congress leader and asked if she used to call it interference when former PMs Indira Gandhi or PV Narasimha Rao, or (former president) Pranab da (Mukherjee) used to visit the state. "Mamata didi, to defeat you nobody has to come from Delhi," he said, adding that a 'son of the soil' will become the next chief minister of Bengal (if BJP wins the elections).
Shah arrived in the state early on Saturday dawn on a two-day visit ahead of the elections in the state. On Saturday, at a public rally, several non-BJP biggies, including MLAs like ex-TMC leader Suvendu Adhikari, joined the saffron camp in Shah's presence. On Sunday, he held a roadshow in Bolpur following which he's expected to fly back to Delhi. According to state BJP chief Dilip Ghosh, next year till elections, Shah will visit the state every month and stay for at least seven days.
Related news | CAA delayed by pandemic, to be implemented soon: Nadda in Bengal
During Sunday's roadshow, which witnessed a massive turnout despite the COVID-19 fears, Shah launched a scathing attack at the Mamata government, saying that the people of the state are yearning for change as they want to get rid of political violence, corruption, extortion and Bangladeshi infiltration.
Besides, Shah also vowed to restore the state to its old glory when it was called "sonar Bangla" (Bengal of gold) if the BJP is voted to power.
Roadshow in Bolpur, West Bengal https://t.co/gkczoXc5OX

— Amit Shah (@AmitShah) December 20, 2020
"I have attended and organised several roadshows in my life but have never seen one like this. This roadshow is a reflection of people's anger against the Mamata Banerjee
government. This crowd reflects people's faith in the agenda of development of Narendra Modi Ji," Shah told the massive gathering at the roadshow.
He said the yearning was not about changing a political leader but "getting rid of corruption, political violence, extortion and Bangladeshi infiltration."
Later in the day, at the press conference, he said political violence is at its peak in Bengal. "Over 300 BJP workers have been killed and there has been no progress in investigation of the deaths," said Amit Shah.
Shah also condemned the attack on BJP chief Nadda's convoy and said BJP believes that in a democracy everyone should have the right to voice their views. "I want to tell all the TMC leaders that they must not be under the wrong impression that the BJP will stop with such attacks. We will work to establish our base in West Bengal," said the Union minister.
(With inputs from agencies)