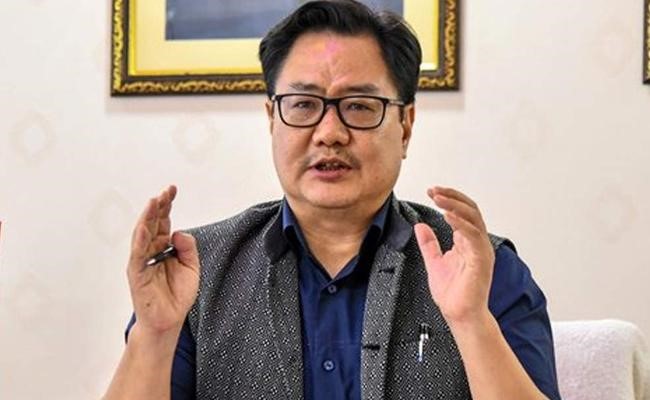 We respect court...but Lakshman Rekha must not be crossed: Rijiju on sedition law
Even as the Supreme Court on Wednesday (May 11) put the controversial sedition law on hold and allowed people in jail to approach courts for bail, while the government re-examines the colonial-era penal law, the Union law minister Kiren Rijiju made a sharp comment about a 'Lakshman Rekha' that must be respected by all organs of the state in letter and spirit.
Rijju told reporters that they respect the court and its independence. "But there's a 'Lakshman Rekha' that must be respected by all organs of the state in letter and spirit," he said, adding that they had made their position very clear and also informed the court about PM's ( Narendra Modi) intention.
Moreover, he added that the court should respect the government, legislature, just as the  government should also respect court. "We have clear demarcation of boundary and that Lakshman Rekha should not be crossed by anybody," Rijiju added.
However, Rijiju refused to comment on whether he thought the Supreme Court's decision was wrong.
Earlier, the Supreme Court termed the court's task of balancing civil liberty and sovereignty of state, as "a difficult exercise". But, the historic order will turn out to impact hundreds charged under the 152-year-old colonial-era sedition law, which was once used against Mahatma Gandhi.
Also read: In landmark order, SC stays sedition cases, asks Centre to not register fresh FIRs
The apex court expected the Centre and state to refrain from registering any FIR, continuing investigation, or taking coercive steps under Section 124a (sedition), when the law is under reconsideration.
"All pending proceedings to be kept in abeyance," said Chief Justice of India NV Ramana, heading a three-judge bench. The court also suggested that the government could also pass directives to states to prevent misuse of the law. Further, the Chief Justice said that if fresh cases were filed, courts must "expeditiously dispose" of them.
On Monday (May 9), the government did a volte-face and said it had decided to review the sedition law and requested more time from the Supreme Court, which is hearing petitions challenging the law.