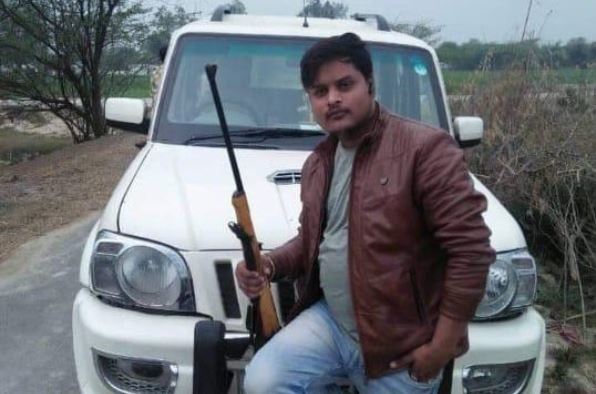 Even as the manhunt for notorious gangster Vikas Dubey, involved in the killing of eight policemen in Kanpur intensifies, one of his close aides Amar Dubey and a co-accused in the case, was shot dead in Uttar Pradesh Hamirpur by UP Special Task Force (STF) and local police in a joint operation on Wednesday (July 8) morning.
"The main accused (of Kanpur encounter) Amar Dubey (close aide of history-sheeter Vikas Dubey) was shot dead in encounter with STF & local Police today in Hamirpur. Sacrifice of our jawans will not go in vain. Others will also be arrested soon," UP ADG (law and order) Prashant Kumar told ANI.
Reports said a police inspector and a constable of the STF were injured in the encounter.
An automatic weapon and a bag were reportedly recovered from Amar's possession.
Eight policemen including Deputy Superintendent of Police Devendra Mishra were ambushed and gunned down in the wee hours of July 3 when they had gone to Bikru village in Kanpur to arrest Vikas in a murder case.
According to a Hindustan Times report, Amar, who was one of the men who fired at the policemen from Vikas' rooftop on July 3, was on the run since the incident and was hiding in Artara village. He was the brother of Atul Dubey who was killed in the gunfight on July 3.
As many as 40 teams of Uttar Pradesh police and STF are on the lookout for the gangster who is on the run and was recently seen in a hotel near Delhi.
Related news: Gangster Dubey, accused in Kanpur ambush, spotted in hotel near Delhi
Following the killing of the policemen, it was found out that Dubey was tipped off by his informers in the department about the raid. Following this, the staff of Kanpur's Chaubeypur police station comprising 88 policemen were transferred on Tuesday. One of them was Anant Deo Tewari, who had ignored the complaint of Devendra Mishra against the SO of Chaubeypur police station of being sympathetic towards the gangster.
Earlier in the day, another aide of Dubey Shyamu Bajpai carrying a reward pf ₹25,000 was arrested by Chaubeypur police after an encounter. The department has increased the reward on Dubey to ₹5 lakh.