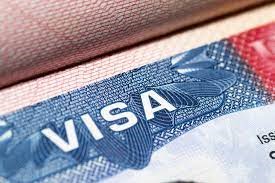 "The US embassy and its consulates in India plan to process a 'record' number of visas for Indians this year," Mumbai Consular Chief John Ballard said, in view of delays and a backlog in almost every visa category.
Currently, the wait time for Indians applying for work visas ranges from 60-280 days, while for travellers, it is around one and a half years.
The external affairs ministry has raised the issue of visa delays with US authorities on several occasions, as well as matters related to further easing the issuing of visas for all categories of Indian travellers.
Record number of student visas last year
"The embassy adjudicated over 1,25,000 student visas last year, a record number for Indians, and expects even more Indian students to apply for visas this year," Ballard said.
The US official also told PTI that the embassy had almost reached its pre-pandemic levels of visa processing, and expected to surpass those levels this year.
"Last year, we adjudicated over 8,00,000 total visas, and we are almost up to our pre-pandemic levels, which we expect to surpass in 2023," Ballard said.
Also read: US plans to speed up process for foreign student visas, green card categories
The only category in which the embassy is looking to reduce the backlog is for first-time B1 and B2 tourist and business travel visas, he said.
"We recently opened up 2.5 lakh of B1/B2 visa appointments throughout India and we have dozens of officers who have come from embassies around the world and Washington DC, specifically to help us conduct interviews for first-time B1/B2 applicants," the Mumbai consular chief said.
"In addition, for visa renewals, applicants can now send their application by e-mail, and the embassy has arranged for embassies around the world to adjudicate those cases, allowing them to focus on conducting interviews for first-time applicants," he said.
Many initiatives to reduce backlog
Ballard said that "adjudications are just part of the many initiatives that we are currently undertaking to help reduce the backlog for visa wait times."
"Every post within the mission, all of our consulates were recently open on a Saturday and we'll do it again in February and in March, and we will also be fully staffed by the end of the summer. So we would look to do even more initiatives, moving forward, to find ways to reduce the backlog for wait times. We expect to process record number of visa this year with these initiatives," he said.
Also read: India requests US to speed up issuance of business visas
He was asked about the delays and backlogs in different categories of visas. Ballard emphasized that issuances and refusals for any visa category depended on the individual applicant and the category of visa they were applying for.
"B1/B2 visa applicants must be able to demonstrate the purpose of their travel to the US and their ties to India that would ensure their return," the official said.
(With Agency inputs)