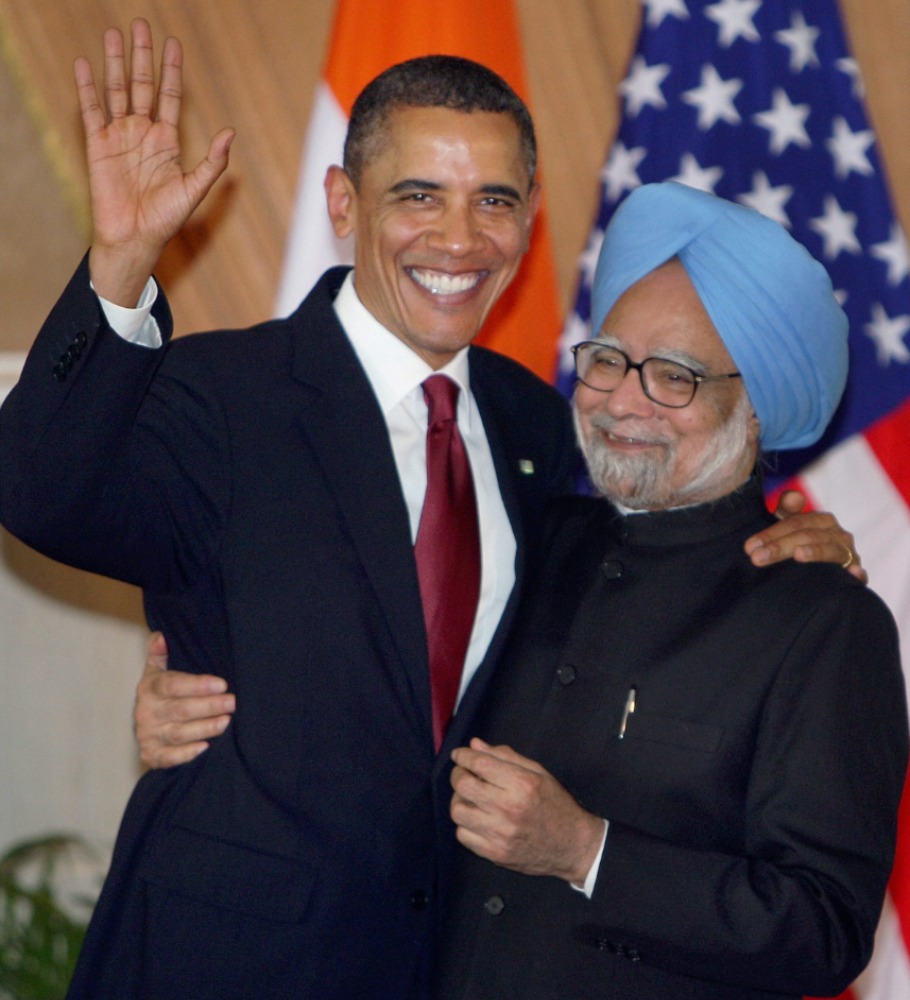 Former Prime Minister Manmohan Singh had a premonition that the BJP would score significant gains following Pakistan's rising support to terrorists groups like Lashkar-e-Taiba and the resultant anti-Islam sentiment that was taking root in India, writes former US President Barack Obama in the first volume of his 900-page autobiography 'A Promised Land'.
"In uncertain times, Mr President," the prime minister said," the call of religious and ethnic solidarity can be intoxicating. And it's not so hard for politicians to exploit that, in India or elsewhere," Manmohan Singh had told Obama during the latter's visit to India in 2010.
Obama seems to agree with Singh's surmise and recalls that former Czech president Vaclav Havel too had warned him about the rising tide of illiberalism in Europe. "If globalization and a historic economic crisis were fuelling these trends in relatively wealthy nations — how could India be immune?" Obama writes in what has turned out to be a prophetic look-ahead of what was to happen in India.
Related News: Barack Obama spent childhood years listening to Ramayana, Mahabharata
Obama is critical of the larger majoritarian feeling in India which took pride in having developed a "nuclear weapons programme to match Pakistan's, untroubled by the fact that a single miscalculation by either side could risk regional annihilation."
During a dinner at Manmohan Singh's house, they had talked in private, moving away from the dinner table, where Manmohan Singh seems to have hinted that the fact that he did not take military action against Pakistan after the 2008 terrorist attack in Mumbai, would cost him politically in the long run. "Singh feared that rising anti-Muslim sentiment had strengthened the influence of India's main opposition party — the Hindu nationalist BJP."
Obama quotes an observer to say that Sonia Gandhi had opted for Manmohan Singh as the Prime Minister because Singh did not have any political base and hence posed no threat to Rahul Gandhi, who at the time was struggling to find the ropes in the high levels of politics and politicking.
Obama found in Rahul Gandhi an eager but slightly "unformed quality". Obama says he was doubtful if Singh would be able to pass on the baton to Rahul Gandhi even though it wasn't Singh's fault, since he had done his part "following the playbook of liberal democracies across the post-Cold War world; upholding the constitutional order; attending to the quotidian, often technical work of boosting the GDP and expanding the social security net."
The former US President goes on to say that he feared that the rising tide of a nationalistic party could not be held back. He writes that the impulses of violence, nationalism, racism and religious intolerance were too strong for any democracy to contain. "For they seemed to lie in wait everywhere, ready to resurface whenever growth rates stalled or demographics changed or a charismatic leader chose to ride the wave of people's fear and resentments".
Related News: He'd a nervous, unformed quality about him: Obama talks of Rahul in memoir
A 'Promised Land' is written in typical American style of unbelievable candour and incredible insights that takes us to the minds of people and countries like only a US President can. American autobiographies, unlike their Indian counterparts, are not written to whitewash dark, dicey deeds of one's life but to discuss them, to offer themselves up for public scrutiny and criticism. Obama's book falls well into this rich tradition.
Obama's mother was his prime influence in the absence of his father Barack Obama senior who went back to Kenya after divorcing his mother.
Obama has spent a lot of his youth leading a monkish life reading all what he could lay his hands on, sometimes piles of books from throw-away sales.
Indian systems often do not work and we often blame it on inefficient bureaucracy and the all-too familiar and accepted "chalta hai" national attitude. Sometimes such things happen in the US too like when on the eve of the attack on Libya the entire secret communications system with the forces in Libya packed up. Finally, Obama used an unsecured mobile phone to give the final sanction for the attack.
Perhaps, the most gripping part of the book for sub-continent readers will be Obama's account of US Navy Seal stealth raid on Osama bin Laden, who was holed out in Abbotabad under Pakistani protection. In most parts, 'A Promised Land' reads like a thriller.