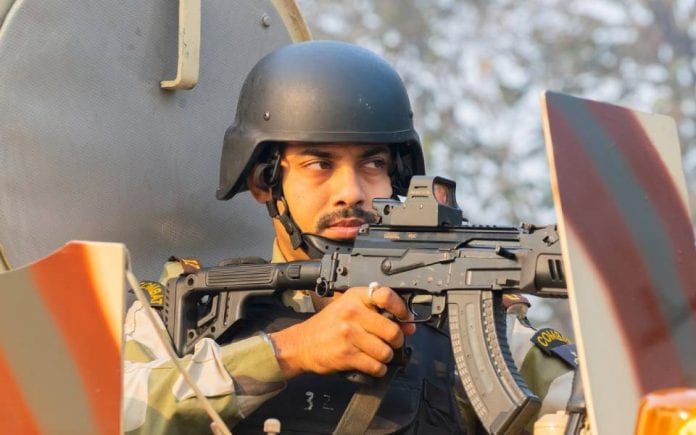 In keeping with the trend of the last decade at least, the funds allotted for buying new weapons have continued to decline with the latest union budget allocating 24 percent of the budget for the purchase of modern weapons.
Finance minister Nirmala Sitharaman, in her budget presented on Friday (July 5), allocated ₹4.31 lakh crore for 2019-20 of which 25 percent (₹1.03 lakh crore) was dedicated for capital outlay on defence services. The capital outlay is meant for buying missiles, warships, submarines, aircraft, and drones among others.
A Standing Committee on Defence had earlier recommended that the government have a revenue capital ratio in favour of the capital segment in the context of declining capital expenditure. The share of capital procurement in the defence budget decreased to 34 per cent in 2018-19 from 39 per cent in 2013-14. In the latest budget, the share of capital procurement has declined to 24 per cent.
In 2018-19, the projected requirement for the armed forces was approximately ₹1,30,000 crore but a sum of ₹99,563 crore was allocated for the armed forces.
Also read: Union Budget: India needs to spend more to modernise weapons
Around 30 per cent of the capital outlay is used to cover most committed liabilities. The ministry therefore said it was left with limited funding for new projects and acquisitions.
Indian defence forces are personnel-intensive, with a sanctioned strength of 14.8 lakh personnel. As a result, a high share of defence budget goes for revenue expenditure. In the latest budget, three-fourths of the defence budget is allocated for salaries and pensions. Nearly 55 per cent or ₹1.12 lakh crore of the defence budget is allocated for pensions.
In the interim budget prior to the Lok Sabha elections, Finance Minister Piyush Goyal announced that India's defence budget had crossed ₹3 lakh crore for the first time, but it was the lowest in over a decade in terms of the percentage of Gross Domestic Product (GDP). This declined further in the current year to 15.48 per cent from 16.6 per cent in 2018-19.
India's defence forces have reiterated their need for modern weapons. In March 2018, Vice Chief of Army Staff, Lt Gen Sarath Chand, had told the Parliamentary Standing Committee of Defence that 70 per cent of the army's equipment was vintage and it had ammunition reserves which could last only 10 days of fighting.