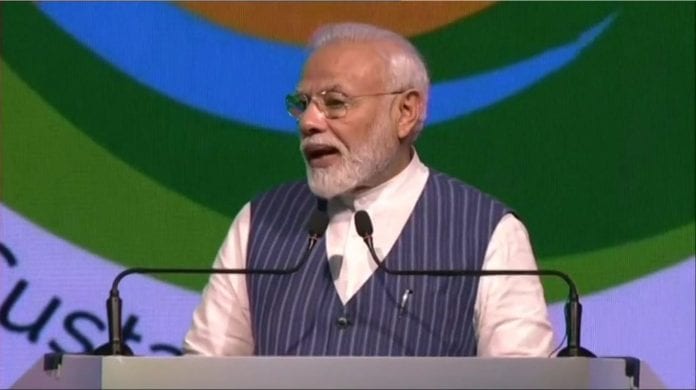 Prime Minister Narendra Modi said that the time has come for the world to put an end to single-use plastic at the 14th Conference of Parties (COP14) to United Nations Convention to Combat Desertification (UNCCD) at Noida.
"My government has announced that India will put an end to single-use plastic in the following years. I believe that the time has come for the world too to say goodbye to single-use plastic," he announced.
He touched on topics like sanitation, environmental welfare, and agriculture, and said, "People from all walks of life took part in the Swacch Bharat Mission to ensure sanitation. Same enthusiasm is seen especially among youngsters for the single-use plastic initiative."
"India commits to increase the size of agricultural land from 21 million hectares to 26 million hectares from now by 2030 and to convert degraded land to usable land. Sustainable development goals should be achieved by 2030."
"A global strategy for land degradation neutrality needs to be chartered by all countries. For India, we use remote sensing and space technology for land restoration," he said.
The event is also being attended by the prime minister of Saint Vincent and the Grenadines Ralph Gonsalves and Union minister Prakash Javadekar.
The Union environment minister who made a speech ahead of the Prime Minister, urged people to conserve water to save the land from degradation, especially when drought is a "real problem" in India where 60 per cent of agriculture is entirely dependent on monsoon because of lack of irrigation facilities.
"Drought is a real problem. Sixty per cent of our agriculture in India has no irrigation and therefore it is totally monsoon dependent, which is why we have to use every drop of water. Efficient use of water is essential. The COP-14 here will be good. We will have regular dialogue, various types of meetings with world leaders," the minister said.
Javadekar said he was "very happy" that India will host COP-14 from September 2 to 13. "Hundreds of countries will be participating," he said.
More than 190 countries are likely to participate in the conference and discuss issues related to the environment and development of sustainable land management. Throwing light on the issue of desertification, Javadekar said it was linked to the global issue of climate change because of which extreme weather events are on the rise.
To address land degradation, he said, the government has distributed soil health cards to farmers and ₹6,000 is also being given to them to treat their land and make it more productive.
"Climate change is affecting day-to-day life with increased frequency in erratic events and also simultaneously extreme weather events are on the rise. As India has launched soil health cards, more than 14 crore farmers are taking care of their own agricultural fields.
"It is a massive effort in the right direction… We will save the land from degradation."
Executive secretary of UNCCD Ibrahim Thiaw said the situation "is difficult" as 23 per cent of the land in the world has already become unusable. "It's like every minute we lose up to 23 hectares of land globally. Every day land degradation is costing humanity up to 1.3 billion US dollars," he said. The UNCCD executive secretary said if land is not healthy, people will not be healthy.
"We need to protect the Earth from land degradation," he said.
"We will celebrate 25 years of UNCCD, of science and legislation and action on the ground by many countries including India. It is extremely important that in the next 25-30 years we align ourselves to achieve the global climate goals," Thiaw said.
The UN's climate science body, the Intergovernmental Panel on Climate Change, will release a scientific report next month on these issues, he concluded.
Announcing the event through a tweet on September 8, the PMO had said that the event bears significance at a time when India has assumed the COP presidency for two years.
"India has the honour to host the COP of all the three Rio conventions on climate change, biodiversity and land," the tweet added.
Speaking to news agency PTI ahead of the meet executive Thiaw had said a "good announcement" was expected from the Prime Minister during the meeting.
(With inputs from agencies)