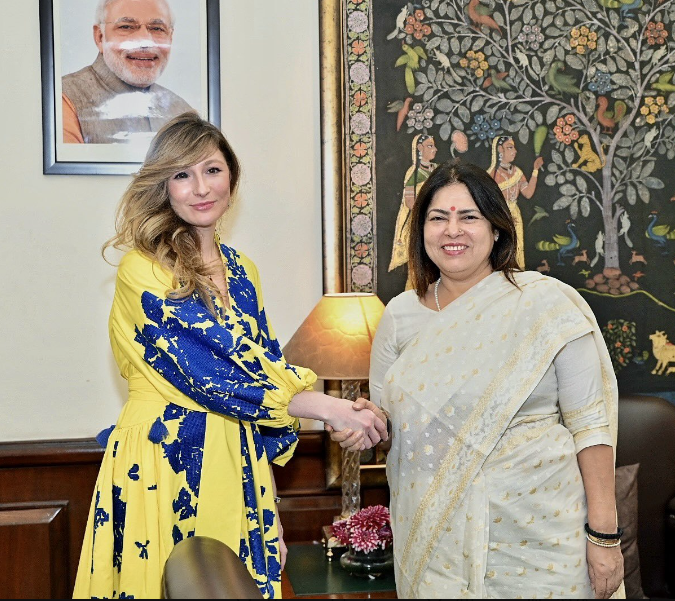 Ukraine's First Deputy Foreign Minister Emine Dzhaparova on Tuesday (April 11) alluded to India's strained relationship with Pakistan, and said the Russian invasion of Ukraine is a lesson for countries with "difficult neighbours."
Dzhaparova, who is on a visit to India, during an address at a leading think-tank stressed that being with Russia means being on the wrong side of history and Kyiv wants closer and deeper relations with New Delhi.
Also read: Ukraine: 31 children deported to Russia during war reunite with families
Dzhaparova, however, clarified that Ukraine's relationship with Pakistan is not directed against India's interests and that her country's military ties with Islamabad began around three decades back.
Referring to the war in Ukraine, the deputy foreign minister said as a global leader and current chair of the G20, India can play a greater role in bringing peace and hoped that Indian officials will visit Kyiv soon. "Being with Russia, we are again very sincerely saying so, is actually being on the wrong side of history. Supporting Russia means that it is to be in the evil visionary picture of the world," she said.
She said that India is witnessing visionary changes and it may take some time for it to build new relations with Ukraine and that the ties should be based on a "pragmatic and balanced approach". "I think the suggestion that I brought here is to have a better and deeper relationship with India. And it needs reciprocity. We knocked the door but it is also up to the owner of the house to open up the door," she said.
About difficult neighbours
The Ukranian deputy foreign minister talked about the dangers of not stopping those who prefer to push their agenda with "impunity", adding India is also having "difficult" neighbours. She said India should be "pragmatic and balanced" in its views, while citing its neighbours Pakistan and China. Russia is a "time-tested" partner of India.
'Fruitful meeting'
India has not condemned the Russian invasion of Ukraine and has been maintaining that the crisis must be resolved through diplomacy and dialogue. Dzhaparova's visit to India is the first from Ukraine after Russia began its invasion of the east European country on February 24 last year. Ahead of her address at the Indian Council of World Affairs (ICWA), the visiting deputy minister held talks with Minister of State for External Affairs Meenakashi Lekhi.
In a tweet, Lekhi said she and Dzhaparova exchanged views on bilateral and global issues of mutual interest, adding cultural ties and women empowerment also figured in the discussion.
"Ukraine was assured of enhanced humanitarian assistance," she said.
Also read: It will cost $411 billion to rebuild Ukraine: World Bank
Dzhaparova described the meeting as "fruitful". "Briefed Minister on Ukraine's efforts to fight Russia's unprovoked aggression. Discussed deepening bilateral cooperation in various fields, in particular culture," she said.
Replying to a question by reporters on China's aggressive behaviour against India, Dzhaparova said any aggression that might question the territorial integrity of any country is a matter of huge concern." At the ICWA, she said Ukraine's ties with Pakistan are not targeted against India and that her country is ready to overcome pages of history and build new relationships. "The relationship with Pakistan is never directed against the relationship with India. I know there are some sensitivities about military contracts but let me be very clear that we have had the contracts since the 1990s," she said.
'Ukraine ready to share critical military technologies, expertise with India'
The deputy foreign minister also invited National Security Advisor (NSA) Ajit Doval to visit Ukraine. "India may play a greater role. We respect the decisions of sovereign countries. India too is building up relations with other countries. It is for you to decide, it is for you to benefit," Dzhaparova said, noting that Ukraine wants to expand ties with India. "I am here with one very important message that Ukraine really wants India and Ukraine to come closer. Yes, we have different pages in our history, we have Soviet heritage…we will also be happy to welcome Indian leaders and officials in Kyiv," she said.
Dzhaparova said the war in Ukraine showed that the Russian military capabilities are not sufficient enough and that its tanks can be "destroyed in one artillery shot". The deputy minister said Ukraine is ready to share critical military technologies and expertise with India. She also invoked Mahatma Gandhi's teachings, saying he called for fighting for rights without violence. "Our president has been constantly saying that we have to fight for our rights without stepping on the rights of others. India in many ways has a lot in common with Ukraine. There is huge and untapped potential in our bilateral relations. It is only a start in our dialogue," she said.
Also read: No joint statement at G20 foreign ministers meet due to divergences on Ukraine war: Jaishankar
In response to a question, Dzhaparova said Ukrainian President Volodymyr Zelenskyy would like to address the G20 summit in India. Zelenskyy had addressed the Bali summit of G20 through video conference. Since the Ukraine conflict began in February last year, Prime Minister Narendra Modi spoke to Russian President Vladimir Putin as well as Ukrainian leader Volodymyr Zelenskyy a number of times. In a phone conversation with President Zelenskyy on October 4 last year, Modi said that there can be "no military solution" and that India is ready to contribute to any peace efforts.
(With inputs from agencies)