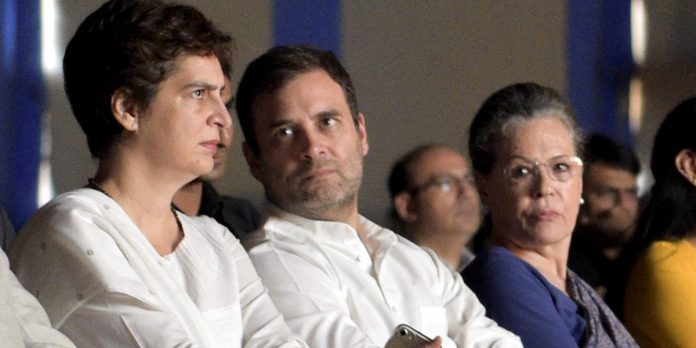 Members of the G-23 – a group of Congress leaders who have questioned the Gandhis' leadership style – gathered at a public forum in Jammu on Saturday and once again took aim at the high command, saying the party is "getting weak".
The fresh criticism comes as the Congress gets ready to contest elections in four states and a Union Territory.
"The truth is that we see the Congress getting weak. That is why we have gathered. We gathered earlier too and we have to strengthen the party together," senior leader Kapil Sibal said at a 'shanti sammelan'.
Sibal was joined by, among others, Ghulam Nabi Azad, Anand Sharma, Vivek Tankha, Manish Tewari, Raj Babbar and Bhupinder Singh Hooda.
"Congress has weakened in the last decade. Our voice is for the betterment of the party," Sharma said. "It should be strengthened everywhere once again. The new generation should connect [to the party]. We have seen good days of Congress. We do not want to see it weakening as we become older."
Congress hopes to oust the ruling BJP in Assam; in West Bengal it is viewed as being well behind the ruling Trinamool Congress and the BJP; in Tamil Nadu it swept the Lok Sabha polls in alliance with the DMK; and in Kerala it is looking to out the Left Democratic Front.
Also read: Finally, Congress is staring at decision whether to dispense with Gandhis
The party also hopes to win Puducherry, where last week it lost its government after yet another wave of defections.
Saturday's meeting comes days after Congress leader Rahul Gandhi's remark about the difference between voters in Uttar Pradesh and Kerala. Gandhi lauded voters in Kerala for being more interested in issue-based politics in comparison to the North.
"Be it Jammu or Kashmir or Ladakh, we respect all religions, people and castes. We respect everyone equally… that is our strength and we will continue with this," Azad said, in an oblique criticism of the Congress leader.
Also read: Congress' G-23 took up 11-point action plan to rejuvenate party
Saturday's meeting was met with a careful response from the party, with Abhishek Manu Singhvi urging his colleagues to focus on the elections.
"When elections are happening in five states, these leaders could have been in these states to strengthen the Congres… the best contribution to the Congress cause is to engage in these states," he said.
"With the greatest of respect [and] on behalf of the Congress, each of those in Jammu are senior leaders. We are proud of them and so are they. We are a family," he added.