With enhanced security arrangements in place and a series of cultural events lined up, India is all geared up to welcome US President Donald Trump on his maiden visit to the country on Monday (February 24). Latest reports suggest Trump and US First Lady Melania Trump have already left the Andrews Air Force Base.
"I look forward to being with the people of India. We are going to have many millions and millions of people. It's a long trip. I get along very well with Prime Minister Narendra Modi. He is a friend of mine," Trump told reporters outside the White House.
"I had committed to this trip long time ago. I look forward to it. I hear it's going to be a big event… the biggest event they ever had in India. That's what the prime minister told me. Its' the biggest event they ever had. It's going to be very exciting. I am going to be there for one night," said the US President in response to a question.
Advertisement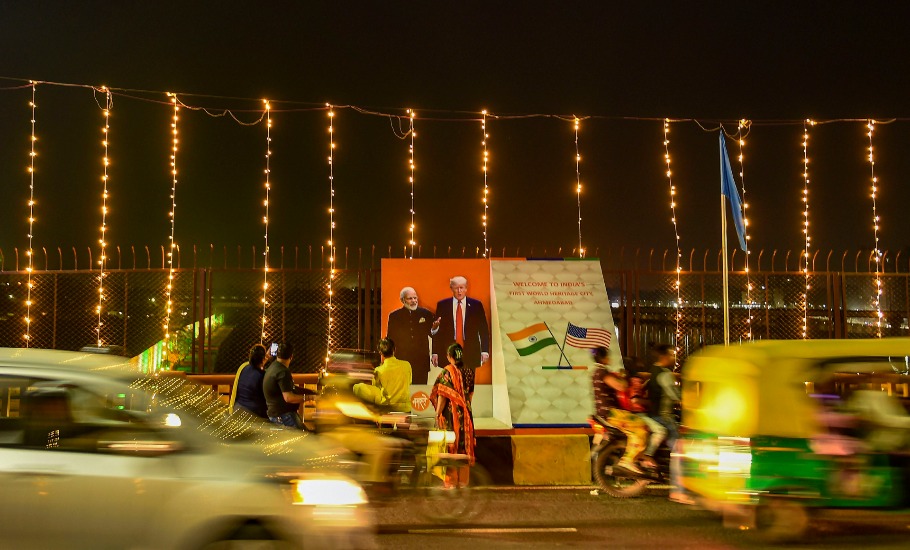 Besides Melania, Trump will be accompanied by daughter Ivanka, son-in-law Jared Kushner and top brass of his administration. Trump's visit is expected to significantly ramp up bilateral defence and strategic ties between the two countries, but is unlikely to produce tangible outcome in resolving thorny issues like trade tariffs.
India looks forward to welcoming @POTUS @realDonaldTrump.

It is an honour that he will be with us tomorrow, starting with the historic programme in Ahmedabad! https://t.co/fAVx9OUu1j

— Narendra Modi (@narendramodi) February 23, 2020
The nearly 36-hour-long visit by Trump is also set to send across a clear message of growing congruence of interests on major geopolitical developments in the region and beyond, particularly when China has been expanding its military and economic clout.
In their talks on Tuesday, Trump and Modi are likely to focus on a wide variety of bilateral and regional issues including trade and investment, defence and security, counter-terrorism, energy security, religious freedom, proposed peace deal with Taliban in Afghanistan and situation in the Indo-Pacific, according to Indian and US officials.
Roadshow and a display of India's rich heritage
India's cultural diversity along with rich traditions of Gujarat will be on full display during the roadshow of Trump and Modi in Ahmedabad and their joint address at a cricket stadium in Motera on Monday.
Replicas of historic places in Gujarat are also being placed at strategic locations along the roadshow route. Dance groups and singers from different parts of the country, including Gujarat, will stage performances on the roadshow route as well as the newly-built cricket stadium in Motera area of the city, officials said on Sunday.
Related news: Trump to be gifted silver 'Key to Agra' during Taj Mahal visit
Performers from 28 states have been allotted stages erected along the roadshow route, where the two leaders will be greeted by people on both sides of the road. There will also be a Garba performance, the traditional Gujarati dance, on one of the stages, they said. The performances will provide a glimpse of the country's cultural diversity, the officials said.
Besides, folk and Bollywood singers will also perform on a stage set up at the Motera stadium for the 'Namaste Trump' event, where Trump and Modi will address a gathering of over one lakh people.
Over 10,000 policemen from different parts of Gujarat have been deployed at strategic locations in Ahmedabad as part of the elaborate security arrangements for the leaders. The massive police deployment is in addition to officials of the US Secret Service, and India's elite National Security Guards (NSG) and Special Protection Group (SPG) who would also be guarding the US presidents' visit.
Before the US presidents' arrival, at least four C17 Globemaster cargo planes of the US Air Force have landed at the Ahmedabad international airport with security and communication equipment, Trumps official helicopter Marine One and a mammoth SUV-like vehicle.
Trump to try Gujarati delicacies
The US president and the first lady will get a taste of Gujarati delicacies such as Khaman and multigrain rotis, says chef Suresh Khanna from Fortune Landmark hotel. The menu includes Khaman, broccoli samosa, honey-dip cookies, multigrain rotis, coconut water, ice teas, special chai and snacks.
The chef has prepared food for visiting foreign dignitaries in the past too. He has also cooked for former president APJ Abdul Kalam, Prime Minister Narendra Modi, Home Minister Amit Shah and former Andhra Pradesh chief minister Chandrababu Naidu.
Mishap on eve of US presidential visit
A makeshift VVIP entry gate erected outside the newly-built cricket stadium in Motera area collapsed due to gusty winds on Sunday morning. The entire incident was recorded by a bystander and aired on local television channels. The makeshift entry gate was made of welded steel rods and covered in flex banners.
After sometime, a portion of another makeshift gate structure at the stadium's main entrance also collapsed due to the windy weather, another official said. No one was injured in both the incidents and work was underway to put the structures back in place, he said.
(With inputs from agencies)
Related news: Jaipur firm, which made cutlery for Obama, designs tableware for Trump