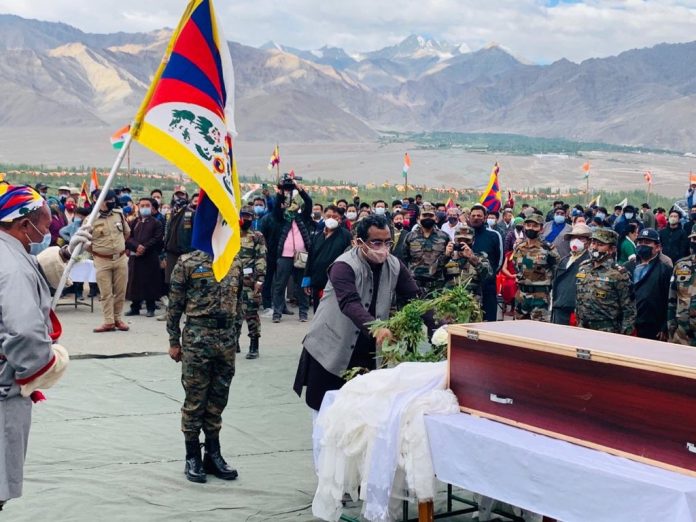 The Army, BJP leaders and Tibetans living in Leh on Monday (September 7) paid homage to Nyima Tenzin, a member of the once-secret Special Frontier Force (SFF) unit of Tibetan soldiers, which operates under the Indian Army. Tenzin was killed along LAC last week after he stepped on a landmine in South Pangong.
Top BJP leaders, including Ram Madhav, paid their last respects. Madhav's presence at the funeral was seen as a strong message to China. He laid a wreath for Tenzin and later met his family. The BJP leader shared pictures of the funeral in a tweet, which was later deleted. The top BJP leader's visit is seen as an attempt to get closer to Tibetans and show solidarity with them amid tensions with China.
Advertisement
#WATCH People raise 'Bharat Mata ki Jai' chants at the funeral of Special Frontier Force Commando Nyima Tenzin in Devachan, Leh today. He had lost his life in an anti-personnel mine blast near the Line of Actual Control in the last week of August pic.twitter.com/K37bvawvdw

— ANI (@ANI) September 7, 2020
The Special Frontier Force, also known as Establishment 22 (read as two-two), was raised by the Nehru government in 1962, during the war with China. The members of the force are none other than Tibetan refugees, who consider the Dalai Lama as their supreme leader and fight along with the Indian army. They are specialized in mountain warfare experts and trained to operate behind enemy lines in Tibet.
The Tibetan refugees have made India their home since the Dalai Lama fled Tibet following a failed uprising in 1959. Some are them are Indian citizens now.
China's aggression along the LAC in the last few months can be tagged alongside its approach towards Taiwan, Hong Kong as well as its big brother postures in the South China Sea. Countries not-so-friendly-with-China are keen on using this situation to put pressure on Beijing to mend its ways.