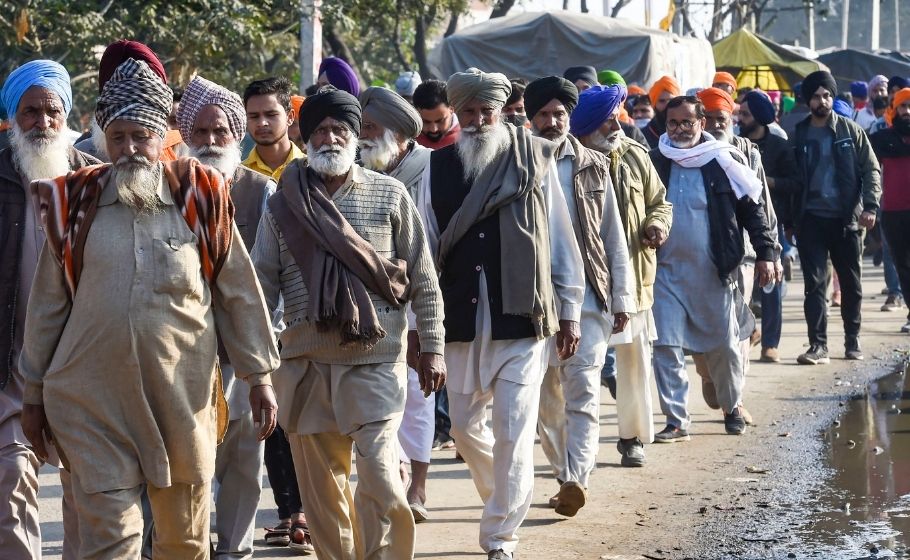 Day 19: Agri minister says 'ready for talks, farmers have to set date'
Enter Day 19 of their protest against the Centre's farm laws, all farmers' leaders camping at Delhi borders will hold a day-long hunger strike on Monday (December 14) to intensity their agitation, besides staging protests across the country.
Even as protesting farmers held a day-long fast in Delhi on Monday, Union Agriculture Minister Narendra Singh Tomar said the government is planning the next date for discussions with farmer representatives.
"The government is ready for discussion. The farmer leaders have to tell us when they are ready for the next meeting," Tomar told PTI.
Defence Minister Rajnath Singh too attempted to pacify the agitating farmers. "There is no question of taking retrograde steps against our agricultural sector. Reforms have been brought with the best interests of farmers in mind," Singh said.
The protests raged across Punjab and Haryana against the new central laws of farming on Monday. Farmers took out morchas to the commissioners' offices in several districts including Ludhiana, Patiala, Sangrur etc. In Haryana, rallies were reported at Fatehabad, Jind, Sirsa, Kurukshetra and other places.
Bharatiya Kisan Union's national spokesperson Rakesh Tikait on Monday said that there is no rift among farmers after the resignation of three leaders of Bharatiya Kisan Union (Bhanu) faction. "The three leaders of Bharatiya Kisan Union (Bhanu) faction resigned because they were upset with their President Bhanu Pratap Singh, as to why he compromised," Rakesh Tikait told ANI.
The heads of 32 farmer unions took part in the nine-hour hunger strike at Singhu on Haryana-Delhi border on Monday between 8 am and 5 pm. However, leaders of the Bhartiya Kisan Union (Ekta Ugrahan), who had organised an event to demand the release of jailed activists last week, distanced themselves from the strike.
Clashes were reported on the Delhi-Jaipur highway when some farmers from Haryana were headed for Delhi.
Delhi Chief Minister Arvind Kejriwal too observed a day-long fast in support of the farmers at his office on Monday. He said the new laws will lead to immense inflation and will only "favour a few capitalists".
Samajwadi Party workers staged protests in different districts of Uttar Pradesh in support of farmers. Several of them were taken into custody by the police.
Meanwhile, Madhya Pradesh Agriculture Minister Kamal Patel said the party will hold meetings of farmers in several divisions of the state from Tuesday to dispel "misconceptions" about the farm laws.