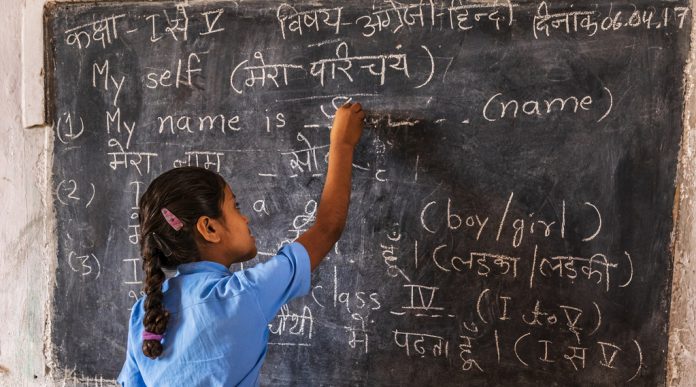 After the uproar by the southern states, particularly Tamil Nadu, over the Centre's draft National Education Policy (NEP) 2019, which advocates for a three-language system and making Hindi compulsory in the non-Hindi speaking states, the Ministry of Human Resources and Development (MHRD) has come out with a revised draft on Monday (May 3).
Under the 'Flexibility in the three-language formula' clause (P4.5.9), the revised draft says: "In keeping with the principle of flexibility, students who wish to change one or more of the three languages they are studying may do so in Grade 6 or Grade 7, so long as they are able to still demonstrate proficiency in three languages (one language at the literature level ) in their modular Board Examinations some time during secondary school".
The draft further adds: "Since the modular Board Examinations for language proficiency will indeed test only for basic proficiency in each language, such a change in language choice in Grade 6 would certainly be feasible if the student so desires and would in such cases be supported by teachers and the schooling system. Additional choices of languages would therefore be offered in middle school for this purpose of choice and flexibility."
Advertisement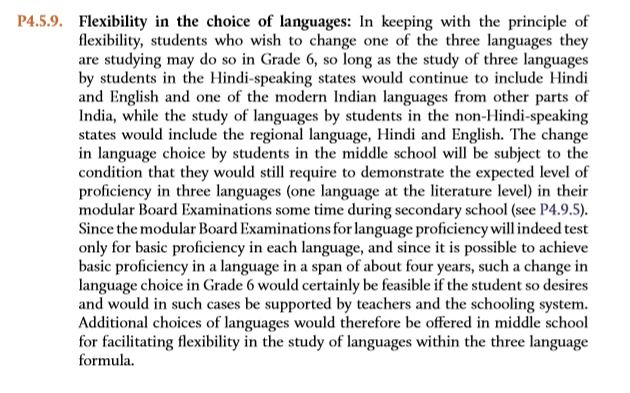 The omission of Hindi or any other references to which language a student should learn, is seen as a welcome move by the political parties and the majority of the people of Tamil Nadu.
In the earlier NEP draft, under the same clause, it was said: "…students in the Hindi-speaking states would continue to include Hindi and English and one of the modern Indian languages from other parts of India, while the study of languages by students in the non-Hindi-speaking states would include the regional language, Hindi and English."

This created a commotion in the state. The Dravida Munnetra Kazhagam (DMK) opposed the draft vehemently given its legacy of spearheading the anti-Hindi agitations in the state. The party has always been against the imposition of any language be it Hindi or Sanskrit.
Though political parties in Tamil Nadu have welcomed the revised draft, the DMK firmly stands on the two-language policy. The party chief MK Stalin has reiterated in his statement saying that 'The BJP should not even think to throw stones at the 'two language policy' beehive, even in its dream. It will face dare consequences if it tried to implement three language plan in the state.'
Along with Tamil Nadu, states like Kerala and Karnataka too criticised the draft policy. Finance Minister Nirmala Sitharaman and External Affairs Minister S Jaishankar assured that the draft will be reviewed before implementation. Netizens, for their part, trended the hashtags 'TNAgainstHindiImposition', 'StopHindiImposition' and 'HindiIsNotThe NationalLanguage'.
Following the brickbats, the MHRD on June 1, has clarified by saying that 'this is a draft policy submitted by the committee and is place for views of the general public. It is not the policy announced by the government. After getting feedback from the general public and after consulting the State governments, the National Education Policy will be finalised by the government'. Ensuing on June 3, the ministry has revised the draft and updated in its website.'