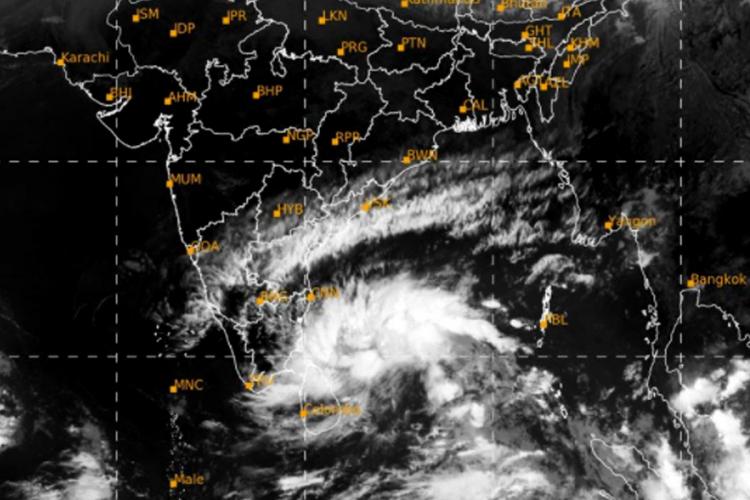 TN, other states brace for Cyclone Nivar; PM promises all possible help
Tamil Nadu and nearby states are bracing up for Cyclone Nivar, which is expected to make a landfall on Wednesday, amid assurances from the Centre of all necessary help.
Rains have been forecast in Tamil Nadu, Andhra Pradesh and Union Territory of Puducherry between November 24 and 26 as the depression over the Bay of Bengal intensified into a deep depression. The weather department has warned of squally winds over Andhra Pradesh, Tamil Nadu and north-east Sri Lanka as the system approaches the east coast, in the coming few hours.
The weather department has said the depression will intensify into a cyclone sometime on Tuesday. At this stage, the wind speed will range between 70 to 80 km/hr gusting to 90km/hr. The cyclone will further gain strength into a Severe Cyclone category (90 to 100 km/hr gusting to 110 km/hr) by Wednesday.
The maximum hazard due to this cyclone will be caused to Tamil Nadu. Extreme weather, here, would occur both on Tuesday and Wednesday.
Northern districts of Tamil Nadu will face the maximum hazard. On Tuesday, heavy rain is predicted for Pudukottai, Thanjavur, Tiruvarur, Karaikal, Nagapattinam, Cuddalore, Ariyalur and Perambu. On the day of cyclone crossing the land, districts like Puducherry, Kallakurchi, Kadalur, Villupuram, Tiruvannamalai, Chengalpattu and Karaikal could record extremely heavy rain.
Coastal Andhra Pradesh, Nellore and Chittoor districts of Rayalaseema, Telangana, south interior Karnataka will also receive rainfall due to this cyclone between November 24 and 26.
Prime Minister Narendra Modi has assured Tamil Nadu and Puducherry of all necessary support from the Centre. In a tweet, he said he has spoken to Tamil Nadu Chief Minister E Palaniswamy and Puducherry Chief Minister V Narayanasami. "Assured all possible support from the Centre. I pray for the safety and well-being of those living in the affected areas," he said in his tweet.
The NDRF has formed 30 teams to launch rescue and relief operations in view of cyclone 'Nivar,' a name proposed by Iran. As of 5.30 am on Tuesday, the cyclone was located 410 km east-southeast of Puducherry and 450 km southeast of Chennai.
Also read: People at a loss after Cyclone Amphan wreaks havoc on livelihoods
The Bay of Bengal will see its second severe cyclone of the year, after Super Cyclone Amphan formed in May. The next three days will see extremely heavy rain, strong winds along with highly rough sea conditions.
The India Meteorological Department (IMD) has forecast the development of a cyclone in the southwest region of the Bay of Bengal, off Tamil Nadu coast.
After cyclone Gaja in 2018, this will be the second cyclone to cross Tamil Nadu in the last two years. Fishermen have been warned against venturing into the seas till Wednesday.