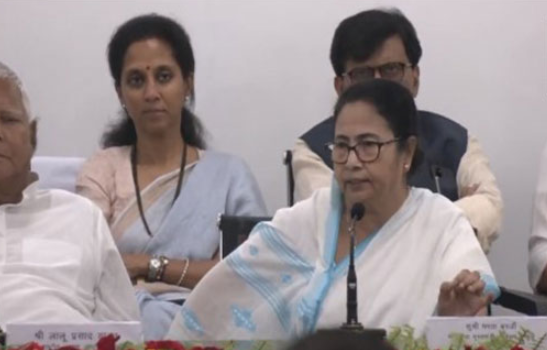 There will be no polls in future if this dictatorial govt returns: Mamata at Oppn meet
Taking a sharp dig at the Narendra Modi-led central government, West Bengal Chief Minister and Trinamool Congress supremo Mamata Banerjee on Friday (June 23) said that there will be no more elections in future if "this dictatorial" government returns to power. She said the opposition will put up a united front to fight the saffron party in the 2024 Lok Sabha elections.
"If this dictatorial government returns this time, there will be no elections in future," Banerjee, who attended the mega opposition meet in Patna, told reporters.
LIVE | We will defeat BJP together: Rahul Gandhi at Patna Opposition meet
"We are united, we will fight unitedly. Do not call us the opposition, we are patriotic and we love Bharat Mata. We also feel the pain when Manipur burns. The BJP is running a government dictatorially," she asserted.
Banerjee said the first meeting of opposition leaders was organised in Patna as "whatever starts from Patna, takes the shape of the public movement".
"We resolve that we all are united and will fight unitedly against the BJP," she said adding that "the BJP wants to change history, but we will ensure history is saved".
Banerjee, who was accompanied by TMC general secretary Abhishek Banerjee and other party leaders, said at the press conference that "it was a good meeting" where several chief ministers had come.
Banerjee said the Centre instead of focusing on issues such was unemployment, atrocities against women and Dalits or the state of the economy was busy exacting revenge upon Opposition leaders who spoke against it.
Also read: If we win Bihar, we will win country, Kharge tells Congress workers
"The ED, CBI and other agencies are put behind opposition leaders like chhupa rustom. They file cases against the opposition leaders who speak against them. This should not happen. They do not bother about unemployment, common people, atrocities committed against Dalits, women, or the economy which is being destroyed," she alleged.
The West Bengal chief minister reiterated that the BJP government at the Centre is behaving like a dictator and "we will have to fight together and oppose the kala kanoon (black law)", an oblique reference to the Delhi ordinance for which AAP chief Arvind Kejriwal is seeking the support of all parties.
(With inputs from agencies)