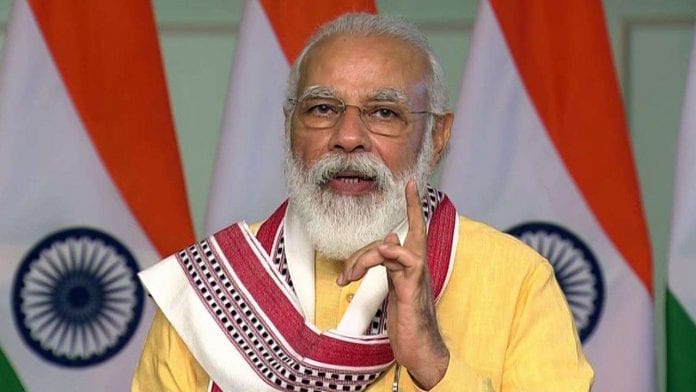 Toys and their impact on a child's growth, the importance given to toys in the National Education Policy and attempts by the government to make India a giant hub of toy production as part of its vision of atmanirbharta (self-reliance) figured prominently in Prime Minister Narendra Modi's monthly radio talk Mann Ki Baat on Sunday (August 30).
The prime minister said toys not only entertain a child but also help in building his or her mind and fostering an intent.
Sharing a childhood story of Rabindranath Tagore, Modi stressed how a toy that could be made or assembled by a child, is much better than an expensive and readymade one, as the former helps the child grow while grooming his/her creativity while the latter is just meant to flaunt.
"Therefore, Gurudev used to say that toys should be such that they bring out the childhood of a child and also his or her creativity. In the National Education Policy, a lot of attention has been given on the impact of toys on different aspects of children's lives. Learning while playing, learning to make toys, visiting toy factories, all these have been made part of the curriculum," Modi said in the 68th edition of the radio speech.
Related news: Unlock 4: Schools to stay shut, govt readies for NEET, JEE
Stating that India despite its toy clusters in Channapatna (Karnataka), Kondaplli (Andhra Pradesh), Thanjavur (Tamil Nadu), Dhubari (Assam) and Varanasi (UP) shares very little of the 7 lakh crore global toy industry, Modi urged start-ups and entrepreneurs to "team up" for toys.
He also called Indian youth to make computer games based in India.
With the country approaching the season of festivals, the prime minister said it is a time when people should be more responsible in view of the coronavirus pandemic.
He, however, lauded people for pairing the exaltation and enthusiasm for the incoming festivals with a discipline to take care of themselves and others.
"At every event being organised in the country, the kind of patience and simplicity being witnessed this time is unprecedented…friends, if we observe very minutely, one thing will certainly draw our attention- our festivals and the environment. There has always been a deep connect between the two. On the one hand, our festivals implicitly convey the message of co-existence with the environment and nature; on the other, many festivals are celebrated precisely for protecting nature," he said.
While many states observed a watered-down version of Ganesh Chaturthi and Muharram festivals this year, Onam, the annual festival of harvest, slated for August 31 wouldn't see the usual festivities it is celebrated with.