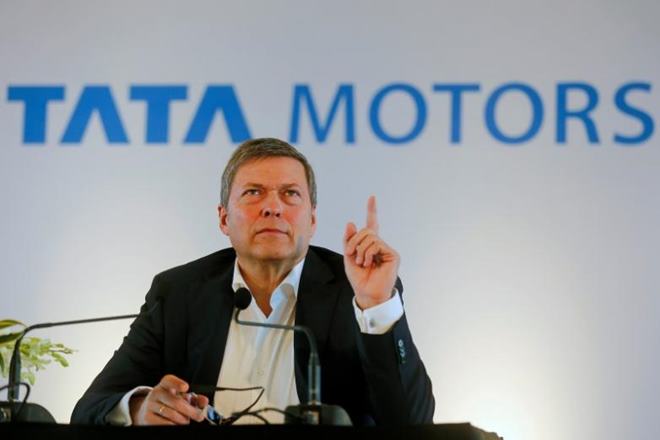 India's auto sector seems to have hit a speed breaker. In a double whammy on Thursday (September 5), Tata Motors CEO and Managing Director Guenter Butschek said India's automobile industry's growth story was about to collapse, even as Ashok Leyland declared a five day holiday for Ennore plant from Friday (September 6).
Speaking at the annual convention of Society of Indian Automobile Manufacturers (SIAM), Butschek, said he was cautiously optimistic about a recovery from the current situation on the back of measures announced by the government.
"Let's actually take it in a very dramatic way and let's conclude, the Indian automotive growth story is about to collapse," he said.
Also read: Maruti to halt production at Haryana plants for two days
Meanwhile, with the slowdown in market hitting medium & heavy commercial vehicle (M&HCV) sales by 70 per cent in August, Ashok Leyland Ltd. on Thursday declared five-day holiday for its Ennore plant, starting from September 6, excluding Sunday. It has seen almost 10 days of no-production during August, owing to sluggish market.
Also read: Lowest growth numbers in 6 years point to serious crisis
The company has issued notice to the employees that the plant will not be working on September 6 and 7 of this week and September 10 and 11 of next week, while September 9 has already been declared as sixth non-working day. In effect, this would mean that the factory will not be operating till September 11.
Consumers uncertain
Low economic activity leading to subdued demand, triggered by the liquidity crisis and the increase of the axle load regulations for commercial vehicles and uncertainty in the minds of consumers have severely hurt the sector, Butschek added.
Also read: Gadkari concedes decline in automobile sector, vows to revive industry
Stating that automobile manufacturers are taking steps to overcome the challenge by adjusting production to demand, Butschek said, "Block closure has become the word of the year." Welcoming the recent steps taken by the government, Butschek hoped for things to turn around, although the road ahead is still challenging.
Also read: Eight core sectors' growth slows to 2.1% in July
"I am cautiously optimistic that the worst is behind us," he said, however, added that there were a lot of uncertainties related to BS-VI emission norms transition and how it could impact overall demand. He said the recent slew of measures announced by finance minister Nirmala Sitharaman will help the auto industry. In order to get out of the current crisis and not miss the festive season, we require clarity from the government, here and now, on GST and scrappage policy," he added.