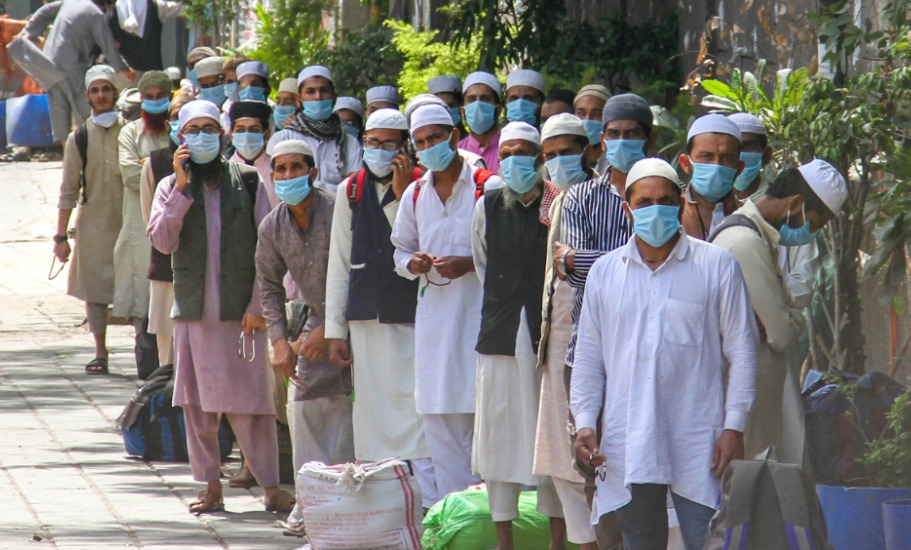 A Tablighi Jamaat gathering in Delhi in March "also" led to the spread of the virus among "many persons", the government said on Monday (September 21) in Parliament. A large number of followers of the Islamic sect had gathered despite orders by various authorities after the COVID-19 outbreak.
"As reported by Delhi Police, despite guidelines/orders issued by various authorities in pursuance of the outbreak of COVID-19 a huge gathering assembled inside a closed premise; over a protracted period of time, without any semblance of social distancing or provision of masks and sanitizers. This also caused spread of corona virus infection among many persons," Minister of State (Home Affairs) G Kishan Reddy said in the Rajya Sabha in a written reply to a question on whether the gathering was a "major reason" for the spread of coronavirus in Delhi and elsewhere.
The Home Ministry was responding to a question from Shiv Sena MP Anil Desai who asked the ministry to specify whether the spread of coronavirus in Delhi and other states was due to the assembly of people for the gathering.
Related news: Tablighi Jamaat: 1,095 look-out notices deleted, 630 members left India: MEA
The Sena MP also sought details of the number of people who attended the gathering and the number of people arrested so far.
Hundreds of people — both foreigners and locals — were tested positive for coronavirus after they had either attended the religious gathering organised by Tablighi Jamaat at a mosque in Delhi's Nizamuddin locality in March or had come in contact with the followers of the sect.
On Aug 28, the Ministry of External Affairs had said as many as 1,095 look-out circulars have been deleted and 630 foreign members of the Tablighi Jamaat have left India.
On the issue of foreign Tablighi Jamaat members stuck in India for violating visa rules and pandemic restrictions, an MEA spokesperson said the Ministry has been actively facilitating their consular access, deletion of LoCs and smooth repatriation to their respective countries. We have kept the respective foreign embassies informed through the entire process," he said.
These members of the Tablighi Jamaat were charged under the Foreigners Act for indulging in activities that were incompatible with their visa status, he said.
In April, the Health Ministry had said that states which reported fewer COVID-19 infections also had cases with links to the Tablighi event.
Related news: Yogi blamed Tablighi Jamaat for rise in COVID cases in Uttar Pradesh
Of the 14,378 coronavirus infections reported in the country in April, 4,291 cases in 23 states and Union Territories were linked to the Markaz event.