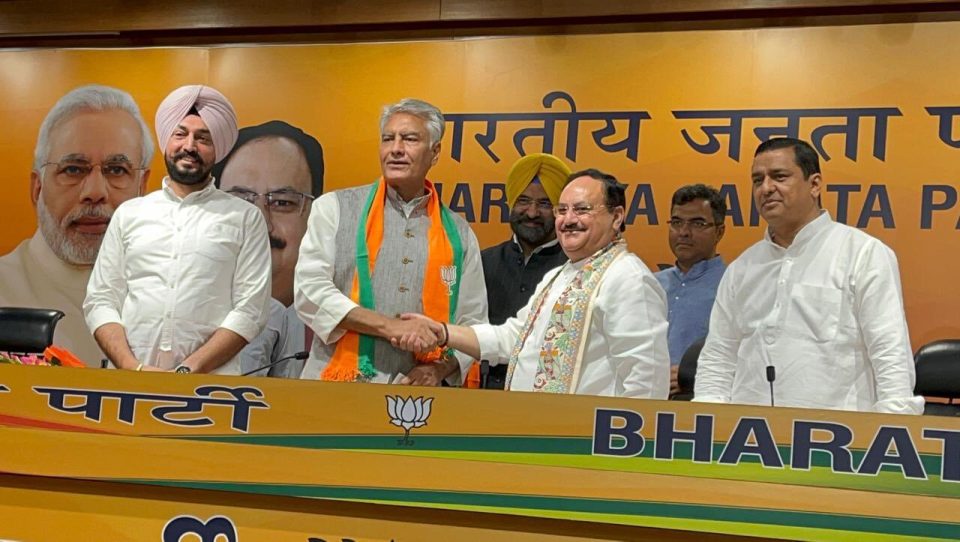 Sunil Jakhar joins BJP, says 'Cong's coterie has turned into a gang'
Days after leaving the Congress party for good, Sunil Jakhar joined rival BJP on Thursday (May 19).
A few days back, the former Punjab Congress chief was given a show-cause notice by the Congress high command for holding ex Chief Minister Charanjit Singh Channi responsible for the party's defeat in the recently held state elections.
The BJP is likely to utilise Jakhar's experience and public reach to improve the party's reputation in Punjab. It is likely that Jakhar may be nominated to the Rajya Sabha as well.
Speaking at a press conference in New Delhi, with BJP national president JP Nadda by his side, Jakhar said that Congress's coterie has now turned into a gang. He expressed regret at being ignored in the party, which he said was like his family.
"I have been associated with the Congress for over 50 years. My family has been with the Congress for three generations," he said.
Jakhar said he was shown the door by the Congress leadership because he was against casteism.
Nadda said he is hopeful Sunil Jakhar will play an important role for the BJP in Punjab. Sources say that the party is likely to use Jakhar's sway over the masses in the upcoming Himachal Pradesh polls.
After Captain Amarinder Singh, Sunil Jakhar is the second leader to cosy up to the BJP.
Jakhar had earlier created a flutter when he claimed that 42 MLAs wanted him to be the chief minister and only two backed Channi after the unceremonious exit of Amarinder Singh last year.
Also read: Congress sinking: Muddled ideology, work-from-home strategies & inertia
Jakhar was among the frontrunners for the chief ministerial post after Amarinder Singh was unseated last year.
The chances of Jakhar becoming the chief minister were scuttled after the statement of party leader Ambika Soni, who had said the party should go with a Sikh face.
Sunil Jakhar's father, Balram Jakhar, was a loyal Congressman. He served as the speaker for Lok Sabha for a decade between 1980 and 1990. He was the governor of Madhya Pradesh and served as as agriculture minister in the Narasimha Rao government from 1991 to 1996.