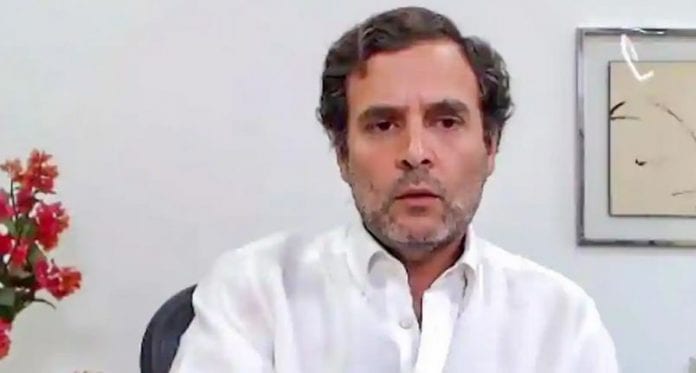 Congress leader Rahul Gandhi on Friday (July 26) posted a video that called out the alleged attempts of the BJP to "topple democratically elected governments" in the country and demanded the immediate convening of the Assembly in Rajasthan.
Titled #SpeakUpForDemocracy, which is part of the Congress' Speak Up India campaign, the video accused the BJP of acting against the values of the Constitution by "toppling democratically-elected governments."
"Today, when the entire nation is fighting against coronavirus, the BJP is ripping up the constitution and demolishing our democracy. In 2018, the people of Rajasthan elected the Congress government. Today, BJP is conspiring to topple the democratically elected Congress government. After doing the same in Madhya Pradesh, BJP is now trying to murder democracy in Rajasthan," said the voiceover in the video.
Advertisement
"Let's unite and raise voice to protect democracy under #SpeakUpForDemocracy," Rahul tweeted along with the video.
आइए #SpeakUpForDemocracy में एकजुट होकर लोकतंत्र की रक्षा के लिए आवाज़ उठायें। pic.twitter.com/7v1UiOGGZj

— Rahul Gandhi (@RahulGandhi) July 26, 2020
Demanding an immediate convening of the Assembly in Rajasthan, a request which Chief Minister Ashok Gehlot has been making for the past few days to the Governor Kalraj Mishra to be able to prove his majority in the House, the video urged people to share their opinions on the matter on social media using the hashtag #SpeakUpForDemocracy.
Gehlot who has already given a list of 102 MLAs loyal to him (a majority in the 200-member assembly) to the governor, on Friday accused him of deferring an assembly session due to pressure from the Centre. The governor had relented after Gehlot and his colleagues staged a five-hour long sit in outside the Raj Bhawan the same day, and asked the latter to clarify six questions in his proposal requesting convening of an assembly session. Gehlot on Sunday sent a fresh proposal which, however, made no mention of a trust vote.
Related news: Gehlot requests assembly session from July 31; floor test not on list
The Congress has been alleging the BJP's hand in the rebellion by Gehlot's bete noire and former deputy Sachin Pilot and 18 other MLAs. In an identical political crisis, the Congress government in Madhya Pradesh was dismantled in March this year when Jyotiraditya Scindia switched sides along with 21 of his loyalists, helping a Shivraj Singh Chouhan-led BJP government to take over.