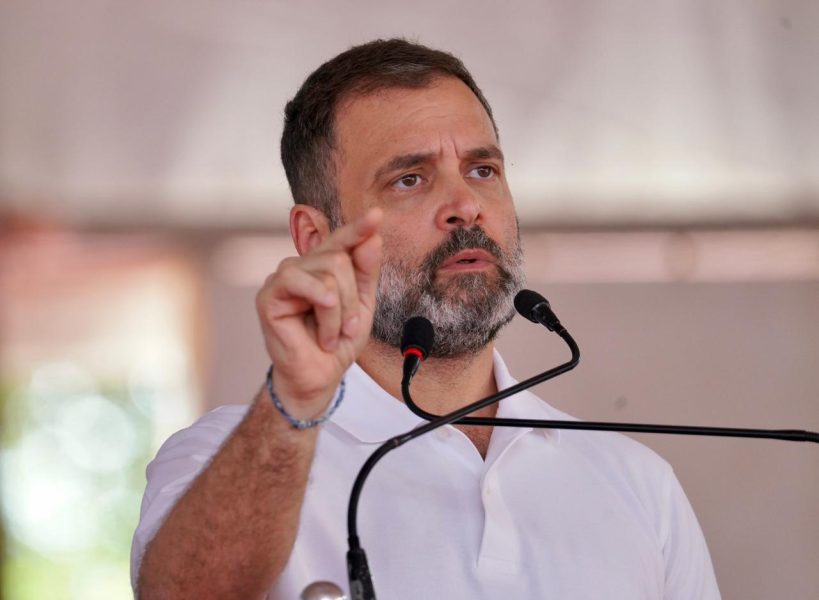 Stage set for Wayanad bypoll; Congress slams EC move
The Election Commission has initiated the process to hold a bypoll in the Wayanad Lok Sabha seat, which Congress leader Rahul Gandhi had held until he was disqualified following his conviction in a criminal defamation case over his "Modi surname" remark.
A court in Gujarat had sentenced Rahul to two years in jail, following which the Lok Sabha Speaker disqualified him from the lower house.
A communication sent to recognised political parties by Kozhikode deputy collector on June 5 in his capacity as district election officer said that a mock poll after verification of the Electronic Voting Machines and Voter Verifiable Paper Audit Trail (VVPAT) systems would be held on June 7 ahead of the Wayanad Lok Sabha constituency bypoll.
The parties were informed that the mock poll and verification of the EVMs and VVPAT system would be held at the Kozhikode Civil Station Aswasakendram Godown.
The Election Commission's move comes at a time when Rahul's criminal revision application against the Surat Sessions Court order rejecting his plea to stay his conviction is pending before the Gujarat High Court.
The Congress alleged that there was a "mystery" behind the Election Commissions move, asking how the poll panel came to know in advance the court's judgment in the appeal pending before it.
"The preparations for the by-elections in the Wayanad Lok Sabha constituency have started even before the High Court's decision on Rahul's plea. It is mysterious and suspicious," Kozhikode DCC president K Praveen Kumar said.
He said the country's people wanted to know on the instructions of which authority the Election Commission had started working for the bypoll in the Wayanad Lok Sabha constituency.
KPCC general secretary and MLA Mathew Kuzhalnadan alleged that there is a "political vendetta" behind the move.
He alleged that the BJP government had been acting in haste against Gandhi ever since he made a speech in Lok Sabha exposing its "dubious dealings" with the Adani Group, and the move to hold a bypoll in the constituency held by Gandhi was also part of their political vendetta against him.
Kuzhalnadan also said Rahul has emerged stronger after the spectacular victory of the Congress party in the Karnataka Assembly polls and is not scared of any move by the BJP government targeting him.
Rahul was disqualified from the Lok Sabha on March 24, nearly 24 hours after a court in Gujarats Surat convicted him in a 2019 defamation case, an action the Congress slammed as the Bharatiya Janata Partys (BJP) "vindictive politics" and vowed to fight against it legally and politically.
The BJP dismissed the charge and termed Rahul's disqualification "lawful".
The disqualification from the Lok Sabha will bar Rahul (52), a four-time MP, from contesting polls for eight years unless a higher court stays his conviction.