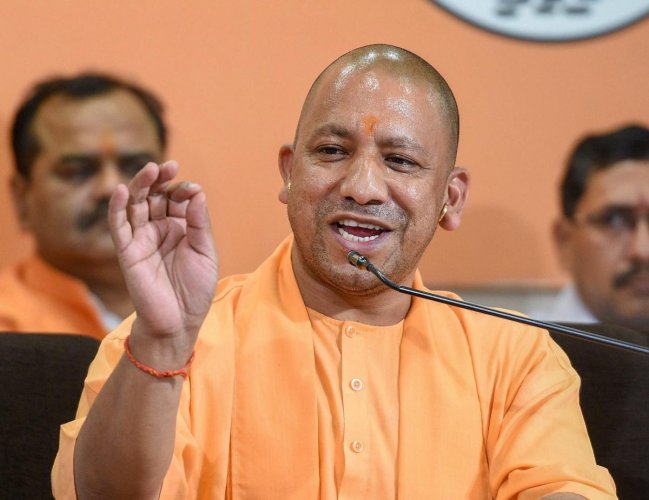 Sonbhadra shooting: UP CM accuses Cong of shedding crocodile tears
Calling the murder of 10 tribal farmers in Sonbhadra district a big "political conspiracy", Uttar Pradesh Chief Minister Yogi Adityanath on Sunday (July 21) accused the Congress of shedding crocodile tears over the recent deaths.
The chief minister on Sunday visited Umbha village in Sonbhadra to meet the family members of the deceased farmers, a day after Congress general secretary Priyanka Gandhi met them at the Chunar fort guest house.
"The incident is an example of a deep political conspiracy and hooliganism. It started in 1995 when the land that tribals used to cultivate was transferred to a public trust created by a Congress Rajya Sabha MP. In 1989, the land was transferred to members of the trust. The Congress that is shedding crocodile tears over the matter, should instead apologise to the poor tribal families. It is the Congress' sin for which the poor tribals are paying the price," the chief minister said.
As many as 10 tribal farmers were killed and 24 injured when Yagya Dutt, the village headman along with his supporters opened fire on them, after they refused to cede 36 acres of land they have tilled for generations.
Adityanath assured of taking strict action against the attackers and said the state government will bear expenses of the treatment of those injured in the shooting. He announced a compensation of ₹18 lakh for the kin of the dead and ₹2.5 lakh for the injured, in addition to an earlier compensation of ₹5 lakh and ₹50,000 respectively.
Later in the day, Priyanka Gandhi, commenting on Adityanath's visit to the village said knowing "one's duty is good". In a tweet on Sunday, Gandhi said, "I welcome UP Chief Minister Yogi Adityanath's visit to Sonbhadra. It may be late, but standing with the affected people is the duty of the government. Knowing one's duty is good."
"Umbha is awaiting justice since long time. Hope the affected people of Umbha will get justice and their five demands will be fulfilled," she added.
Gandhi headed back to Delhi after a meeting with relatives of the victims who travelled to the Mirzapur guesthouse, where she had stayed overnight, refusing an offer from the local administration to furnish a personal bond and leave.
(With inputs from agencies)