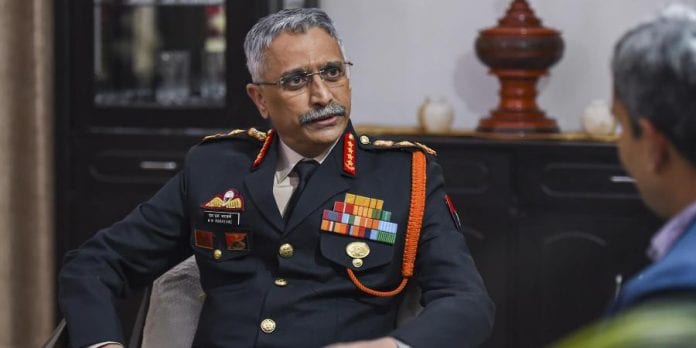 Army chief General M M Naravane on Saturday (June 1) said the situation at India's borders with China was under control and expressed hope that the ongoing dialogue will settle all the perceived differences between the two countries.
"I would like to assure everyone that the entire situation along our borders with China is under control. We are having a series of talks which started with Corps Commander level talks, which was followed up with meetings at the local level between commanders of equivalent ranks, " he told reporters on the sidelines of the Indian Military Academy's Passing Out Parade.
Naravane said the ongoing dialogue will sort out all the perceived differences between the two countries. "As a result, a lot of disengagement has taken place and we are hopeful that through the continued dialogue that we are having, all perceived differences that we (India and China) have will be set to rest," the Army chief said.
Advertisement
He said both sides have begun to disengage in a phased manner and the process has started from the north. "Both sides are disengaging in a phased manner. We have started from the north, from the area of the Galwan river where a lot of disengagement has taken place. It has been a very fruitful dialogue that we have had. And as I said, it will go on and the situation will improve as we go on," he said.
Related news | China says reached 'positive consensus' with India after military officials meet
Government sources asserted earlier this week that Indian and Chinese troops had begun mutual disengagement in some parts of eastern Ladakh, following the first high-level meeting between the two sides.
Sources said a "significant" number of Chinese troops had also retreated by three kilometres, to which India, in a gesture of reciprocation, pulled back some of its own troops.
Replying to a question on Nepal, which has revised its map showing Lipulekh as Nepalese territory, he said India has always had strong ties with Nepal and they will remain strong in future. "We have a very strong relationship with Nepal. We have geographical, cultural, historical, religious linkages. We have very strong people-to-people connect. Our relation with them has always been strong and will remain strong in the future."
India had requested high-level talks between military commanders to defuse the situation.
The fifth round of these talks at the Major General-level was held on Friday (June 12).
Related news | India, China start troop 'disengagement' in parts of Ladakh: Sources
The two sides had already held at least 12 rounds of local-level talks among regional military commanders, and three rounds of talks between Major General-rank officials, but did not made any progress with those. Yet another discussion at the Major General-level appeared to pave the way for resolution of the border dispute.
Tensions between India and China escalated a month ago when the military forces of both nations engaged in hand-to-hand combat and were in a constant standoff in the weeks that followed.
China had also reportedly been bringing in 2,500 more troops and recording increased activity along the area, including allegedly enhancing temporary defence infrastructure and weaponry, and upgrading a military airbase around 180 km from the Pangong Tso area.
China has also been opposing India's plan to lay a key road in the Finger area around the Pangong Tso Lake and the construction of another road connecting the Darbuk-Shayok-Daulat Beg Oldie road in Galwan Valley.
The road in the Finger area in Pangong Tso is considered crucial for India to carry out patrol.
India has established that it would not stall any border infrastructure projects in eastern Ladakh in view of China's protests.