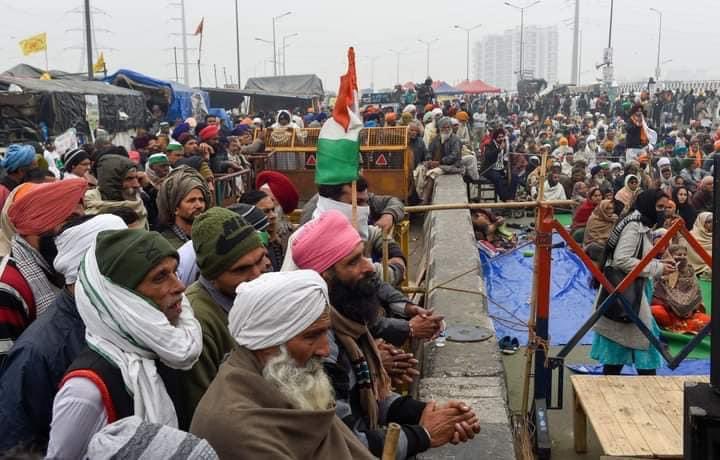 Singhu, Ghazipur and Tikri — the epicentres of farmers' ongoing protest  against the three farm laws — have been without internet since 11 pm on Friday (January 29). It will be restored only after 48 hours, the Union Home Ministry has said.
Farmers have been camping on Delhi borders since November 28 last year demanding repeal of the three contentious farm laws.
"… it is necessary and expedient to order the temporary suspension of internet services in the areas of Singhu, Ghazipur and Tikri, and their adjoining areas in the NCT of Delhi from 11 pm on January 29 to 11 pm on January 31," the notification of the home ministry said.
Advertisement
It said that internet services have been suspended to maintain public safety and to avert public emergency.
Despite 11 rounds of discussions between the Centre and farmer leaders, the vexed issue remains unresolved. Things went out of control during the tractor rally on Republic Day when a section of farmers clashed with the police. A farmer died during the protest after a tractor overturned, and scores of policemen were injured in clashes with the protesters.
After the violence at Red Fort on January 26, the Uttar Pradesh government ordered the removal of protesters from the Ghazipur border on the UP side of Delhi. Thursday witnessed heavy deployment of policemen at UP Gate in Ghazipur and a confrontation was building up even as frequent power cuts were witnessed in the evening at the protest site, where farmer Rakesh Tikait is staying put with his supporters.
Also read: At Delhi borders, farmers bang utensils to boycott PM's 'Mann Ki Baat'
In a quick turn of events on Friday, when the protest at Ghazipur seemed to be fizzling out after most farmers went back, a tearful Tikait's assertion to continue with it triggered a fresh wave of arrivals at the protest site, despite the Ghaziabad administration's ultimatum to vacate it.
"They want to destroy farmers, we will not allow this to happen. Either the laws will be taken back, or Tikait will kill himself. This is a conspiracy against farmers…," he said.
The video clip went viral and resulted in hordes of farmers making an about-turn and returning to Ghazipur to rejoin the protest.
A huge crowd gathered for a farmers' "Mahapanchayat" (mammoth meeting) at Muzaffarnagar in Uttar Pradesh later in the day on Friday. The meeting was called by Bharatiya Kisan Union leader Naresh Tikait, Rakesh's brother.
Also read: What Gandhi would have told Tikait, farmers on Delhi borders
The 'Mahapanchayat' was called in protest against the UP administration's attempt to remove agitating farmers from UP Gate at Ghazipur, where they have been camping under the leadership of Rakesh Tikait since November 28 last year.