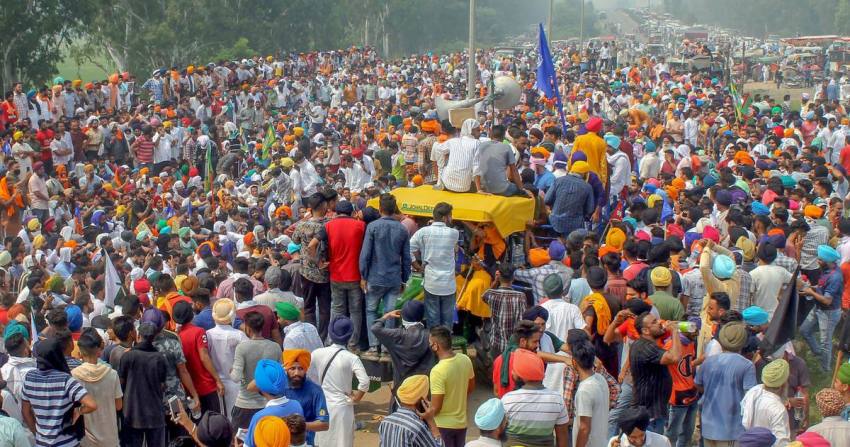 In the backdrop of farmers holding a series of mahapanchayats in the sugar belt of north India, mostly the areas dominated by the Jat population, the top leadership of the BJP on Tuesday held deliberations with party leaders from Haryana, Rajasthan and western Uttar Pradesh, to take stock of the situation and find a way out it.
According to Indian Express, the meeting was attended by Home Minister Amit Shah, BJP chief JP Nadda and MPs, MLAs and district chiefs as well as Union Agriculture Minister Narendra Singh Tomar and Minister of State for Agriculture Sanjeev Balyan, both who belong to the Jat community.
Related news: No 'hookahpani': Haryana khaps boycott minister over farmers' death remark
The report quoting sources said that regional party leaders who briefed the top brass of the situation in these areas said there was no visible attempts by the government to achieve a resolution to the issue.
Several senior leaders also anticipated that the growing disgruntlement of the Jat community against the Centre and its farm laws could affect the BJP's hold over 40 Lok Sabha constituencies in these regions.
The leaders alleged the hands of "professional agitators of the Left" behind the protests, and said they need to be strongly dealt with.
Shah urged party leaders to approach farmers and elucidate in detail the benefits of the three farm laws they are protesting against and to also ensure that people who are "misleading" farmers get a "fitting reply from people".
The national leadership asked the local representatives to stay in touch with the Khap leaders and instructed the office-bearers in the three states to chalk out strategies to implement the same.
Related news: Agitating farmers mark birth anniversary of leader behind landmark reforms
Farmers from the Uttar Pradesh, who so far were sparse in number at the protest sites near Delhi, were given a fresh clarion call when BKU leader Rakesh Tikait, a former BJP supporter like most of his Jat brethren in Muzaffarnagar district, made an emotional appeal on January 27 after the Uttar Pradesh government tried to get the protest site vacated.