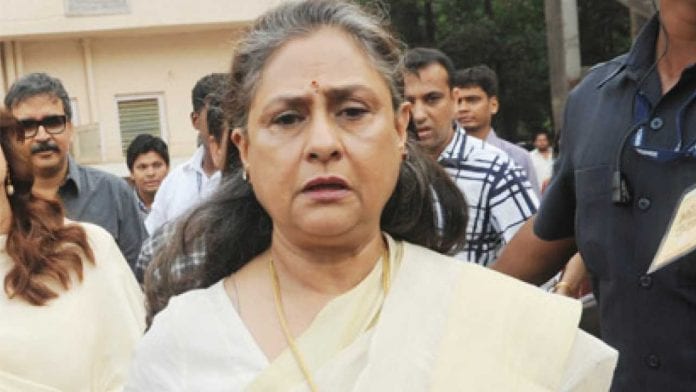 A day after Jaya Bachchan was trolled on social media over "drug addiction in Bollywood," the Mumbai police on Wednesday provided security outside the Mumbai home of the Bachchans, Jalsa.
Jaya Bachchan is a Rajya Sabha MP from Samajwadi Party. On Tuesday (September 15), she vociferously condemned attempts to defame the film industry with charges of drug abuse in the Sushant Singh Rajput case.
Related news: Kangana to Jaya Bachchan: 'What if it was Shweta or Abhishek?'
The Mumbai police moved in additional security outside Bachchans' Juhu bungalow. The security, the police said, was a precautionary measure after the MP was trolled on social media for her speech.
"Just because of a few people, you cannot tarnish the whole industry… Jis thaali me khaate hain usi me chched karte hain (bite the hand that feeds you)," she had said. Her remarks were targeted at BJP MP Ravi Kishen who on Tuesday wanted government action to prevent drug addiction in the film industry.
Jaya, 72, got massive support from several quarters of Bollywood after her speech, but a large section of social media users criticized her, with hashtags such as #ShameOnJayaBachchan trending on Twitter.
Veteran actor and BJP MP Hema Malini has supported the Samajwadi Party MP. The Mathura MP said Bollywood would "always remain in high esteem" and no one could bring it down in a flash over allegations like drugs and nepotism.
In an emotional defence of the film industry, she told NDTV, "I got name, fame, respect, everything from this industry… it feels really hurtful."
Related news: Jaya Bachchan flays BJP's Ravi Kishan, says he 'bites the hand that feeds you'
Ravi Kishan is a popular actor of Bhojpuri and Hindi films, and an MP from Uttar Pradesh. On Tuesday (Sept 15), he raised in parliament the drugs-related allegations that have surfaced in the Sushant Singh Rajput investigation.
"Drug addiction is in the film industry too… Several people have been apprehended. The NCB (Narcotics Control Bureau) has been doing very good work. I urge the Central government to take strict action against the culprits soon. Give them a befitting punishment and bring an end to this conspiracy," Ravi Kishan said in the Lok Sabha.