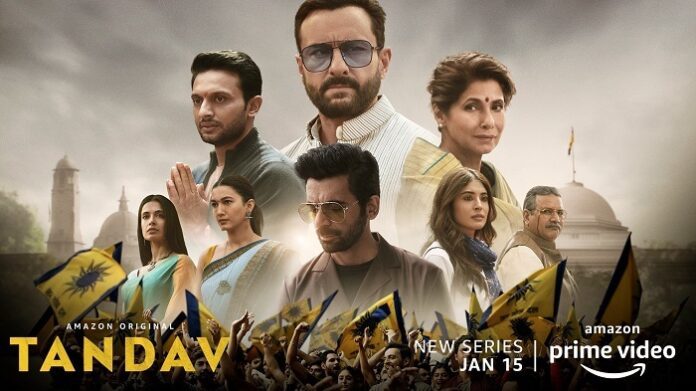 Saif Ali Khan-starrer political drama, Tandav, streaming on Amazon Prime, has found itself in troubled waters, with two BJP leaders from Mumbai alleging that a particular scene in the series mocks Hindu deity Lord Shiva.
One of the leaders, BJP MP Ram Kadam, has reportedly filed a police complaint at the Ghatokopar police station.
Hitting out particularly at actor Saif Ali Khan, who plays the lead role in this series, Kadam has tweeted, "Saif Ali Khan again part of a film or series, which attempts to target Hindu deities. Director Ali Zafar needs to remove that scene which mocks Hindu God Shiva."
Advertisement
He goes on to demand an apology from actor Mohammed Zeeshan Ayyub, whose character Shiva, a student of fictional institute VNU (modelled on JNU), plays Lord Shiva in a college play. A particular scene from the play has create a furore on social media.
"Tandav should be boycotted until necessary changes are made," he said.
The series is meant to be a not-so-imaginative high-stakes drama that pits campus activism against national politics.
Also read: Delhi duo stage fake kidnapping inspired by popular web series
Meanwhile, the other BJP MP and a former corporator, Manoj Kotak, has also raised strong objections against alleged anti-Hindu content in Tandav. He has dashed off a letter to the Information and Broadcasting minister Prakash Javadekar demanding a "ban" on the series and an apology from the makers and actors in the series.
In his letter to the minister, which Kotak has released on Twitter, he said that there is an "urgent need" to regulate OTT platforms. There is no law or autonomous body governing OTT platforms, he said. "Programmed telecasts on OTT platforms are full of sex, violence, drugs, abuse, hate and vulgarity. Sometimes, they also hurt the religious sentiments of Hindus…"
He urged the I&B ministry in his letter to immediately constitute a regulatory authority for OTT platforms and in the meantime ban controversial series Tandav.
Ram Kadam too tweeted along the same lines. "Why is it becoming a trend among films and web series makers to demean Hindu gods? Latest culprit seems to be the series Tandav," he tweeted.
In a video he has released, Kadam added, "Why is Bollywood disrespecting Hindu gods and goddesses in their films? This has been going on for a long time. Now in the web series Tandav, an actor is disrespecting our Lord Shiva by holding the trishul and damru in his hands. This will not be allowed."
Issuing a threat to others he says, "If our feelings and sentiments are hurt like this, and anyone dares to do that then you'll be beaten up with a shoe in the middle of the square. This series has to be boycotted at the earliest, and the director, producer and actor should apologise by kneeling and with folded hands."
Also read:Filmmakers make gains on OTT platforms, leave theatres in the lurch
Actor Saif Ali Khan, who plays Samar Pratap, the Machiavellian political scion in Tandav, is no stranger to controversy, as his earlier web thriller series Sacred Games 2 too wound up in trouble. The Sikh community and the BJP were angry with him because the Sikh character he played throws away his kara, which is one of the Kakaars (religious symbols like the kangha (comb) or the kara (iron bangle) revered by the Sikhs). At that time, a BJP leader had filed a police complaint against the director of the series, Anurag Kashyap.
Also, Tandav, which is meant to be loosely based on the highly popular and well-made political thriller House of Cards, is being slammed by critics for its weak characterisation and plot. It lacks the grit and the powerful writing that had made other political thrillers like Mirzapur and Paatal Lok on OTT platforms so popular. Maybe, this controversy may just end up increasing its ratings.