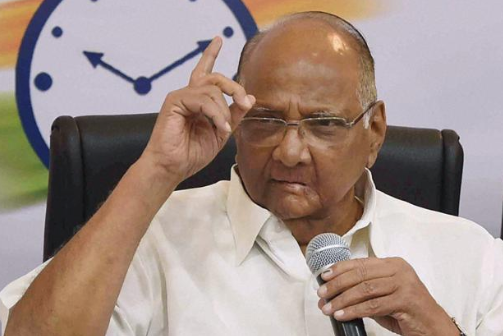 Rituals at new Parliament building inauguration show country is regressing: Pawar
NCP President Sharad Pawar expressed his view on Sunday, stating that the rituals conducted during the inauguration of the new Parliament building in New Delhi by Prime Minister Narendra Modi indicated a regressive shift for the country, taking it back by several decades.
He said the country's first prime minister Jawaharlal Nehru had envisaged a society having a scientific temperament, but what happened at the new Parliament inauguration ceremony was opposite to that.
Also Read: Self-glorifying, authoritarian PM inaugurates new Parliament building: Congress
PM Modi inaugurated the new building this morning at a grand ceremony which included a havan, a multi-faith prayer ceremony and the installation of the Sengol in a special enclosure in the Lok Sabha chamber.
Speaking to reporters in Pune, Pawar said, "There is a huge difference between the country's first prime minister Jawaharlal Nehru talking about the concept of modern India and a series of rituals performed at the new Parliament building today in New Delhi. I fear that we are taking our country backward by decades."
Also Watch: Top 10 takeaways from Modi speech at new Parliament inauguration
"One cannot compromise on science. Nehru was persistent about his wish to form a society with scientific temperament. But what is happening today at the inaugural ceremony of the new parliament building is exactly the opposite of what Nehru had envisaged," he said.
The NCP was among the 20 opposition parties that boycotted the inauguration of the new Parliament building over the prime minister and not the president inaugurating the complex.
(With agency inputs)