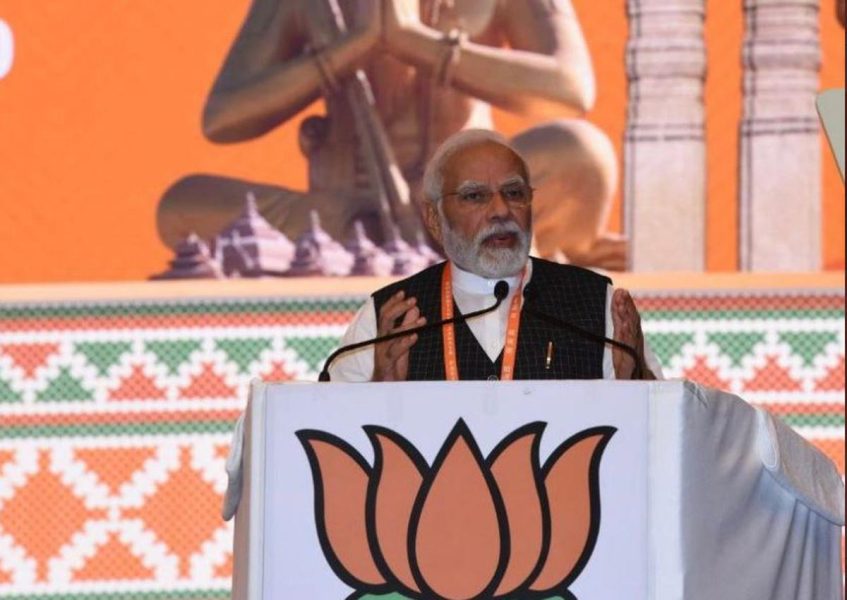 Reach out to the deprived among minorities: PM's message to party
Prime Minister Narendra Modi has asked BJP workers to reach out to the "deprived and downtrodden sections" among the minority communities.
Modi, while speaking at the BJP national executive committee meeting in Hyderabad on Sunday (July 3), emphasised that they should reach out to not only weaker sections among Hindus but among minorities as well and help them reap benefits of various schemes of his government meant for the welfare of all sections of society.
"He said there are deprived and downtrodden sections in other communities also. He said that we should not be limited to Hindus only, we should work for all these deprived communities," a BJP leader said referring to Modi's remarks.
Also Read: Having saturated 18 states, BJP now looks at South India – Telangana first
Modi's advice to the BJP comes after the party won the Lok Sabha bypolls in Azamgarh and Rampur. The SP lost to BJP, in the two constituencies where Muslim voters play a decisive role. The party is also eyeing regions where it hasn't been able to make any electoral gains so far.
The remark was a message for the party to reach out to communities, such as Pasmanda Muslims in UP and Bihar. After returning to power in UP two months ago, the BJP had inducted Danish Azad, a leader from the Pasmanda community, in the Yogi Adityanath-led government, said sources, according to a report in Indian Express.
Similar instances
A BJP party leader said: "In the past too, the BJP had made attempts to reach out to the community, and the party has assessed that the community's votes backed the BJP in the recent by-elections".
Also Read: At Hyderabad meet, BJP takes stock of schemes' outreach, slams KCR
When the party failed to make any significant poll progress in Kerala in 2021, the PM similarly advised party leaders to keep the Christian community on their side.
The BJP claimed its pro-people policies are intended for all communities and faiths. The party is now relying on marginalised sections among minorities who have benefitted from social welfare schemes.
Party insiders say that the BJP is working on expanding its base and therefore efforts are being made to reach out to backward communities among the minorities, according to a PTI report.
Also Read: BJP will come to power in Bengal, Andhra, TN, will rule 30-40 years: Amit Shah
(With inputs from agencies)