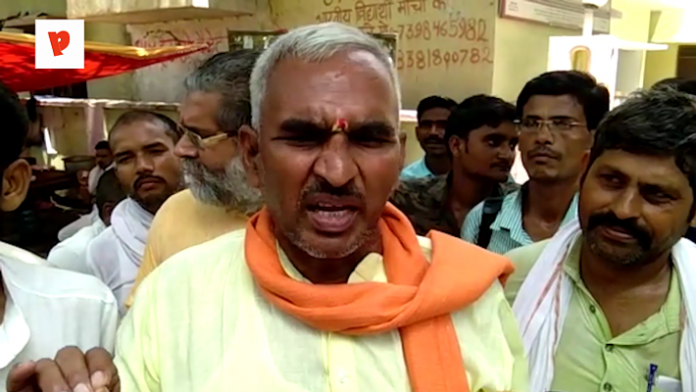 Amid rising protests for justice and gender equality after the gang-rape and murder of a Dalit woman in Uttar Pradesh's Hathras, BJP MLA Surendra Singh said it was the duty of all mothers and fathers to "imbibe good values in their daughters" and "bring them up in cultured environments".
"I am a teacher along with being an MLA. Such incidents (like rape) can be stopped only with sanskar (culture), not with shasan (good governance) or talwar (referring to sword or might)," NDTV quoted Singh as saying on Saturday (October 3).
Singh's statement came as a response to a question by a reporter, "Why do you think rape cases are continuing even as people say this is Ram Rajya?"
Advertisement
He had replied saying, "It's my dharma, government's dharma but family's dharma too… While government is committed to protect, the family should be committed too to imbibe good values in their children.
"Sanskar and sarkaar can make India beautiful, there is no other alternative," he was heard saying in a video.
This is not the first controversial statement that has been made by a prominent leader with regard to rapes.
Earlier, former Supreme Court judge Markandey Katju, while condemning the gruesome incident in Hathras and demanding harsh punishment for the culprits, said 'sex was a natural urge in men' and linked the rise in rape cases to the increasing unemployment rate in India.
"I condemn the Hathras gang rape, and call for harsh punishment of the culprits. However, having said that there is one aspect which also needs to be considered. Sex is a natural urge in men. It is sometimes said that after food, the next requirement is sex," he wrote.
— Markandey Katju (@mkatju) September 30, 2020
Claiming that in a conservative society like India, where "one can ordinarily have sex only through marriage", Katju said a large number of unemployed men cannot marry as "no girl will ordinarily marry an unemployed man".
Katju further compared the rise in India's population to the overall increase in jobs since Independence, claiming that the less than ideal rate of job growth in the last seven decades could have led to a spurt in rape cases in India.
"Today India alone has about 135 crore people, which means there has been a fourfold increase in population. But the number of jobs increased are far less than fourfold. In fact it is believed that in June 2020 alone 12 crore Indians lost their jobs. Therefore will there not be increase in rapes?" he asked.