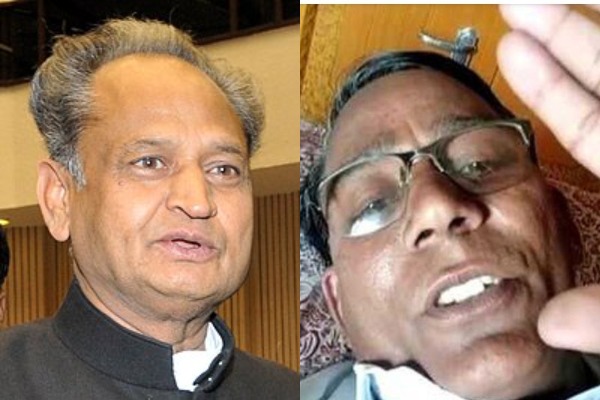 A 45-year old farmer at Thakri village of Rajasthan's Sri Ganganagar district has named Chief Minister Ashok Gehlot and deputy chief minister Sachin Pilot as those responsible for his death in his suicide note before ending his life on Sunday (June 23).
The farmer Sohan Lal Meghwal, left behind a poignant two-page letter and a video in which he accused Gehlot's government of going back on its promise of waiving farm loans. He had consumed poison by the time his neighbours who saw his farewell video on Facebook could rescue him. He died on the way to the hospital.
The video that has been since been shared on social media was shot by Meghwal on his mobile phone. "My corpse is a warning for the Gehlot government. Farmers should benefit from my death," a visibly upset Meghwal says in the video, while lying on a bed. While asking the government to fulfill the demands of farmers, he urges fellow villagers to keep the unity in the village intact and look after his family after he is gone; and apologises for any past mistakes.
Advertisement
In his suicide note, Meghwal, while holding Gehlot and Pilot responsible for his death, stresses that he is ending his life on behalf of all farmer brothers.
"I am going to end my life today. Nobody is at fault in this. (Ashok) Gehlot and (Deputy Chief Minister) Sachin Pilot are responsible for my death. They had made a statement that they will waive off our loans within 10 days …What happened to their promise? It is time to bow down the government today," his letter read, as per an ANI report.
The Congress before coming to power in the state in 2018, had been critical of the Vasundhara Raje-led BJP government for the poor handling of farmers' problems, which led to an increased number of farmer suicides in the state.
In its pre-poll campaigns the Congress party had promised to waive farm loans within 10 days of government formation. But the Gehlot government backtracked on its promise soon after he took charge as Chief Minister. In a media interaction in December 2018 he said that the farm loan waiver will be implemented within 10 days after the first cabinet meeting.
The Rajasthan government rolled out a multi-crore farm loan waiver scheme for farmers on February 7, 2019 under which it claimed that loans of 19 lakh farmers have been waived. However, a report in Economic Times stated that almost 32 per cent of farmers covered under the scheme had loan waivers ranging from Rs 50 to Rs 15,000 while 3.2 lkah had loan waivers between Rs 5,000 and 10,000.