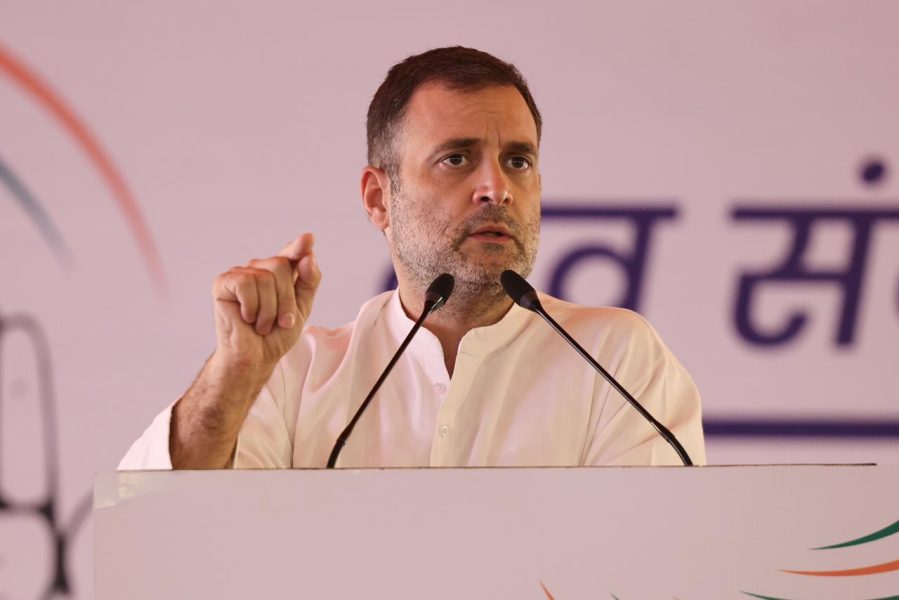 Allies slam Rahul Gandhi's 'regional parties' remark
Congress leader Rahul Gandhi's statement that "regional parties lack ideology to fight the BJP" has triggered reactions from parties, with some questioning the claim and others dismissing it as "bizarre" and "out of sync".
Congress leader Rahul Gandhi's statement that "regional parties lack ideology to fight the BJP" has triggered reactions from parties, with some questioning the claim and others dismissing it as "bizarre" and "out of sync".
At the three-day Chintan Shivir in Udaipur, Rahul Gandhi had told Congress leaders and workers that BJP will target the grand old party "because they know that regional parties have their place, but they cannot defeat BJP. Because they don't have an ideology."
Congress dependent on regional parties
Supriyo Bhhatacharya of Jharkhand Mukti Morcha (JMM), with which Congress is in power in Jharkhand, said: "This could be his personal opinion. We have a strong ideology."
"The Congress is compelled to fight with the regional parties. In Jharkhand, it is part of the government with a regional party and yet Rahul says that regional parties lack ideology," he said.
"The fact remains that it is these regional parties on which the Congress is dependent for a fight or a win, be it the JMM in Jharkhand or the RJD in Bihar."
In Maharashtra too, the Congress enjoys power in alliance with Shiv Sena and the NCP. It has had similar alliances in other states to remain in power.
Also read: Accepting Cong has lost touch with people, Rahul calls for mass contact programmes
Janata Dal (Secular), an ally with which it was in power in Karnataka recently and earlier too, criticised Rahul's comments.
"Congress has a phobia of regional parties. It has no presence in most of the states like Andhra Pradesh, Telangana and Odisha. The party is in its last days in Karnataka. It will be better if Rahul Gandhi understands that," JD(S) leader HD Kumaraswamy said.
When Lalu backed Sonia
Manoj Kumar Jha, of Rashtriya Janata Dal (RJD), reminded that it was his party chief Lalu Prasad who stood with Congress president Sonia Gandhi when her own party leaders deserted her, referring to the 1990s when leaders like Sharad Pawar questioned her leadership over her foreign origins.
"I find this remark a little bizarre and out of sync," Jha said. "Regional parties are strong in a majority of Lok Sabha seats in the fight against the BJP, and the Congress should settle to be "co-travellers" and let them be in the "driving seat" in over 320 of the 543 parliamentary constituencies."
Jha also noted that Prime Minister Narendra Modi had repeatedly targeted the RJD during elections as it was "the nucleus of the electoral and ideological fight against the BJP", affecting the party leaders and workers a lot.
Jha reiterated RJD leader Tejashwi Yadav's advice for the Congress: "There are 220-225 seats where the BJP and Congress are in a direct fight. The Congress should leave the other spaces to regional parties and settle to the idea of a co-traveller."
Congress 'weakened', 'shouldn't attack regional parties'
Congress's votary CPI(M) has criticised the grand old party saying it had a crisis of ideology as it was flirting with soft Hindutva in line with the tone set by the BJP and was not able to take on Modi's party effectively.
CPM general secretary Sitaram Yechury had said recently that: "Compared to the past, the Congress today has been considerably weakened. And many in the BJP and the RSS do not see the Congress as a major threat. Because, any of its leaders, at any point of time, can leave the party to join the BJP."
Also read: No alliances with parties, want to partner 130 cr Indians, says Kejriwal
In Jammu and Kashmir, Congress's long-time ally National Conference called the statement "a disservice to regional parties".
"Generalisations are always a mistake and to paint all regional parties with the same brush is a disservice to regional parties. I can't speak for others but we are definitely not devoid of ideology… We have elected Hindus, Muslims, Sikhs and Buddhists," NC vice-president Omar Abdullah said.
Highlighting Congress's alliances with almost all regional parties, Omar added: "What does that say about Congress ideology? All the way from the Shiv Sena to the PDP to NC, AIADMK, DMK, and at one time with Nitish Kumar's party as well… At a time when the Congress needs regional parties, it should not attack them. It should focus on attacking the BJP."
When Cong only rival, BJP wins comfortably
Samajwadi Party, a former ally of the Congress, wondered whether Congress was really the alternative to the BJP.
"The BJP has formed a government at the Centre twice in a row. If the Congress was the only alternative for the people, then why has that alternative failed to come to power? The fact is that without regional parties, no government is possible even at the Centre," SP leader Rajendra Chaudhary told The Indian Express.
"The BJP is strong wherever the Congress is the primary opposition. The BJP has not been able to defeat M K Stalin (Tamil Nadu), Mamata Banerjee (West Bengal), or for that matter YS Jagan Mohan Reddy (Andhra Pradesh), to name a few. In that sense, the BJP is happy to have the Congress as a national party. The reality is, the Congress is unable to defeat the BJP," TMC Rajya Sabha MP Sushmita Dev, who quit the Congress in August last year, was quoted as saying in the Express, noting that it was the Congress that was handing over seats to the BJP on a platter in places where the two parties are in a direct fight.
BJP, Congress neglect regional diversity
Despite being national parties, the BJP and Congress were "two sides of the same coin", said senior Akali Dal leader Prem Singh Chandumajra, according to the report. "They neglect the diversity of distinct geography, language and culture of regions while pursuing their national policies… If anyone can give a fight to the Congress or the BJP, it's the regional parties."
"The results that regional parties have been showing in their respective states is evidence enough of the efficacy of these parties. From Delhi to Kerela, regional parties are being trusted by the people and given more and more responsibilities," BJD spokesperson Lenin Mohanty was quoted as saying by the daily.
The Congress's loss in state after state showed "it is itself fighting an ideological battle", Mohanty added. "In all probability, Rahul Gandhi was in a mood to joke. They should first evaluate themselves properly, then cast aspersions either on national parties or regional parties. The problem with the Congress right now is, it is unable to evaluate."
AAP leader Sanjay Singh pointed to the infighting in Congress to say that it was not in a position to fight communal forces.
"Even in states like Madhya Pradesh, which voted the Congress to power, its candidates put themselves up for sale. The party has no presence in major states like UP and Tamil Nadu. And what is national and regional? For years, the Congress has been a junior partner to parties like the SP, DMK," Singh who is also a Rajya Sabha MP said.
The Congress is struggling to stay relevant as people have being voting it out of power from one state after another. Recently, it lost power to AAP in Punjab, nearly 10 years after its Sheila Dikshit lost to the Arvind Kejriwal-led party in Delhi.
Except for Rajasthan, the Congress shares power in Maharashtra and Jharkhand with regional allies. In several states, such as West Bengal, Telangana, Andhra Pradesh, Northeast, the party has lost its opposition clout to the BJP.
However, Congress continues to be the leading opposition party in the country, with a high vote share second only to the BJP's. It has not been able to convert this vote share into seats though.
The party held a 3-day conclave in Rajasthan's Udaipur to brainstorm ways to revive itself and make it relevant to the people and has worked out a plan in this regard. It has said it is committed to establishing a dialogue with all like-minded parties and would keep open avenues for forging alliances according to political circumstances.