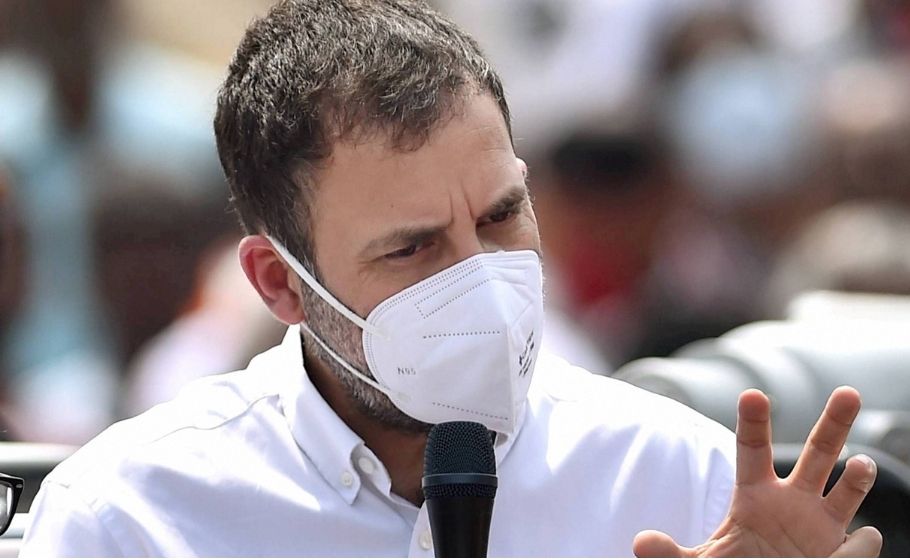 Undeterred by the flak he received for the 'hum do, humare do' jibe, Congress leader Rahul Gandhi fired another salvo against the Centre on Monday (February 15) claiming the government helps in the development of only "two" people in the country. His taunt on Twitter came after he lashed out at the Centre for "looting from the public", with the  recent steep hike in domestic LPG cylinders by ₹50 in the capital Delhi.
After posting a clipping of a news report, Gandhi tweeted in Hindi: "Janta se loot, sirf 'do' ka vikaas" (looting public for the progress of only two). By bringing in sirf 'do' ka vikaas, he was reportedly taking a dig at Prime Minister Narendra Modi's campaign 'Sabka Saath, Sabka Vikaas', which is the government's slogan to promote inclusive development. The "two", according to the MP from Wayanad, are the only ones seeing development in the country.
The price of liquefied petroleum gas (LPG) domestic cylinders in Delhi was increased by ₹50 per unit on Sunday (February 14), making it ₹769 for a 14.2 kg LPG cylinder in the national capital from February 15. This is the second price hike of LPG cylinders in February since non-subsidised LPG prices were hiked by ₹25 on February 4 across the four metro cities. What is worse that, this LPG hike comes soon after petrol and diesel prices hit record prices burdening the common man even further.
This is not the first time Gandhi is making an oblique reference to possibly industrialists  while attacking the Centre. Just last week, when lashing out at the Modi government for not repealing the controversial farm laws, he had quoted from an old family planning slogan, 'hum do, humare do' and said this government only works for two businessman in the country and not the common people. And that, now, four people are running the country…and "everyone knows who they are".
Advertisement
Also read: Rahul attacks Centre over farm laws, calls it 'hum do, humare do sarkar'
However, Finance Minister Sitharaman did not let this sneer pass, and during a Budget discussion in Parliament, she hit back at the Opposition. While talking about providing ₹10,000 to 50 lakh street traders as working capital for one year, she declared, "They aren't anyone's cronies". The beneficiaries of the PM SVANidhi Yojana too are not cronies of the current government, she added.
At that point, she targeted Rahul Gandhi, when she said that damads [son-in-laws] get land in states, which are governed by some parties — Rajasthan, Haryana once upon a time. And, when Opposition in Lok Sabha raised objections to her damad remark, she kept repeating the word damad to drive home her point.
Meanwhile, BJP leaders too criticised Rahul Gandhi's 'hum do, humare do' remark. BJP leader NV Subhash, grandson of former Prime Minister P V Narasimha Rao, said that Gandhi had degraded his image with his immature comment. He told reporters that by 'hum do, hamare do', Gandhi was referring to himself, his mother, his sister, and his brother-in-law. Celebrities from the film industry, too, criticised him on Twitter for his comment, with filmmaker Ashoke Pandit even trolling Rahul Gandhi for his mannerisms, and stated that he should get married for the slogan to make sense.